After a small celebration with family and co-workers, McGinnis Inc. officially christened the mv. Dwain Harper. Becky Harper, the namesake's wife, broke the bottle with a single swing. The 1,600 hp. towboat was built at the firm's Sheridan Shipyard, located in South Point, Ohio, at Ohio River Mile 320.4. Its namesake is the longtime manager of the yard and a dedicated member of the McGinnis team.
The 70- by 26- by 10-foot towboat has already been awarded its Certificate of Inspection for Subchapter M compliance and is scheduled for work in the Cincinnati Harbor and on the Licking River. It features a retractable pilothouse, custom designed by McGinnis and built with a hydraulic cylinder provided by Gulf Coast Air & Hydraulics. The boat is powered by twin Mitsubishi S6R2 Tier 3 engines generating 800 hp. each. The Twin Disc MG5321 reduction gears were provided by Great Lakes Power. Finally, pushing the water are new 68- by 54-inch propellers from Michigan Wheel. The Shearer Group, by way of Josh Sebastian, designed the vessel.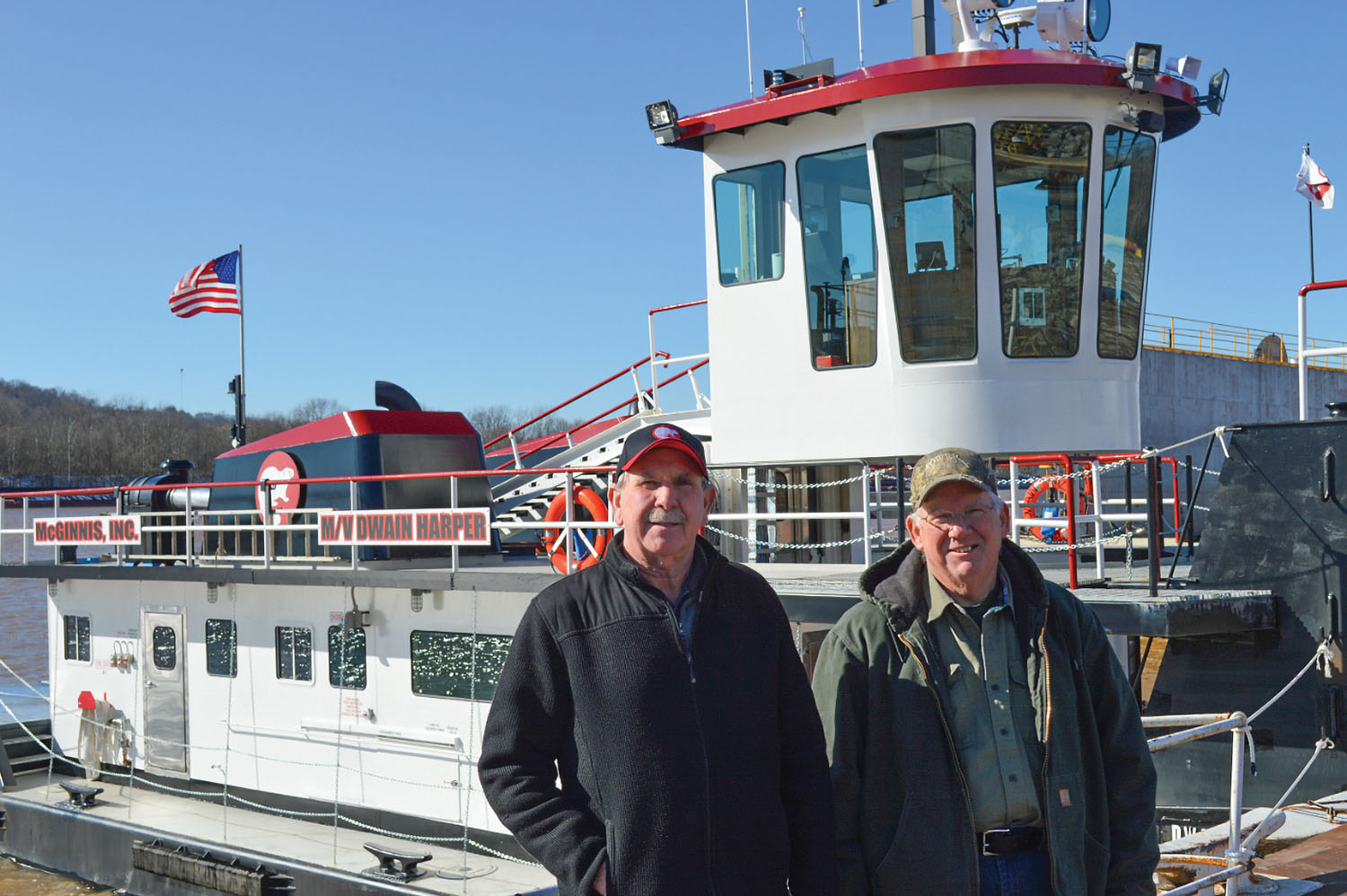 Donovan Marine provided many components, including Viega pipe fittings and Skipper Engineered Products for the hydraulic steering system. Schuyler supplied the fendering.
The new towboat was built heavy. It "pushes well with very little vibration," said Rob Lynch, senior project manager. Lynch has been with McGinnis for 13 years after spending time as general manager of Patton-Tully in Memphis.
With the successful launch of this boat behind them, McGinnis is offering new-construction services to other operators.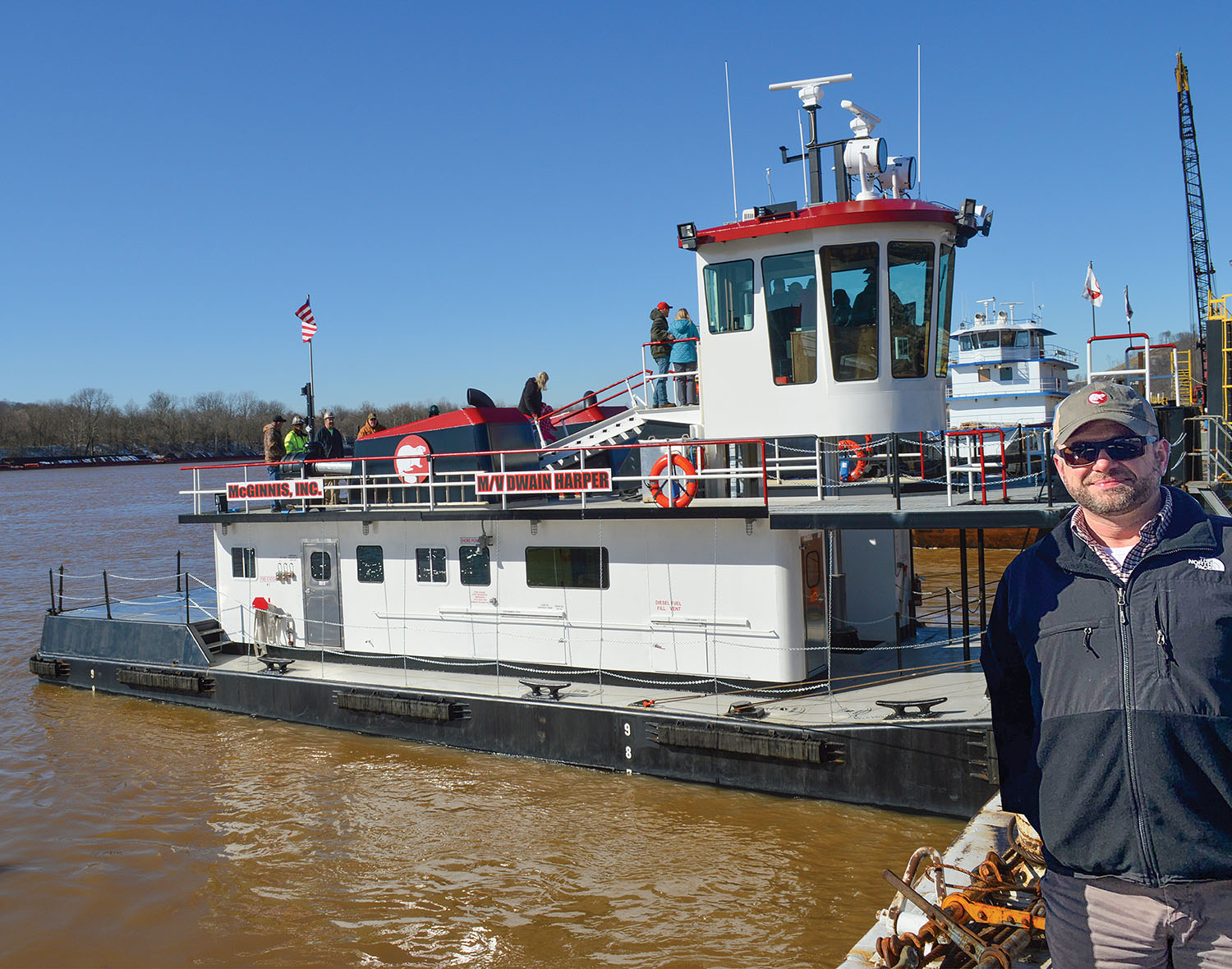 "We can build Sub-M compliant towboats up to 4,000 hp. A similar 2,000 hp. spec'd boat can deliver as soon as the end of the year," Lynch said.
With more than 100 years of experience, there is a lot of river knowledge behind the company's new builds. And they are built from a shipyard's perspective, said Lynch, with ease of maintenance built into the design.
Namesake Dwain Harper
The vessel's namesake, Dwain Harper, could not believe it when Rick Griffith, president of McGinnis, asked him how he wanted his name spelled on the nameboard of the new boat as they were finishing it up. "Are you kidding me?" he remembered saying. Harper is 66 years old, and for 41 of those years he has worked for McGinnis, but he never dreamed he would have a boat named in his honor.
Harper was raised on a farm in Ironton, Ohio. He started with McGinnis as a welder. After one year, he was promoted to night shift manager and then to supervisor after about 20 years, he said, and finally to shipyard manager about 12 years ago. Overseeing mostly barge repairs, with four drydocks and an enclosed sandblasting and painting facility, he built his first towboat, the 2,000 hp. J.A. Ward, in 2006.
"I thought I was going to sneak out of here without a lot of "hoopla," he said, referring to his retirement someday. "I was really surprised when Rick told me." Harper and his wife, Becky, have two daughters.
While Harper mentioned he plans on retiring soon, nothing is firm. "He talks a good game," said Griffith, "but McGinnis is in no rush to see him go. Dwain is a dedicated employee that always puts the company first with his decisions."
For more pictures of the Dwain Harper, click on the slideshow below.