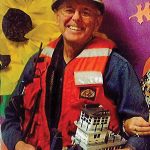 Clifford H. "Skip" Crain, Cranberry Township, Pa., the last of the renowned Crain brothers, died January 26 at 80 years of age. He was a widely known and respected member of the marine industry in the Pittsburgh area, where he led C&C Marine, known today as Campbell Transportation Company, as president. With leadership and guidance, he is said to have put C&C on the marine industry map as the premier marine repair and drydock provider in the Pittsburgh area. 
At first, he pursued a career as an airplane pilot, but then he returned to his roots on the river in 1968 when he joined his brother Bub and Tom Campbell at C&C Marine, which they had founded. He was named president in 1973. He served in that capacity until 1996, at which time he left C&C and started with marine construction firm River Salvage Company. He retired from River Salvage in 2012, after being diagnosed with Alzheimer's disease. 
His two older brothers, Frank and Bub, preceded him in death, the latter having passed away in July (See WJ August 17, 2020).
In the early 1990s, Crain built a 96-foot, steel hull houseboat called the Obsession, so named because of the many nights and weekends he spent working on it. Up until recently, the boat could be seen on the Ohio River cruising around and at most home Steeler games hosting tailgate parties, said his son-in-law Don Checkan, who is vice president of operations at Industrial Terminal & Salvage. He was also a successful coach of his daughter's softball teams, Checkan said, winning back-to-back championships. His favorite hobby was scuba diving.