Nearly a century ago, the automobile was coming into vogue as a common means of transportation for the American people. When cars were made affordable thanks to mass production, the economic effects for the United States were astounding.
Before paved roads were plentiful, delivery of cars from factories was done largely by railroad and riverboat. Lee Line Steamers of Memphis often delivered autos to purchasers via its packet boats, and the famed towboat Sprague regularly towed barges laden with as many as 300 automobiles aboard.
This practice abated in the 1920s, but resumed following the Great Depression when Greene Line Steamers removed the passenger staterooms from their packet steamers Tom Greene and Chris Greene to handle auto deliveries between Cincinnati and Louisville until 1947.
Following World War II, automobile production proliferated and Union Barge Line, Commercial Barge Lines and Ashland Oil Company were heavily involved in the transporting of autos by river until the early 1950s, when semi-trucks offered quicker and more direct service between auto manufacturers and dealerships.
Sign up for Waterway Journal's weekly newsletter.
Our weekly newsletter delivers the latest inland marine news straight to your inbox including breaking news, our exclusive columns and much more.
This week's Old Boat Column presents a unique aerial image of the towboat Commercial Tennessean underway on the Mississippi in 1949. In the photograph, there are 137 Ford autos destined for St. Louis.
According to the Inland River Record, the Commercial Tennessean (originally named Walter F. Carey) was built at St. Louis by the St. Louis Shipbuilding & Steel Company in 1943. The name was changed to Commercial Dixie in 1949 and again changed to Commercial Tennessean later that same year. Owned by Commercial Barge Lines, Evansville, Ind., the towboat was constructed on a steel hull (originally built in 1922 for the steam towboat Tallulah) measuring 121 feet in length by 23 feet in width. Propulsion was provided by National Superior engines totaling 800 hp.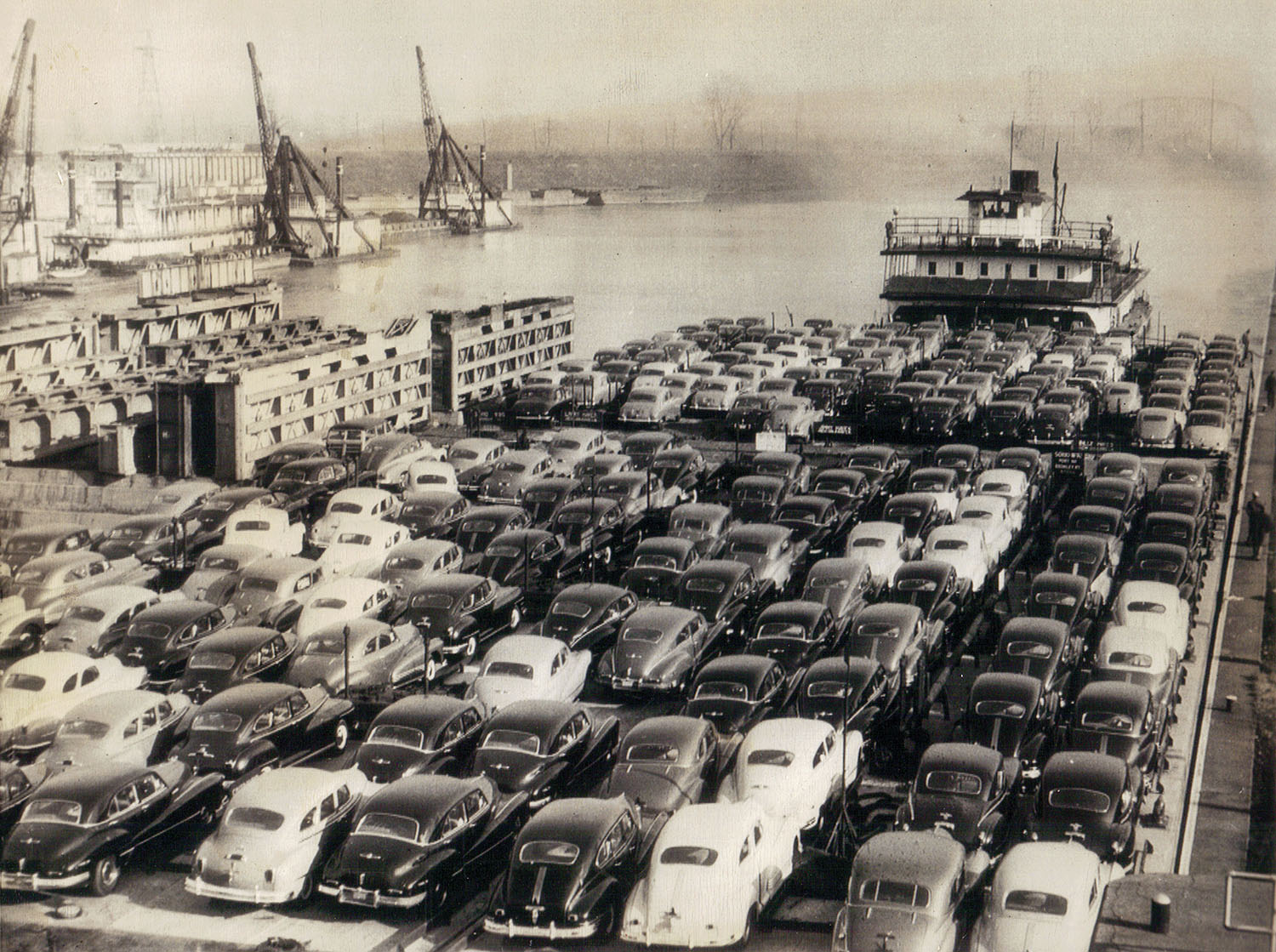 Also featured is an earlier image of the towboat Sohio Latonia downbound in the Louisville & Portland Canal in 1947. The tow has been broken, and the first cut of barges taken through Lock No. 41, (now McAlpine) as the towboat and remainder of the tow await their turn to lock. In the photograph, there are Chryslers, Dodges, Hudsons, Buicks and other makes of autos loaded aboard oil barges. At left, in the U.S. Army Corps of Engineers fleeting area, are several maneuver boats, crane barges and the government steam towboat Scioto.
According to the late river historian Virginia Bennett, the Sohio Latonia was the first of the DPC (Defense Plant Corporation) boats built by Cargill Inc. at Savage, Minn., in 1943. One of 21 identical towboats built at various shipyards for inland river service during World War II, the steel hull measured 180 by 52 by 11 feet. Two four-cylinder, triple-expansion engines delivered 2,000 hp. Steam was provided by a Foster-Wheeler steam generator, powered by bunker C fuel oil.
Originally named Bataan, the boat was chartered to Federal Barge Lines of St. Louis until it was sold to the Sohio Petroleum Company, which renamed it in 1947. The Ohio Barge Line purchased the boat in December 1949 and renamed it Orleanian, running the vessel until 1965, when it was purchased by Bauer Dredging, Port Lavaca, Texas, for conversion into a dredge. 
Editor's note: For questions or suggestions regarding the Old Boat Column, Keith Norrington may be contacted by e-mail at curatorkeith@yahoo.com.
Caption for top photo: The Commercial Tennessean underway with a tow of Ford automobiles in 1949. (Keith Norrington collection)