Global Maritime Ministries (GMM), a New Orleans-based organization that serves seafarers and inland mariners who call on ports in southeast Louisiana, along with the region's broader maritime community, typically presents a pair of awards to local maritime leaders during its annual gala event. With ongoing restrictions due to COVID-19, though, Global Maritime Ministries Executive Director Philip Vandercook took the awards to the recipients' places of work, bringing a personal touch to a season otherwise marked by virtual events and video calls.
GMM's annual awards include the Crystal Lighthouse Award, which honors an individual's leadership within the maritime community, and the John P. Vandercook Service Award, which recognizes humanitarian work among the region's seafarers. The service award is named after Vandercook's father, who began working with international seafarers at the Port of New Orleans in 1962 and founded an organization in 1965 that would later become Global Maritime Ministries.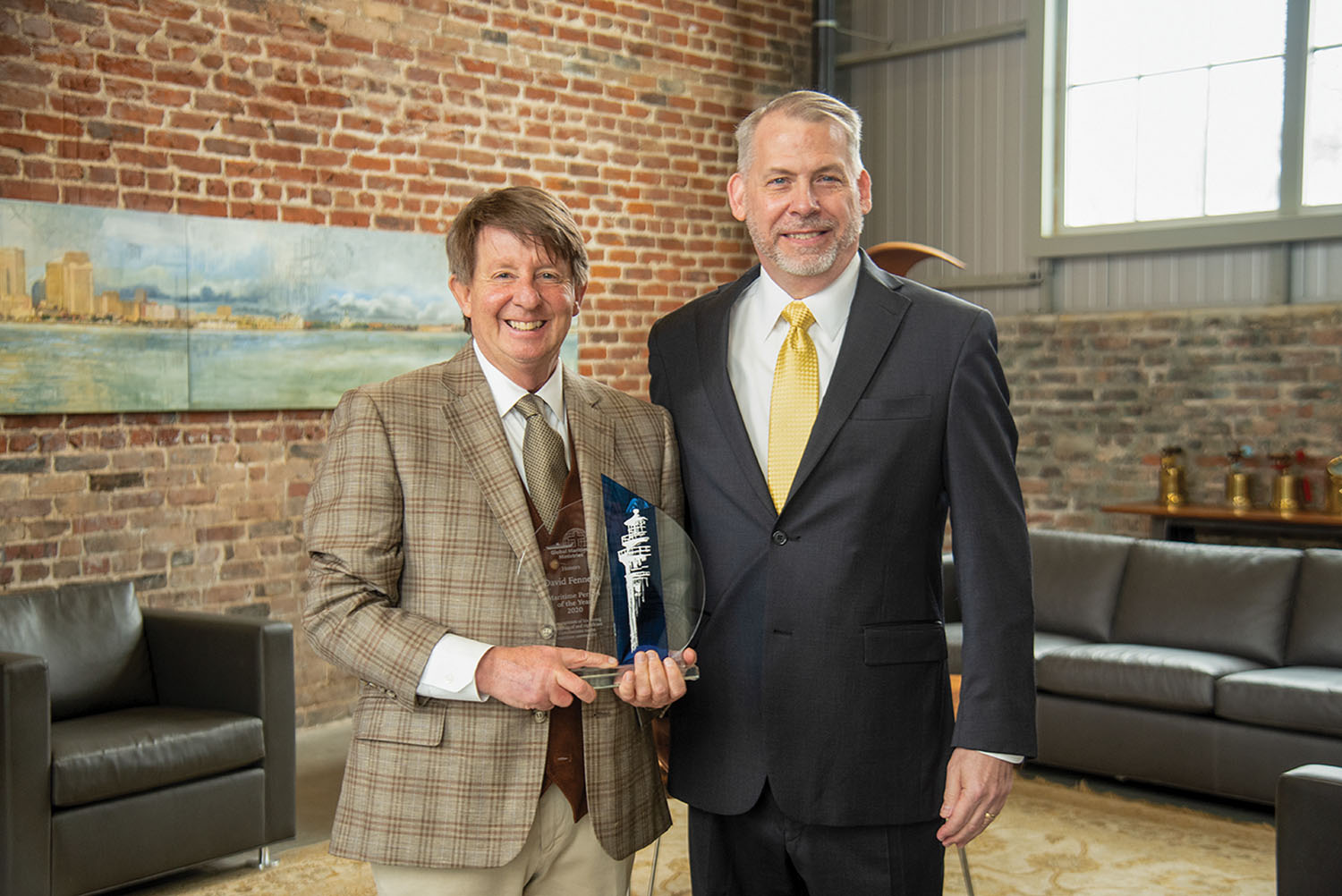 Vandercook visited Turn Services' headquarters in New Orleans' Bywater neighborhood in January to present the Crystal Lighthouse Award to David Fennelly, co-chairman of Associated Terminals and Turn Services. Together, the companies provide stevedoring, logistics, terminal and port operations, along with towboat, fleeting and barge-related services in south Louisiana and along the inland waterways.
Vandercook recalled first working with Fennelly in the days following Hurricane Katrina in 2005 to provide temporary housing for employees impacted by the devastating storm.
Sign up for Waterway Journal's weekly newsletter.
Our weekly newsletter delivers the latest inland marine news straight to your inbox including breaking news, our exclusive columns and much more.
"Mr. Fennelly is also well-known, not just for his maritime endeavors, but for his civic and philanthropic endeavors," Vandercook said. "He is the founder of Associated Efforts and One Good Turn, company organizations focused on the wellbeing of children and the disadvantaged residing in the communities in which [the companies] have operations. He is a member of the board of directors of the New Heights Therapeutic Riding Center and a supporter of a number of other charitable organizations in our community."
Fennelly said he was humbled and honored to receive the award.
"It is not accepted lightly or easily for me personally," Fennelly said. "I will accept it on behalf of our entire organization, both at Associated Terminals and Turn Services, because our efforts are collective."
Fennelly went on to offer thanks to Global Maritime and other like-minded organizations for investing in the lives of mariners.
"Your efforts are global, and they are also very personal," Fennelly said. "Your task has been very difficult recently, and we cannot thank you enough for taking the personal time and effort to meet seafarers at the foot of their gangways in some cases, and on docks, in the rain and inclement weather. It is to be greatly admired, and this world would not be the same place without ministries like yours."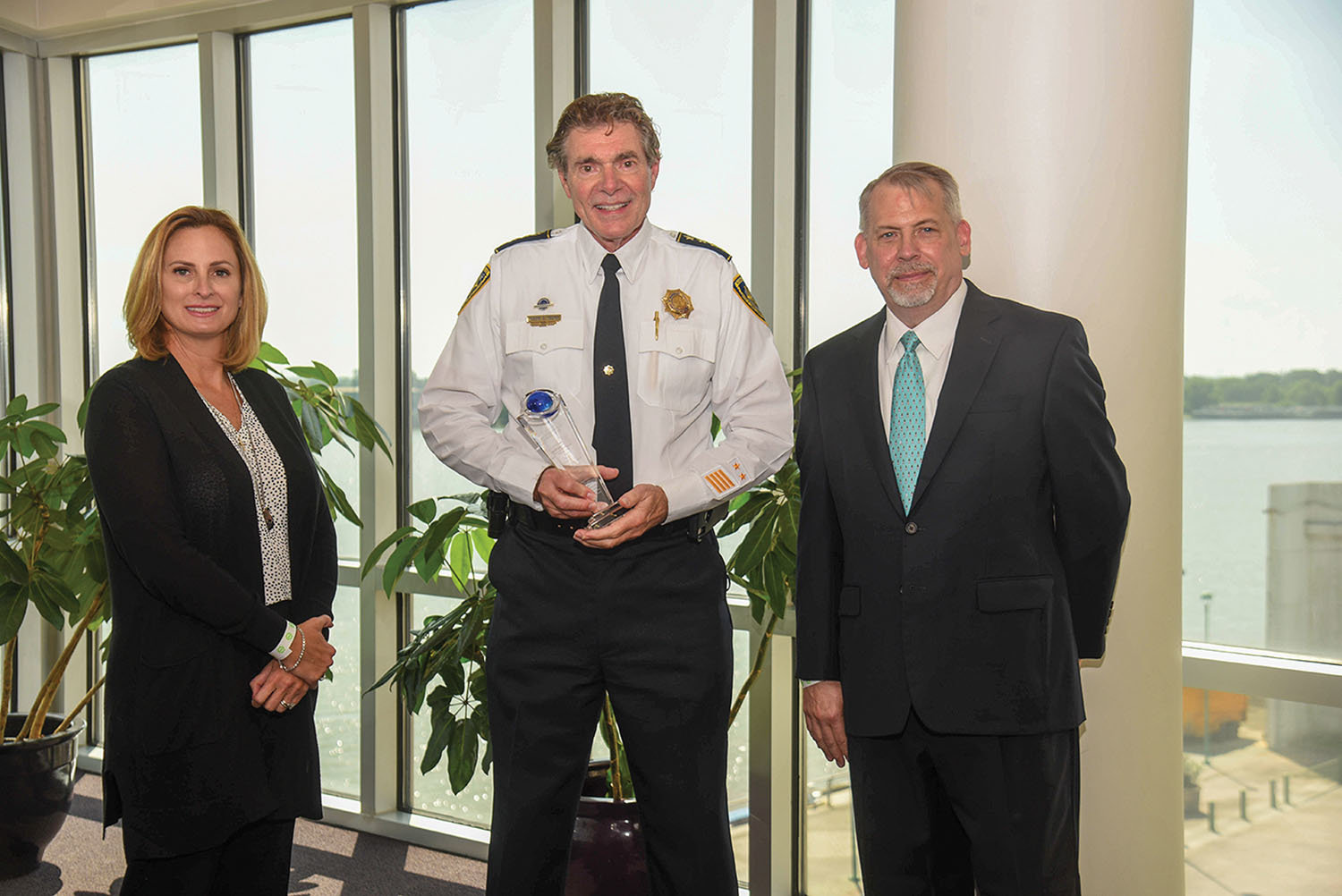 Last September, Vandercook visited the Port of New Orleans, where he, along with Port of New Orleans President and CEO Brandy Christian, presented GMM's service award to Robert Hecker, chief of the Harbor Police Department. Hecker has led the port's Harbor Police Department for 25 years.
"He really is a pillar of our hardworking Harbor Police Department," Christian said. "He's not only a respected leader among the port team, but we're extremely proud of all the protection, all the security he has provided to the community and to the maritime industry."
Christian noted that Hecker has long been recognized in the community for his leadership, receiving over the year three keys to the city, three Medal of Merit awards, 14 letters of commendation and a Supervisor of the Year award. He was also widely recognized for his work during the Hurricane Katrina response and recovery and was named a 2005 New Orleanian of the Year by Gambit Weekly magazine.
"Chief Hecker's dedication to serve and protect the community has been proven time and time again over his 25 years of leading the Harbor Police Department," Christian said. "We couldn't be more happy for the Chief for his recognition. We are humbled to have such a leader in our organization and to be recognized for everything he does for the maritime community."
Hecker said he accepted the award on behalf of "all the men and women of the Harbor Police Department who, as you know, work tirelessly in keeping the port community safe as they protect and serve."
"Speaking of protecting and serving, I believe Global Maritime Ministries could also use that same motto, because we do serve the Port of New Orleans in our own special way," Hecker said. "We've got a long history together, and we appreciate all that you do, whether it's praying with an ill seafarer or comforting a grieving family. You always are there for us, and we appreciate that, especially bringing food to the Harbor Police officers."
Hecker then turned to Christian, adding, "Brandy, we're going to have to deputize you during Police Appreciation Week so you can join us and enjoy the great food."
To learn more about Global Maritime Ministries, visit www.portministry.com.