Members of the LeBeouf Bros. Towing family gathered February 6 to christen the mv. Miss Andrea, named after the company's longest-tenured employee, Andrea Joseph.
Joseph joined LeBeouf Towing as a 19-year-old, after earning an associate of business degree.
"I've been here ever since and never looked back," she said.
Now in her 45th year with the company, Joseph said she first worked for Earl Gonsoulin, who joined Willard and Irvin LeBeouf as an equal partner in the company in 1946. The Gonsoulin family bought the company outright in 1968.
Gonsoulin's son, Dickie, now leads the company, along with his son, Jon. So while LeBeouf Towing is in its third generation of Gonsoulin family leadership, Joseph has faithfully served with all three.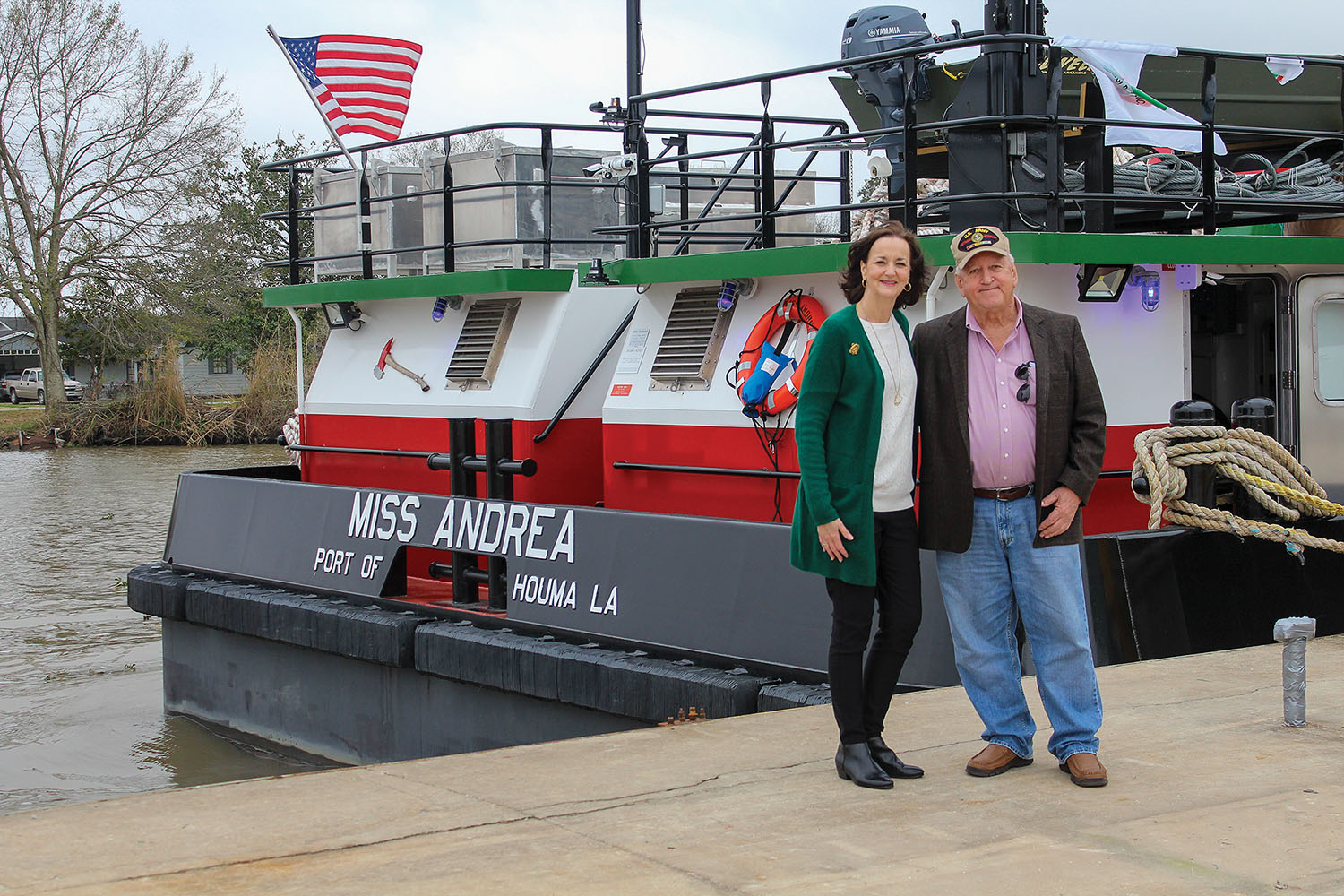 "It's truly been a blessing," she said. "I consider it a two-way street, because they've always been good to me, and I've been dedicated to them. You're not just a person occupying a chair behind a desk. They truly care about you, and that's kept me here."
Joseph has always worked in accounting for LeBeouf Towing and Bourg Dry Dock.  She started out doing payables and other accounting tasks.  These days, she handles receivables and said she enjoys being in close contact with LeBeouf's customers and customer representatives.
Over the years, she said she's seen changes in technology impact her niche of the business, along with the entire towboat and barge industry. Growing with the technology, she said, along with meeting the needs and expectations of each individual customer, keep the job fresh.
One thing, though, that's stayed the same at LeBeouf over the years is the family dynamic of the company, she said.
"The number of people we have here has grown, but you still connect with everyone," she said. "It hasn't grown to the point that you don't know who you're working with. You're not just a number. You're a huge part of the team."
Joseph said she knows spending an entire career with one company is rare these days. Younger people are more prone to changing jobs in pursuit of advancement or higher pay, she said, but for her, there are higher priorities.
"It's about connection, your dedication and just staying," she said. "Do an honest job, and you have no regrets."
Joseph first learned of her namesake boat in January 2020. She and a few coworkers just happened to be in the office kitchen that day when Dickie Gonsoulin walked in and said the company's shipyard was getting started on a new boat that would be called the Miss Andrea.
"I all but fell on the floor," she said. "I thought it was the joke of the day. I asked did I hear it right. He said, 'It's not a joke. It's really happening.'"
That afternoon, Joseph and a colleague drove over to the shipyard, where she got to see the boat in person.
"I thought it was a cruise ship, because it was so long," she said. "It was sitting up on the bank on the intracoastal, and it was so amazing."
The mv. Miss Andrea is indeed long—120 feet—with a breadth of 34 feet. The vessel features a retractable pilothouse, which gives it an eye level in the elevated position of 31 feet.
"It can get down to a minimum air draft of 17 feet, 6 inches," said Mark McManus, vice president of operations for LeBeouf Bros. Towing.
LeBeouf built the Miss Andrea at the company's own shipyard, Bourg Dry Dock. The Miss Andrea is the 71st vessel built at the yard since 2008. 
The Miss Andrea boasts 3,600 hp., courtesy of two Cummins QSK50-M1 main engines, paired to Reintjes WAF 773 gears that have a 7:1 gear ratio. Cummins Sales & Service supplied the main engines and the vessel's generators, while Karl Senner supplied the gearboxes.
First Retractable For LeBeouf
In addition to the company's 90 tank barges, LeBeouf operates a fleet of 41 towboats, of which the Miss Andrea is the only retractable. The vessel is also ABS Load Line certified for limited Great Lakes operations. McManus said that was a strategic move by LeBeouf.
"LeBeouf has increased Upper Mississippi and Illinois River operations in recent years," McManus said. "This vessel gives us greater flexibility throughout this region."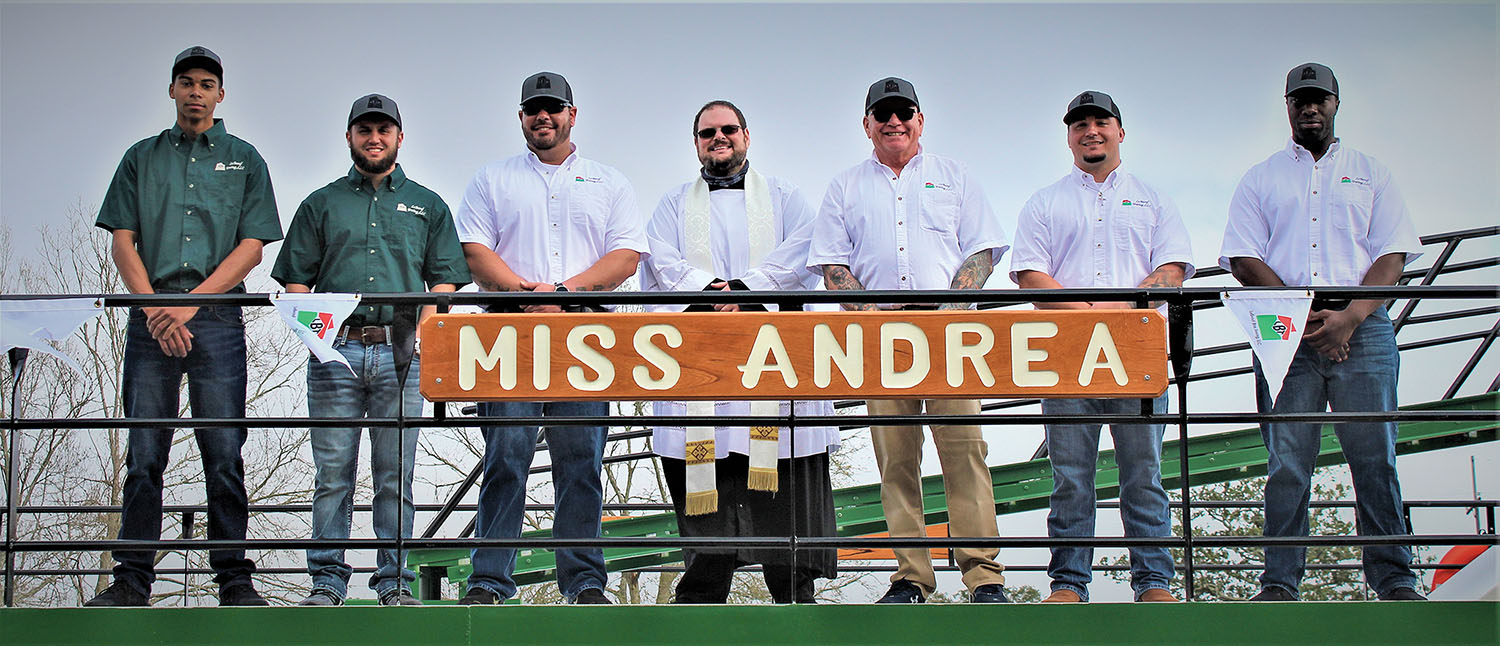 The Miss Andrea's drive system turns 91- by 68-inch propellers from HS Marine Propulsion. Tankage aboard the vessel includes 55,000 gallons of fuel, 8,200 gallons of potable water, 600 gallons of lube oil, 600 gallons of gear oil and 1,400 gallons of waste oil. 
On deck, the Miss Andrea features a pair of Patterson deck winches and a Patterson capstan, all supplied by Donovan Marine, which also supplied the vessel's steering room and engineroom blowers. Pneumatic Specialties supplied the Miss Andrea's North American Electric steering motors.
Karl Senner supplied the throttle aboard the Miss Andrea, while Pneumatic Specialties provided the steering controls. Wheelhouse Electronics supplied the Furuno and Icom electronics and communications package, while Unlimited Control & Supply provided the general alarm and fire panel. Atop the pilothouse, the Miss Andrea's wind gauge and satellite TV dome were supplied by Wheelhouse Electronics, while Donovan Marine supplied the Kahlenberg foghorn and Carlisle & Finch search lights.
Power Specialties supplied the Miss Andrea's pumps. Work Boat Electrical Services supplied the main engine and generator battery chargers. Pneumatic Specialties supplied the vessel's ram and motor for raising the pilothouse.
"The vessel was Coast Guard certificated in December 2020, and that maintains 100 percent certification of all LeBeouf's towing vessels," McManus said. "Our entire fleet is 100 perfect Coast Guard certificated. That's 41 vessels."
Those vessels serve anywhere between Corpus Christi, Texas, and the Florida Panhandle along the Gulf Intracoastal Waterway, and up and down the Mississippi River and its tributaries, even along the Illinois and Ohio rivers.
McManus offered his congratulations to Joseph for serving with such excellence during her time with LeBeouf. The LeBeouf Towing family prides itself on the longevity of staff and crew members, McManus said. That sense of family and value of all employees has guided the company throughout the COVID-19 pandemic, he said.
"The strength of our company is our people, and we're doing really well with that," McManus said.
The company held a traditional, albeit scaled-down christening for the mv. Miss Andrea, with Andrea's husband, Jay, close family and friends present. A local priest offered a blessing for the towboat. Dickie Gonsoulin, CEO, was master of ceremonies. Jon Gonsoulin, president, and Mark Bourgeois, executive vice president, both spoke as well.
To punctuate the event, Joseph broke a bottle of champagne over the bow of the Miss Andrea.
"I cracked the bottle on the first time," she said. "It was great, and the adrenaline was flowing.
"It was really an amazing opportunity, and I feel very honored and blessed," she added. "I certainly did not expect that. Never in my wildest dreams did I think I would have a vessel named after me."