A brand-new company has given itself one unique mission: to make mariners' lives easier by helping them to organize the paperwork and supporting documents underpinning their credentials, ratings and licenses. 
MM-SEAS is the first-ever software that automates the manual task of obtaining, tracking and renewing U.S. Coast Guard credentials. MM-SEAS not only eliminates paperwork processing errors, it promises to deliver "meaningful merchant mariner career guidance."
Hawse-Piping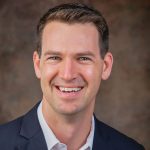 Nate Gilman, co-founder of MM-SEAS, grew up on Puget Sound. Beginning as a teenager, he worked on cruise vessels belonging to Argosy Cruises, which his uncle Brock Gilman managed, and which operates sightseeing vessels in and around Seattle, Wash. 
In Gilman's words, he "hawse-piped" his way onto the bridge. Instead of attending a maritime academy, he earned his Third Mate Unlimited license through sea time accumulated while attending regular college and studying for the exams on his own. 
Sign up for Waterway Journal's weekly newsletter.
Our weekly newsletter delivers the latest inland marine news straight to your inbox including breaking news, our exclusive columns and much more.
Along the way, Gilman, like many another merchant mariners, became frustrated at the myriad hoops he had to jump through, and the requirements he had to keep track of. "Here in the U.S., we make merchant mariners' credentials and certification much more complicated than many European countries do," he said. "All of those requirements are baked into law, and some go back decades." As an example, he cites engineers' licenses that are restricted and graduated according to the horsepower of the engine.
Gilman spent years serving as a deck officer aboard vessels belonging to the National Oceanic and Atmospheric Administration, and the requirements for what counts as sea time aboard those vessels can be "mind-boggling," he said. He held positions from running tall-ship educational programs, to pleasure yachts, to serving on large research ships.
He also met people serving in the Coast Guard or other branches of the military who wondered about using their sea service to qualify for merchant marine licenses but ran up against a near-impenetrable wall of regulations, including federal regulations on how many hours technically count as a working day of sea time.
"I've been sailing my whole life, and as a captain, I knew how hard it was for me to obtain and grow my credentials. I first thought of MM-SEAS because I started wondering how to make the process easier, for myself and for all mariners," Gilman said. "Today, applying for a credential is like doing your taxes by reading the federal code! We wanted a simple way for mariners to grow in their careers, and for our military community to have good-paying jobs after they leave the service. These jobs are critical for our economy and our national defense. The team started MM-SEAS to support and grow mariners to fill these really critical roles."
Twelve-Step Program
The need is great. Obtaining merchant mariner credentials can be a confusing process that can end up costing mariners hundreds or even thousands of dollars in processing costs. The website of the Coast Guard's National Maritime Center, which was established to centralize mariner credentials, lists 12 steps for obtaining a Merchant Mariner Credential (MMC). Step 2 is photocopying a Transportation Worker's Identification Credential (TWIC), which has its own set of steps (and expenses) to obtain. The TWIC itself, created after 9/11, adds steps that have been criticized as increasing mariners' burdens without effectively enhancing security. Gilman says he knows of only a few ports in the country that follow every TWIC protocol. Renewing an MMC also has 12 steps. 
Reducing time, delay and costs for mariners is a major focus of the NMC. "The Coast Guard does a great job of authenticating and verifying," Gilman said.  But the NMC's officers have to work within the legal and regulatory framework behind the credentials and the steps to them. Even exemptions and waivers meant to ease the burden on mariners can end up adding to the complexity. Gilman notes in a press release that from 2012 to 2018, 44.9 percent of roughly 500,000 applications submitted to the National Maritime Center were incomplete or missing key documents.
The MM-SEAS software is designed to help tidy up and declutter the process. Its motto is "Scan, Upload, Rest Assured."
Team Of 'Rocket Scientists'
Gilman found he was not the only one who had noticed the need. He has been able to recruit and work with a diverse team he jokingly calls his "rocket scientists" on the project, most of whom have some personal stake in the mission. "The MM-SEAS team is composed of maritime and technology experts and spans the country including Boston, Honolulu, Park City, Arlington and the Bay Area. The team has deep roots in the maritime community and have personally come face-to-face with many of the challenges merchant mariners encounter when obtaining, maintaining and growing their licenses," according to an MM-SEA press release.
Team members include an actual rocket scientist:
• Chief Technology Officer Jesse Reich is an aerospace engineer, full stack developer and machine learning data scientist. He also holds an MBA from the University of Maryland;
• Chief Data Officer Lindsay Hennes, a Coast Guard licensed captain with 10 years of maritime experience, most recently captaining ferries in San Francisco Bay, holds a Master's degree in GIS from the University of Southern California and is interested in analysis and visualization of ocean datasets;
• Tyler Cornett, a dedicated front-end developer with online sales and marketing expertise, completed a 20-year Coast Guard career as a chief warrant officer 2nd class, where he was an IT project manager, systems administrator and IT trainer throughout the West and East Coast;
• Zac Butko, systems engineer, operations and test engineer, full stack developer and machine learning data scientist, was also a deckhand on the 137-foot, gaff-rigged schooner Bill of Rights in 2012;
• Brian Bolton is a web application engineer currently based in Honolulu, Hawaii; and
• Kristen Mattern, a global public policy expert for a technology company, is currently based in Washington, D.C., and supports MM-SEAS with marketing and communications.
Mariner Control Is The Goal
The MM-SEAS platform, available on desktop and mobile, uploads a mariner's MMC, documentation of sea service, training certificate or other paperwork and then allows the user to extract the applicable data in real time. MM-SEAS makes it easy for mariners to determine if their training and experience fulfills the requirements of the more than 840 Coast Guard licenses and endorsements, as well as providing insights into what is needed for their renewal. This information is then stored in the company's secure database and displayed on an interactive user dashboard, providing clarity of process and focused career development for civilian mariners and active-duty service members.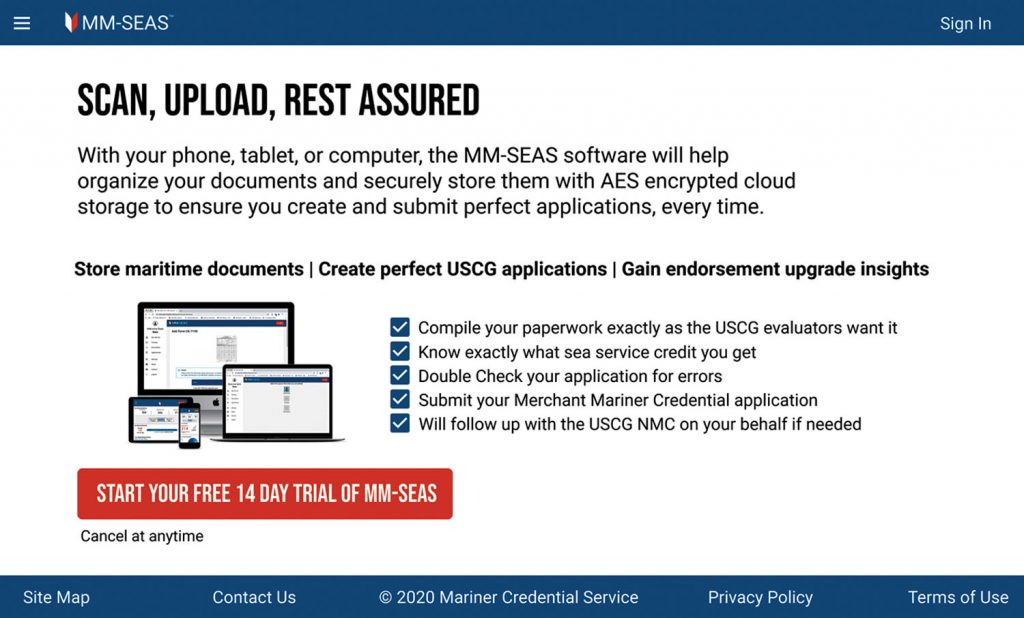 The mariner remains in control of all information at all times, a key goal for Gilman. "Mariners should always own their own information and should always have access to it," he says. 
Gilman and other MM-SEAS team members have quietly met with and gotten support from key officials involved in mariner credentialing. 
 "We believe in focusing on one thing, and being the best at it," Gilman said. "For us, that one thing is making mariners' lives easier." The software has potential to be used for other markets. That may happen one day, but for the time being, Gilman and his team want to stay resolutely focused on mariners and their needs. "I don't ever want to sell the company because I'm not sure the buyers will protect the mariners," he said.  Gilman told The Waterways Journal that his company has turned down "millions" in venture capital money that came with strings that would have required the company to expand or shift its focus in ways that would have diluted or compromised that mission. 
It's for that same reason that Gilman wants to grow sustainably. "We hope to have 1,000 users within the next three months," he said. "If there are any kinks, we can work them out, with personal attention."
With approximately 210,000 U.S. merchant mariners who collectively contribute more than $150 billion to the economy each year, MM-SEAs should have plenty of room to grow. 
Learn more at www.mmseas.com.