One of the largest and most important rail-to-barge transloading facilities in mid-America is closing, another sign of the decline of the coal era in American power generation.
Located north of St. Louis on the right descending bank of the Mississippi River, across from the lower exit of the Chain of Rocks Canal, the Hall Street facility is the terminus of the shortest rail connection from the Powder River Basin coal fields in Montana to the northernmost year-round, lock-free, ice-free Mississippi River port. It has served energy customers in Louisiana with cleaner, low-sulfur Powder River Basin coal since 1979. It is due to close in April after a storied career.
At its peak, it employed a staff of 34 that moved between 7 million and 8 million tons of coal a year from rail to barge—quickly, efficiently, safely, year in and year out, 24 hours a day, 7 days a week, except when closed by forces beyond its control.
What made the facility run so smoothly? "It was the people," said David Evans, who rose from a maintenance worker when the facility was first opened to become its supervisor. "Everyone who worked there wanted to be there, and they were always looking for ways to make it more efficient."
Sign up for Waterway Journal's weekly newsletter.
Our weekly newsletter delivers the latest inland marine news straight to your inbox including breaking news, our exclusive columns and much more.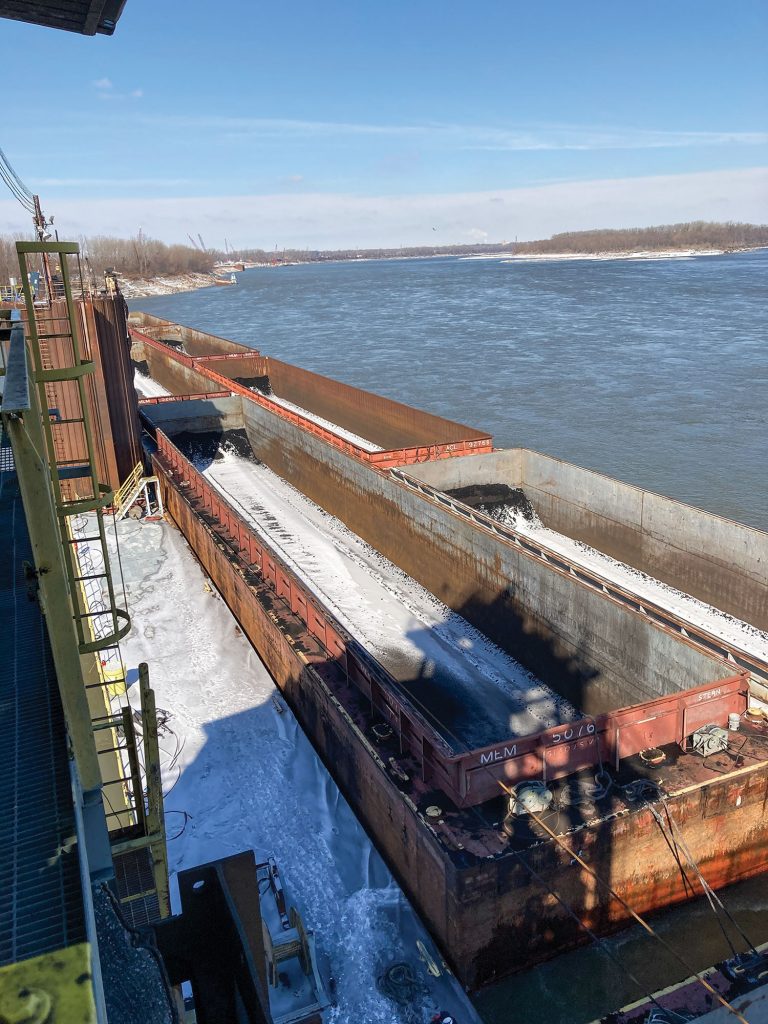 Evans reckons it moved a total of 218 million tons of coal during its long career. "We moved a little bit of petroleum coke, too, but not enough to mention," added Tom Waters, who served as director of coal and energy sales and operations at the facility during his 25 years with ACBL.
"The Hall Street facility was the brainchild of a man named Louis Meece," a former vice president at American Commercial Barge Line, according to Waters. It was purpose-built by ACBL to serve a 10-year contract with what was then called the Cajun Electric Company, which operated a coal plant in New Roads, La., north of Baton Rouge. The power plant today is known as Big Cajun 2, and it is operated by Cleco Cajun LLC, a subsidiary of Cleco Corporate Holdings, which bought it in 2019.
The Hall Street site was an existing brownfield site owned by Burlington Northern, which ACBL bought. "Burlington Northern was a fantastic partner for ACBL," Waters said.  "Burlington Northern was very happy with the way we operated that facility," Evans said. The Hall Street facility transloaded coal from the Burlington Northern railcars directly to Mississippi River barges. Not only was the facility itself purpose-built; ACBL also built and dedicated boats and barges to serve the contract. The facility could store up to 500,000 tons of coal. 
"In those days, 10-year [coal] contracts were common," Waters said. "We moved between 7 and 8 million tons of coal a year." The special coal barges, called the X-series barges, were 245 feet long, about double the length of ordinary barges. Tows could total up to 20 barges. Using two loading belts, a 68-inch and a 72-inch belt moving at 900 feet per minute, the facility could load simultaneously from railcars and yard stockpiles at about 6,000 tons an hour. During high water, when tows could be loaded to the maximum draft of 11 feet, 6 inches, a 25-barge tow could total 52,000 tons of coal. A turnaround trip could take as little as 18 hours. 
The only times the facility was shut down was during events beyond its control. "We always tried to make sure there was no downtime," Evans said. Evans remembers that during the Mississippi River floods of 1993, "We were the last facility working on the river. We never stopped until the rail lines were underwater." The facility averaged about 7.4 million tons a year, but during one particular year loaded 10 million tons, according to Evans. He remembers the facility loading a million tons in a one-month period in 2007.
Beginning in the 1990s and accelerating as the 2000s progressed, the country moved away from coal as an energy source. Coal plants were aging, pollution mitigation was getting more and more expensive, and the fracking boom was keeping natural gas prices at record lows. This convergence of factors closed coal plants across the country, even before environmental groups made closing them part of an active campaign. Those that remain are subject to ever more stringent regulations. 
During the Obama administration, the Cajun 2 plant was determined to be in an air quality non-attainment zone. Under a settlement with the Environmental Protection Agency,  one of its three units was converted to natural gas. The plant's coal requirements were reduced, and business at the Hall Street facility began slackening.
According to Cleco spokeswoman Franchesca Phoenix, today the Cajun 2 plant serves the unregulated wholesale power market—that is, it sells power to municipalities and cooperatives, and those load-serving entities deliver the electricity directly to their retail customers. Today, Big Cajun 2, along with a lot of other coal-fired units in the United States, uses significantly less coal.  The decrease is primarily due to stricter EPA requirements, the market price of power and the accelerated rollout of renewable energy sources across the U.S.
No plans have been announced for the Hall Street site. However, with its strategic location, it could be used for high-quality metallurgical coal or possibly be converted for agricultural products.
Caption for top photo: Powder River Basin coal is loaded into a barge at the Hall Street Terminal. (Photo courtesy of ACBL)