The mv. Ron Nokes, a 4,000 hp. twin-screw towboat built by Steiner Construction Company, Bayou La Batre, Ala., was put into service the week of February 15. While it bears the stack insignia and colors of Kirby Inland Marine, which is indeed operating it under a long-term bareboat charter, the vessel is owned by Hines Furlong Line. It is the largest towboat that Steiner Construction has ever built and the first new "high horsepower" towboat to enter Kirby's fleet in many years. 
Ron Nokes, for whom the vessel is named, said he first learned of his being the namesake while having lunch at the Nashville airport with Kent Furlong, president and CEO of Hines Furlong. "Kent unwrapped a metal plaque with the image of a towboat on it and asked what I thought about it." He said he was flabbergasted when he saw his name on the nameboard. "Really, I was totally overwhelmed and humbled that he would name a boat after me, an old barge builder and not a family member or anything."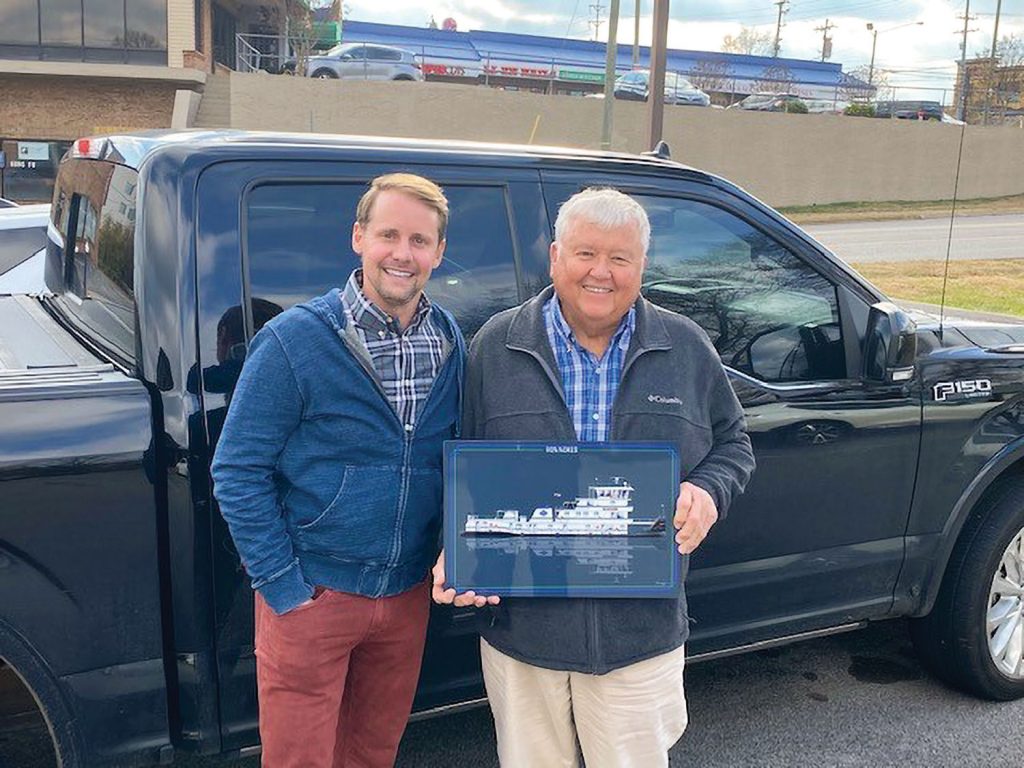 Raised on a farm in Lebanon, Tenn., 25 miles east of Nashville, Nokes learned the value of hard work at an early age. At 16, he stocked shelves and swept the floor of a neighborhood grocery store while he was in high school and was never without a job from then on; that is, until his retirement at 75, he said. 
"Well, that's not entirely true," Nokes corrected himself. He said he served two years in the Army infantry patrolling the Korean Demilitarized Zone. 
Prior to his military service, in 1963 at the age of 19, he had walked into the office of Nashville Bridge Company (now Arcosa Marine) without an appointment and inquired about a job as a draftsman. "My girlfriend told me she wouldn't marry me until I had a full-time job," Nokes said. He acquired his interest in architecture from his father, who was a carpenter, and had taken some drafting courses at a community college. Subsequently, he got the job and, that same year, as planned, he married his high school sweetheart, Bobby Jane.
When he returned to his drafting position in 1968 at Nashville Bridge, he worked in the marine division, creating detailed drawings for barges, towboats and dredges. "I had the good fortune to work with Ed Shearer and Kent Hoffmeister during my early years, and I learned a great deal from them," Nokes said.
He was promoted to manager of estimating in 1978, then, additionally, to sales manager in 1985 during the downturn in the industry, when "no one else would take the job." In 1990, he was promoted to director of technical services, overseeing the engineering department, on top of estimating and sales. "I had the additional responsibility of ensuring that detailed drawings and Coast Guard documentation were completed on each contract," he noted.
When Trinity Industries bought Nashville Bridge in 1995, Nokes was promoted again, this time to vice president of sales for tank, hopper and specialty barges, a position he held throughout Trinity's eventual acquisition by Arcosa in 2018 and until his retirement in 2020, which is when he closed out his 55-plus-year career.
Furlong said he had been wanting to name a boat after Nokes for some time.
"He is quite frankly just such a great person and has been wonderful to work with over the years," Furlong said. "There isn't a person in the business who could say anything bad about Ron. When I proposed the name to the folks at Kirby, they loved it due to their long-term relationship with him."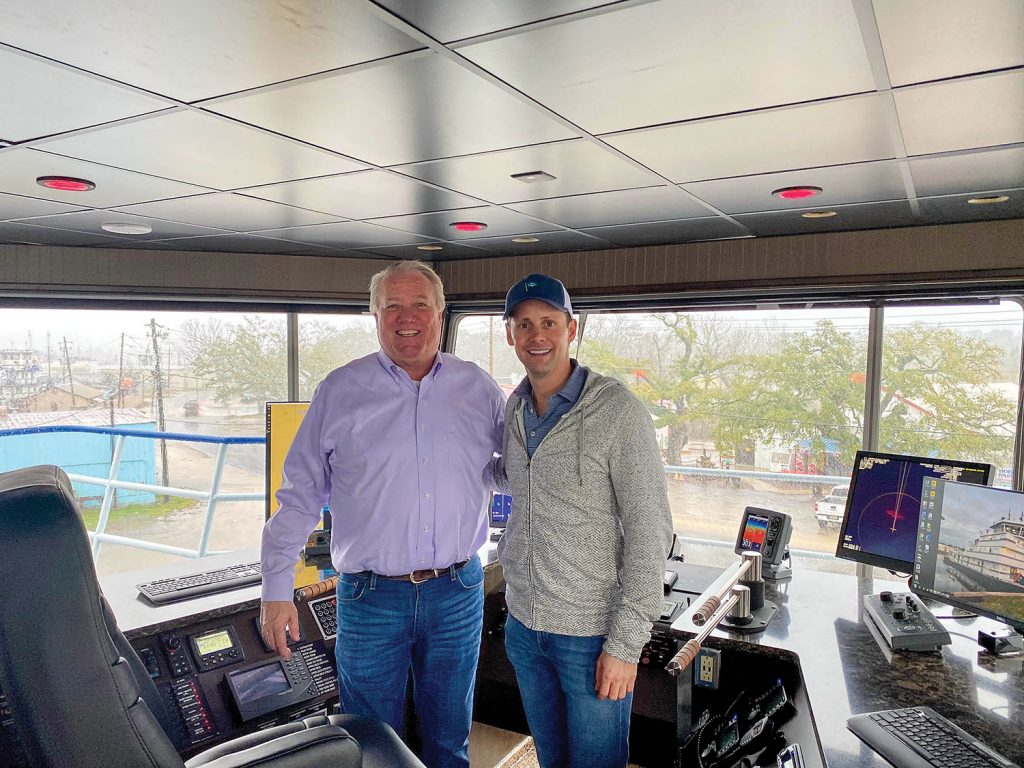 Richard Northcutt, a 37-year marine industry veteran who is Kirby's vice president of sales and horsepower management, seconded Furlong's lofty opinion of Nokes.. "We are very proud to name the boat after Ron," he said. "He is truly one of the finest gentlemen we have had the pleasure of working with over the years in the marine industry."
He said Kirby plans to operate the mv. Ron Nokes in its upriver service, which is part of what the company calls its "river horsepower fleet," adding, "We are expecting the boat to perform great and are looking forward to Kirby's customer base reaping the benefits of this new, modern, 4,000 hp. vessel for many years to come."
Vessel Specs
"I drafted the design for many towboats over the years,  but this boat far exceeds anything I ever drew up," Nokes said. "The size and roominess of the pilothouse really impressed me." It is the widest pilothouse that designer CT Marine has ever designed, confirmed Christian Townsend. 
Continuing, Townsend said the Ron Nokes is the latest member of the CT Marine BullDOG class, which was first developed for Marathon Petroleum in 2006. "The design features a very low superstructure to increase stability as well as maneuver a particular bridge," he said.
The Nokes is fitted with running gear akin to five sisterships that CT Marine designed, which includes CT28 kort nozzles, CTM twisted struts and CTM inland wheels. "She does not run our new TwinDIFF system that the HFL Scarlett is running, as we wanted to keep spares similar between BullDOGS," he said.
The 142-foot-long, twin-screw Ron Nokes is also "by far the largest boat Steiner Construction has ever built," said Cole Elmore of the shipyard. The next biggest were two that Steiner built for Enterprise Marine Services in 2020, the Billie Ruth and the Maggie Rae. The Nokes is 44 feet wide and has a draft of 11 feet. When loaded to 8 feet, 6 inches, it has a pilothouse eye level of 32 feet. 
Two Cummins QSK60 Tier 3 diesel engines from Cummins Mid-South produce the new vessel's 4,000 hp. at 1,600 rpm. The engines turn Sound 100- by 104-inch propellers on 9.75-inch, ABS II shafts in sleeves lined with a nickel-chrome-boron coating. The seals are Duramax Marine DryMax units. The engines are connected to Reintjes WAF 873 gears with a 7.454:1 reduction ratio supplied by Karl Senner Inc.
The engines are cooled by a DuraCooler grid system and protected by an alarm system furnished by EMI, which also supplied the electric-over-hydraulic steering system.
Two Cummins QSB7-DM generators provide auxiliary power to the four-deck vessel, which has 12 berths in eight staterooms for its crew and guests. Further, the accommodations feature an all-stainless-steel galley and two lounges, one for the crew and one for guests. The interior was designed and installed by Kern Martin, which also insulated the cabin for noise and vibration. Herbert Hiller supplied the fixed CO2 fire safety system. A Carrier four-pipe dual chiller with boiler and generator heat recovery system furnishes the vessel's air conditioning and heating. There is a FAST 12-person wastewater treatment plant.
Built into the hull is tankage for 75,900 gallons of fuel, 59,400 gallons of ballast and 14,000 gallons of potable water. There are holding tanks for sewage and bilge water—6,700 and 1,200 gallons respectively—and compartments for lube (800 gallons), gear oil (500 gallons), slop oil (840 gallons) and hydraulic oil (250 gallons). The hull is protected by Schuyler fendering.
Wheelhouse Electronics supplied the communication and navigation package, featuring a combination of Koden and Furuno equipment. On deck are two Wintech 65-ton electric winches and a Schoellhorn-Albrecht through-deck capstan.
Northcutt passed along that the captain of the Ron Nokes said the boat is operating great, and the crew is extremely proud of their good fortune to be working on the Nokes.
Now Retired
In retirement, Nokes spends time with his daughter, Kelly, who is a nurse practitioner; his son, Joseph, a police officer; and his three grandchildren. His wife died in 2001, and he never remarried, he said. Ever the carpenter, he recently built an addition to his home in Lebanon. He also has some property in the Chestnut Mountains, where he goes to hunt deer and turkey.