A Kentucky riverport and a marine construction firm based in the same town are working together on a project they hope leads to additional jobs and economic opportunities for their Ohio River town.
The Owensboro Riverport Authority has been hard at work over the past few years to expand its total capacity of bulk and other cargoes, Executive Director Brian Wright said.
That has meant the recent purchase of a new Sennebogen 875 material handler that should arrive in April or May and the need for an accompanying spud barge.
The port, which is a publicly owned entity, sent out a request for qualifications in December.
Sign up for Waterway Journal's weekly newsletter.
Our weekly newsletter delivers the latest inland marine news straight to your inbox including breaking news, our exclusive columns and much more.
"We were very pleased to award the construction of this new spud barge to Yager Marine," Wright said, adding, "It really was a win-win not only for Yager Marine right here in Owensboro but also for the entire community to provide jobs and for future jobs long-term."
Yager Marine, based in Owensboro at Mile 752, built and launched its first barge in 1983. In addition to new construction, the business operates a marine repair facility at the same location, offering topside and drydock repair services for towboats and barges. Its parent company, Yager Materials, goes back to President Jim Yager's grandfather, Pat Yager, who founded a stone and gravel mix company in 1914.
"We're very pleased to be building for a local business, a local company right here in Owensboro," Yager said.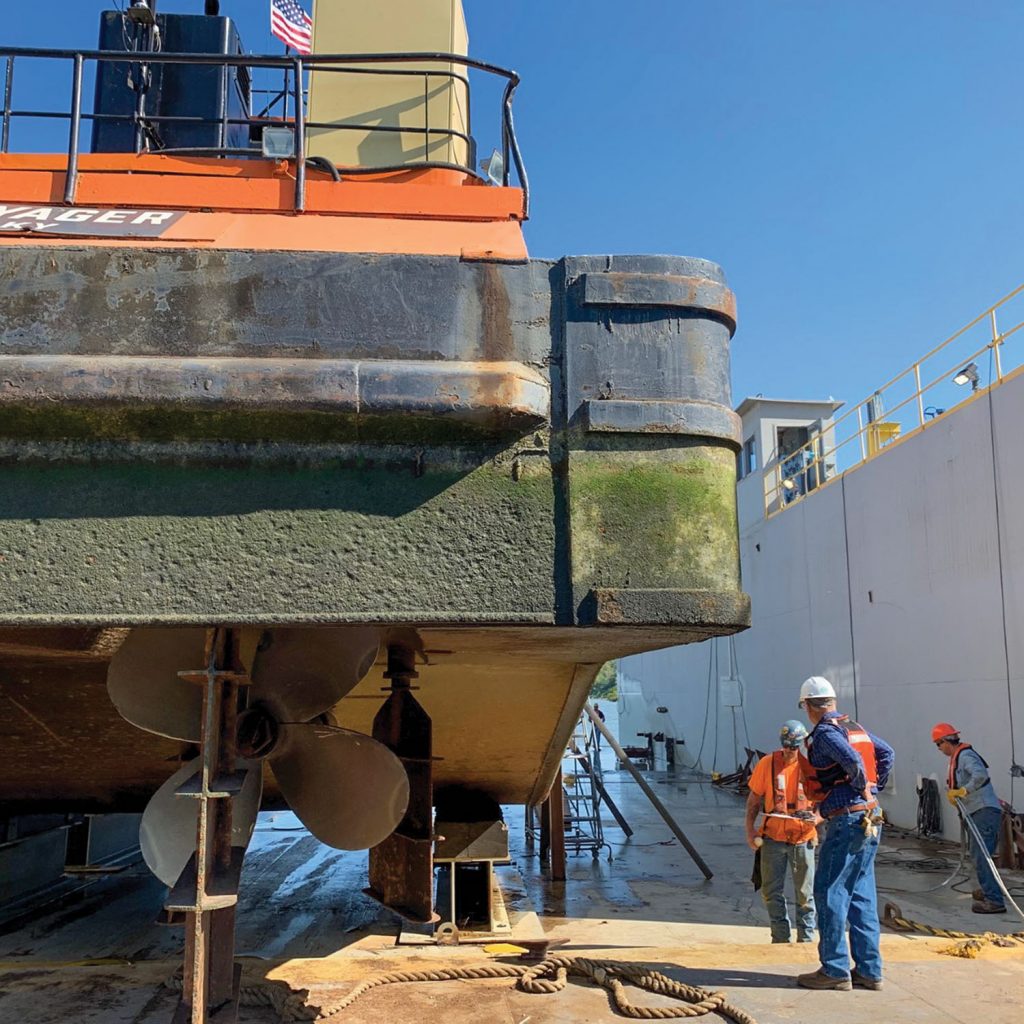 Besides the spud barge, Yager Marine will also do some existing work for the riverport on an existing barge for its current material handler, a Liebherr 120."Part of our long-term capital plan and overall riverport improvement plan was to not only provide back up support for our existing material handler but also to have a new piece of equipment in place for our future expansions," Wright said.
He continued, "We've been talking about a new barge for probably five years. It really wasn't until we were able to secure our new material handler that really put us in a position to move forward."
Paul Peoples, manager of business development for Yager Marine, described the new spud barge. It will be 160 by 50 by 8 feet with four spud wells and 70-foot spuds.
"It was designed to withstand operating either one of the machines the riverport has, both the new Sennebogen 875 or the Liebherr 120," Peoples said.
Yager has a backlog running into June 2022, which is when the new barge is scheduled to be delivered.
Yager will also put the current barge the existing material handler is on into drydock to replace the current spud wells. Wright said that barge, which was built in the mid-1970s, is showing its age.
"Over the last 10 years, especially, [since the port acquired the Liebherr 120] it's taken excessive wear," he said. The riverport will rent a barge to use while its existing barge is being repaired.
Just as the riverport is expanding its capabilities, Yager Marine is going through an expansion period of its own.
Although it began building barges on a small scale in 1983, a MarAd grant the company received in 2012 allowed Yager to double the square footage in its barge-building facility. 
It began with a 60- by 60-foot, 600-ton drydock. Along the way it built a new, 120- by 75-foot, 1,000-ton drydock.
Yager also added a one-sided welding unit and two overhead cranes, increasing overall capacity by 50 percent.
Yager Marine was acquired by a new parent company, Belgian-based Carmeuse, in 2019, leading to other opportunities. Among them, Yager Marine was able to add a 1,200-ton, 40-foot tandem press brake last year, allowing the company to bend steel for their own fabrication, Peoples said.
"And we continue to increase manpower as time goes on," Yager said.
Right now, Yager Marine has about 35 employees, including at the repair yard. When it started in the 1980s, it had only about a dozen.
Wright is excited when he looks toward the future of the river industry in Owensboro, visualizing continued growth, and he has statistics to back it up. While in 2010, the port's annual throughput was 600,000 to 700,000 tons, it now has an inbound throughput of roughly 1.2 million tons.
"We see the need going forward as more work is being done on a national and a state level utilizing the river system," Wright said of continued work along the river. "We'll continue using this equipment and this spud barge for many years to come."
That's something both the port and its barge-building neighbor Yager Marine have to smile about.