TVNCOE Website Redesign Eases Access To Subchapter M Information
Visitors to the Coast Guard's Towing Vessel National Center of Expertise (TVNCOE) website can find information about Subchapter M and other information more quickly after a recent website makeover.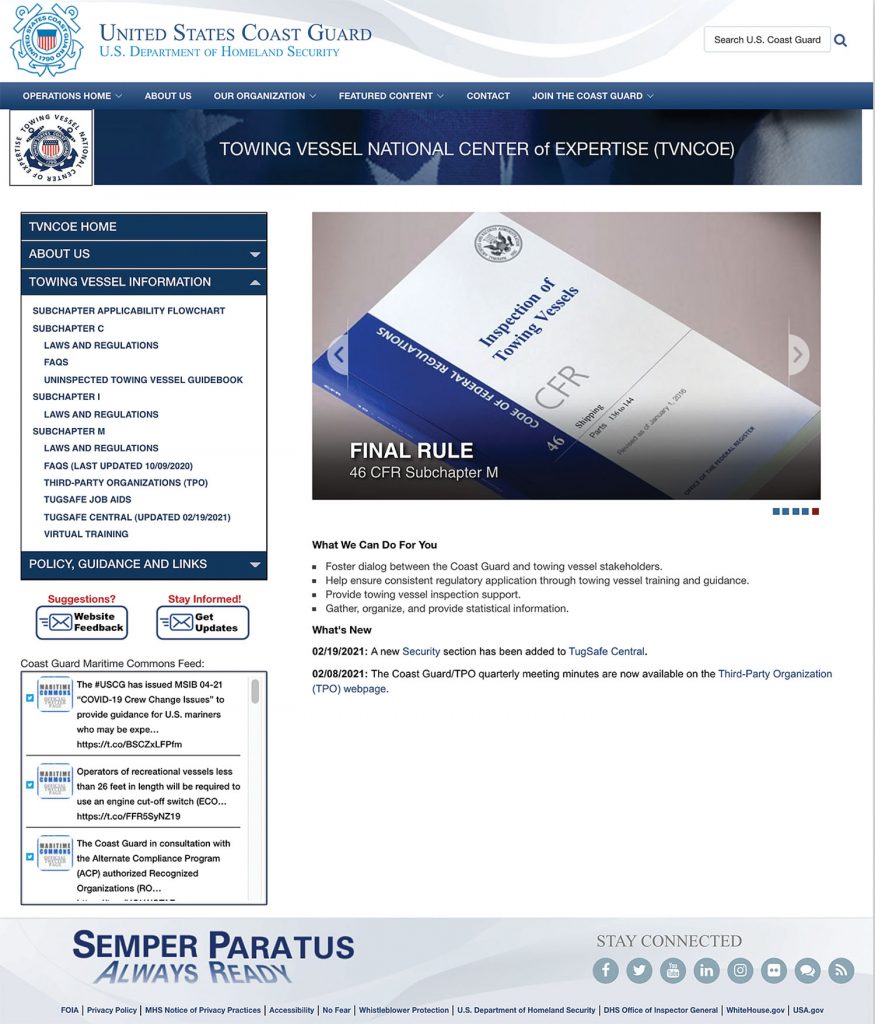 The redesign of the site was designed with users in mind after taking a look at what they were searching for and then streamlining the site so that they could locate the information more quickly, said Mike Kelly, technical adviser.
"I constantly go through and try to make it more navigational-friendly for the end-user," he said.
Kelly overhauled the site in February, taking information that was spread throughout it and consolidating it to make it easier to find. Changes include updating information for TugSafe Central, the electronic compliance guide for Subchapter M. The guide contains basic information as well as links to policies that provide further detail.
Among other changes, the frequently asked questions page now provides more information, Kelly said, and additional information has been added about drydock hull inspection requirements. 
He also reviewed links to make sure they were active and checked policies to make sure those cited were up to date. The work included providing new links to the Commercial Vessel Compliance website to ensure that users have the latest guidance on all Coast Guard-inspected vessel fleets.
Kelly also modified the website's navigation bar. Instead of clicking three times to find information about Subchapter M, now it can be accessed with a single click of the mouse in many cases, he said.
"You don't have to drill down as far to find it," he said.
Additionally, the site now gives more information on cybersecurity.
The Coast Guard has come up with new guidance and requirements that will kick in this year," Kelly said. "We started a page, and we will build on it."
Users may access the Towing Vessel National Center of Expertise website at www.dco.uscg.mil/tvncoe/.