Although its staff of 10 naval architects and marine engineers may be small, JMS Naval Architects has projects with a worldwide reach.
JMS is based in Mystic, Conn., and most of its clients come from the workboat industries, President Blake Powell said. However, its customer base has meant traveling to the West Coast, Gulf Coast and, with the marine surveying portion of the business, as far as Alaska, New Zealand and Chile.
"We have the staff and the expertise to do just about any kind of naval architecture and marine engineering work," Powell said.
JMS Naval Architects was founded by Bruce Banks and Jack Ringelberg in 1988. It started off mainly by providing marine casualty response services, including salvage engineering.
Sign up for Waterway Journal's weekly newsletter.
Our weekly newsletter delivers the latest inland marine news straight to your inbox including breaking news, our exclusive columns and much more.
"Over time we've grown the engineering side of it," Powell said.
JMS now provides naval architecture, marine engineering, marine surveying and casualty response services to assist owners in the management of their fleets. 
Powell assumed ownership in 2014. Although he grew up in Connecticut, he attended the University of California-Berkley on a Navy ROTC scholarship, receiving his degree in naval architecture. He then served as a diving and salvage officer in the Navy for four years. Powell was based on a salvage vessel in Pearl Harbor, Hawaii. The vessel was engaged in salvage, ocean towing and diving operations throughout the Pacific.
Following his stint in the Navy, Powell came back home to Connecticut for his work with JMS.
The company prides itself on its innovative thinking in addition to its commitment to quality. One of the JMS's recent projects involved designing a self-propelled, 10,000-gallon, U.S. Coast Guard-inspected double-hull tankship for Intracoastal Marine (IMF) of Jupiter, Fla. The tankship design is unique for its compact 53- by 18-foot size and diesel outboard propulsion.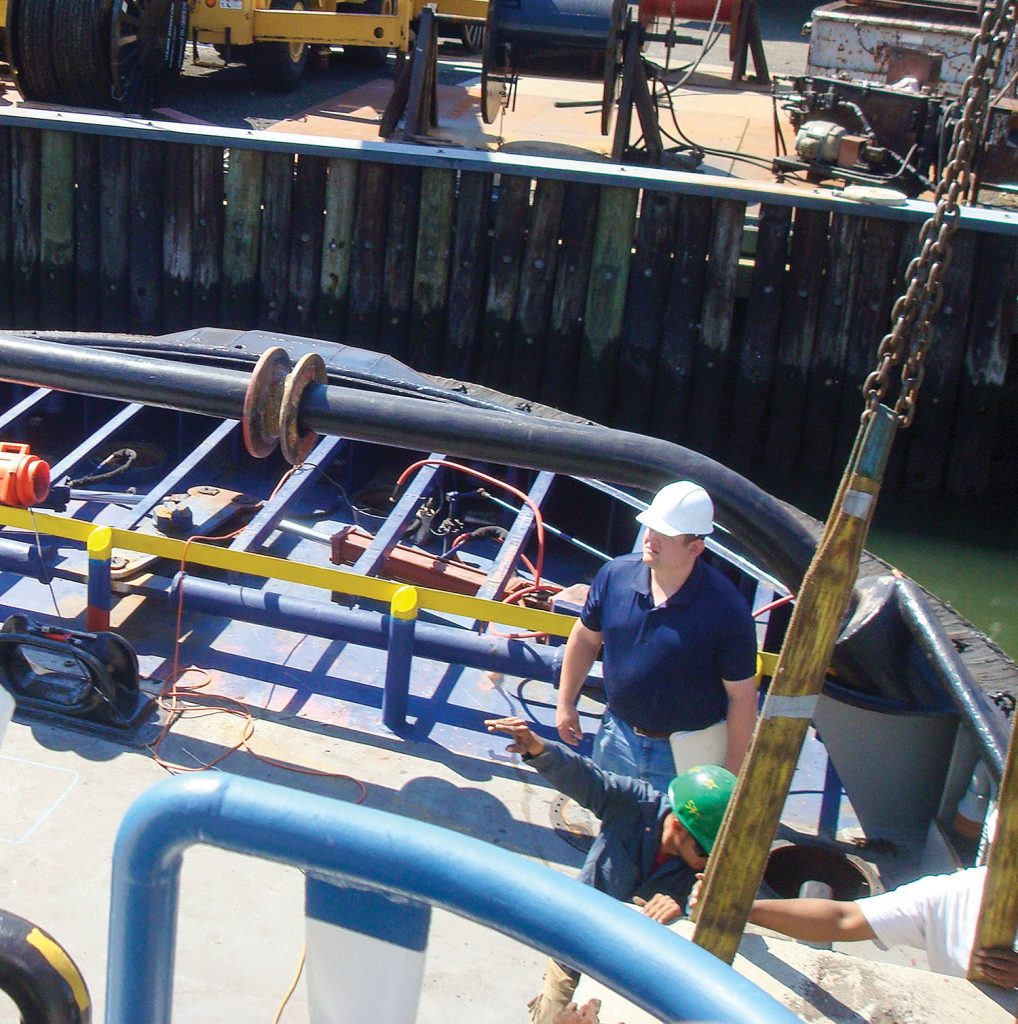 Propulsion is provided by a pair of 300 hp. high performance CXO300 diesel outboard engines made by COX Marine. The four-stroke, V8 engines deliver a combination of high power and high torque and single fuel, enabling the tankship to offer the same performance and efficiency of an inboard but with the convenience and flexibility of an outboard engine, according to a news release from JMS. 
The engines boast a lightweight design requiring 25 percent less fuel while delivering 480 foot-pounds of torque. A propulsion control system made by Seastar, the Seastar Optimus Electronic Power steering, shift, throttle and joystick controls systems package, was selected for increased maneuverability. The package integrates the operation of both outboard motors into a single maneuvering system. The tankship also has a raised trunk cargo tank with a pilot and operator's station aft. It is outfitted with electronically powered cargo pumps and a 370-gallon fuel oil tank for onboard generators located below deck in the stern rake. 
A potable water tank and a black water tank are located below deck and forward of the cargo tanks. The electrical system is powered by a pair of generators in the aft machinery space to provide service to the vessel's lighting, cargo pumping and hydraulic systems.
The design represents the smallest vessel to receive Coast Guard approval as a Subchapter D tankship. IMF will use it to deliver marine diesel to mega-yachts, commercial and recreational vessels. 
Powell said the owner had some unique requirements for the vessel to allow it to bring fuel to its customers. For example, it includes high-speed pumps with variable-speed control for safety and efficiency. A canopy is provided over most of the barge's length, including the operator's station, to provide protection to the operator from the elements. It is also equipped with two, 41-foot-long spuds raised and lowered by hydraulic winches in order to anchor the vessel in place during cargo transfers to customers' vessels.
The tankship is being built to ABS rules. JMS is providing owner's representative services on behalf of IMF during the vessel construction, testing, trials, delivery and acceptance. IMF expects to build several tankships of the same design, with the first being placed into service this summer, according to JMS. It is being built at St. Johns Shipbuilding in Palatka, Fla.
Another recent JMS project was the design of a 500-ton-capacity floating drydock for Biblia Inc. Marine Towing & Transportation of Savannah, Ga. (See WJ, February 15.) The drydock is under construction at Conrad Shipyard in Morgan City, La. Biblia will use it to service its own tugs and offer similar repair and maintenance services to other vessel owners in the area from its Savannah River facilities. Biblia owns and operates a fleet of tugs and barges, providing marine transportation, bed-leveling, agitation dredging and dragging services on the East Coast, Gulf Coast and western rivers of the United States.
"We've seen a lot of interest lately in drydocks, partly because of D.O.T. grants for small shipyards to upgrade their facilities," Powell said. 
Another recent JMS customer has a fleet of research vessels on the Great Lakes, Powell said. JMS designed an engineering package for repowering one of those vessels as well as doing some maintenance and helped the customer put the project out for bid. The vessel is now at Great Lakes Shipyard in Cleveland, Ohio, for the work to be done.
"We're developing the technical specification for another research vessel due to go out to bid this spring for the same customer," Powell said.
The work is busy, but fulfilling, Powell said. "We don't do a lot of the same work twice," he said. "Our jobs are all unique. Our customers are all  unique, but that's what keeps it interesting."