Minnesota DOT Leader And Former Twin City Barge Official Dick Lambert Dies
Richard "Dick" Lambert, long-time champion of the inland waterways, died March 20 at his home in Burnsville, Minn., after a two-year battle with pancreatic cancer. He was 85.
Born in St. Paul, Minn., he was the grandson of Col. George Lambert, an early advocate for the 9-foot channel project on the Upper Mississippi River, for whom Lambert's Landing in St. Paul was named.
Dick Lambert attended the University of Minnesota and worked part time as a watchman and deckhand for Twin City Barge & Towing, where his cousin Jack Lambert was the president.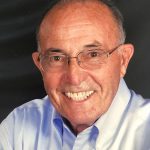 After graduating from the university, he tried to work at a normal bank job, but the lure of the river and Twin City Barge beckoned him back. He went into the office and worked his way up to vice president, St. Paul Division. In 1984, when the St. Paul units of Twin City Barge were sold to investment bankers, he became president of Upper River Services, the reorganized part of the St. Paul Harbor Division. 
He left the industry in 1989 but returned in 1993 as the director of ports and waterways for the Minnesota Department of Transportation. As director, he helped support and bring the importance of Minnesota's waterways to the public, other government agencies and others to whom he could spread the message. He also provided state support to the ports of Minneapolis, St. Paul, Red Wing, Winona and Duluth. Working with the Port of Duluth gave him special joy.
"It opened a whole new world we never realized existed after spending our lives on the river," he said.
Lambert was a long-time member of the Twin City Propeller Club and was an integral member of the Upper Mississippi Waterway Association as a member and officer for almost 50 years. "He was one of the nicest people and a person liked by everyone he came into contact with, in his 50 plus years of his career," Greg Genz said.