Family members, friends and American Commercial Barge Line (ACBL) teammates gathered at the company's Harahan Fleet, just upriver from New Orleans, March 19 to celebrate the life of ACBL veteran Mark L. Duplantis and dedicate the vessel now named in his honor.
Duplantis, who died October 19, 2020, started his career in the maritime industry in 1988 with Conti Carriers in fleet operations. He later joined ACBL in the same role after the company acquired Conti in 1995. He moved into barge maintenance for ACBL in the early 2000s, then became a port engineer in the mid 2000s. He served as director of the company's Armant Fleet for three years, before becoming director of boat maintenance in 2013, where he remained until his death.
And while Duplantis was never able to see his name emblazoned on the mv. Mark L. Duplantis, ACBL colleagues announced the plan via phone call shortly before his death. That phone call included Bill Foster, senior director of boat maintenance, former ACBL CEO Mark Knoy and former ACBL Chief Operating Officer Paul Tobin.
"We had the honor of making sure Mark knew [the renaming] was going to happen, and I think that gave him a lot of peace, because now his name is going to continue to be associated with the river," Foster said.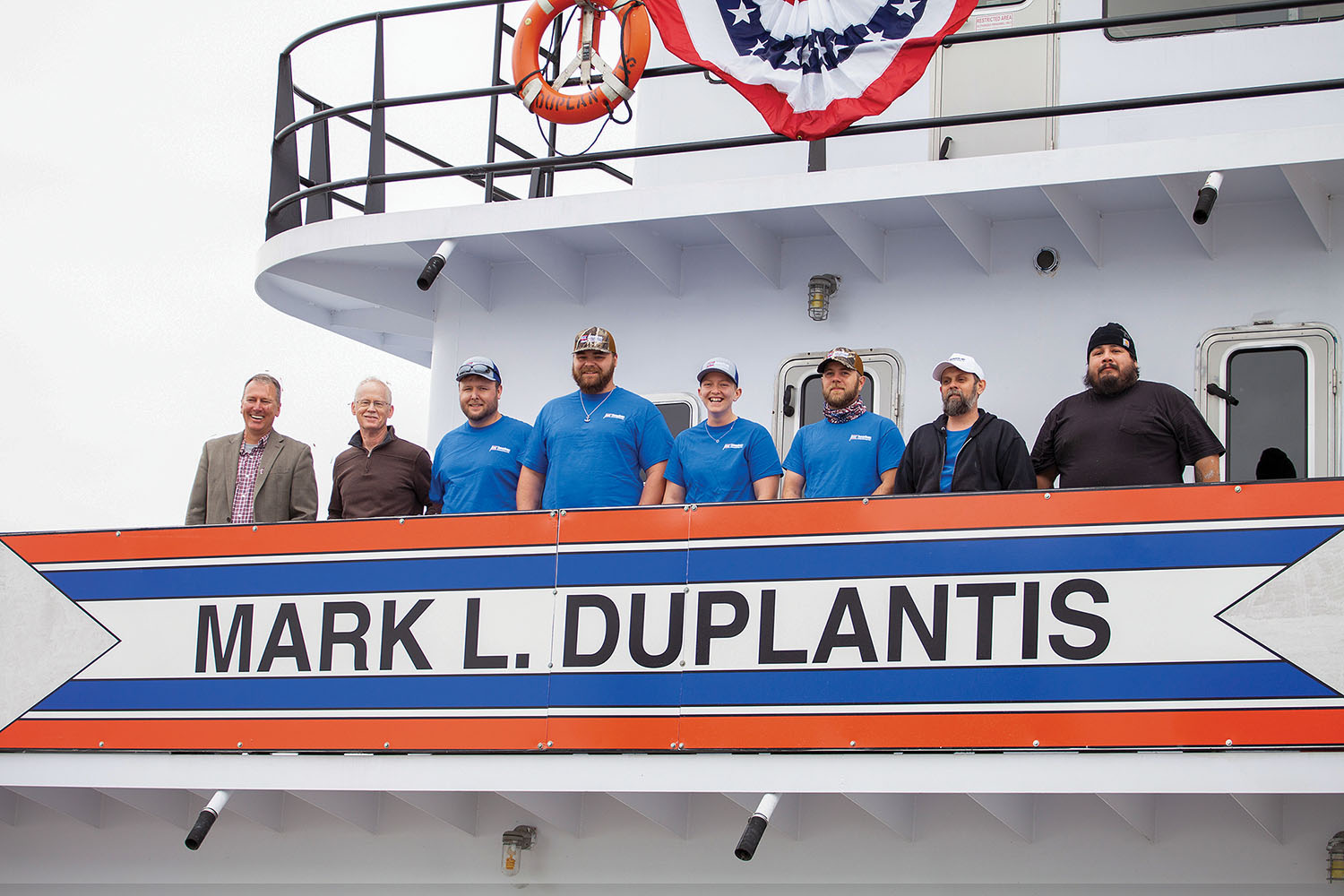 Reflecting on his career and friendship, Foster praised Duplantis for his willingness to always step up in times of crisis.
"He was the personification of mutual care and taking care of his teammates," Foster said. "One of the more notable events of many during his career was back during Hurricane Harvey. Mark took the lead, organized and shipped two tractor trailer loads of food and supplies to our teammates over in Houston.
"If there was a need, Mark would be there to step up and take care of it," he later added.
That care and concern grew out of the fact that Duplantis viewed his ACBL teammates as more than just coworkers. To him, they were family.
"Mark had two families," Foster said. "He had his private family, and he had his work family. It was hard to tell those apart sometimes."
Duplantis's son, Bobby, who worked five years with ACBL, echoed that sense of family.
"When it was time to step up, he was always there," he said. "He loved this team. He loved this company a lot."
Leaving His Mark
Duplantis, even in death, will continue to leave his mark on the New Orleans maritime community. First, his presence will be visible in the mv. Mark L. Duplantis, which, at 3,300 hp., will be used in what ACBL calls its "shuttle trade," moving larger blocks of barges around the greater New Orleans area. In addition, there are also the enduring signs of Duplantis's presence around his old office, with his signature candy jar still stocked with treats and with office colleagues keeping his mounted deer heads up on the walls.
There are also the career-shaping, personal impressions Duplantis had on colleagues, which will continue to impact ACBL for years to come. Just one example of that is Robert Ahdosy, chief engineer aboard the mv. Mark L. Duplantis, who said Duplantis helped him move over to the engineroom about 8-1/2 years ago.
"I don't think I've ever seen him without a smile on his face," Ahdosy said. "He was just a down to earth guy, who'd talk to the CEO the same as a deckhand."
Jeff Kindl, ACBL's Gulf vice president, recalled how, almost seven years ago, Duplantis was chosen to be the sponsor for the mv. American Way, which, at the time, was the first new vessel to be added to ACBL's fleet in more than 20 years.
"Mark was chosen to be the sponsor because he epitomized the American way," Kindl said. "It represents the way ACBL strives to do all things, the American way."
Kindl then read from Duplantis's comments from the christening of the mv. American Way.
"In the words of Mark, 'The commitment and dedication of my ACBL teammates being honored here today exemplifies the true meaning of 'the American way,' that with teamwork and dedication, our hopes and dreams can actually become a reality,'" Kindl read. "'We are a special breed in the maritime industry. We do everything possible to protect our teammates, the environment, our equipment, our customers' cargo and our way of life, the American way.'"
As part of the dedication ceremony, Tom Rhoades, Gulf region maritime and river chaplain for Seamen's Church Institute, offered a prayer for the vessel and its crew and presented Nathan Basnett, captain aboard the mv. Mark L. Duplantis, with a Bible and the flag of the Merchant Marine. U.S. Coast Guard Lt. Commander Joe Hart then offered Basnett the American flag. Finally, Foster presented Basnett with the ACBL flag.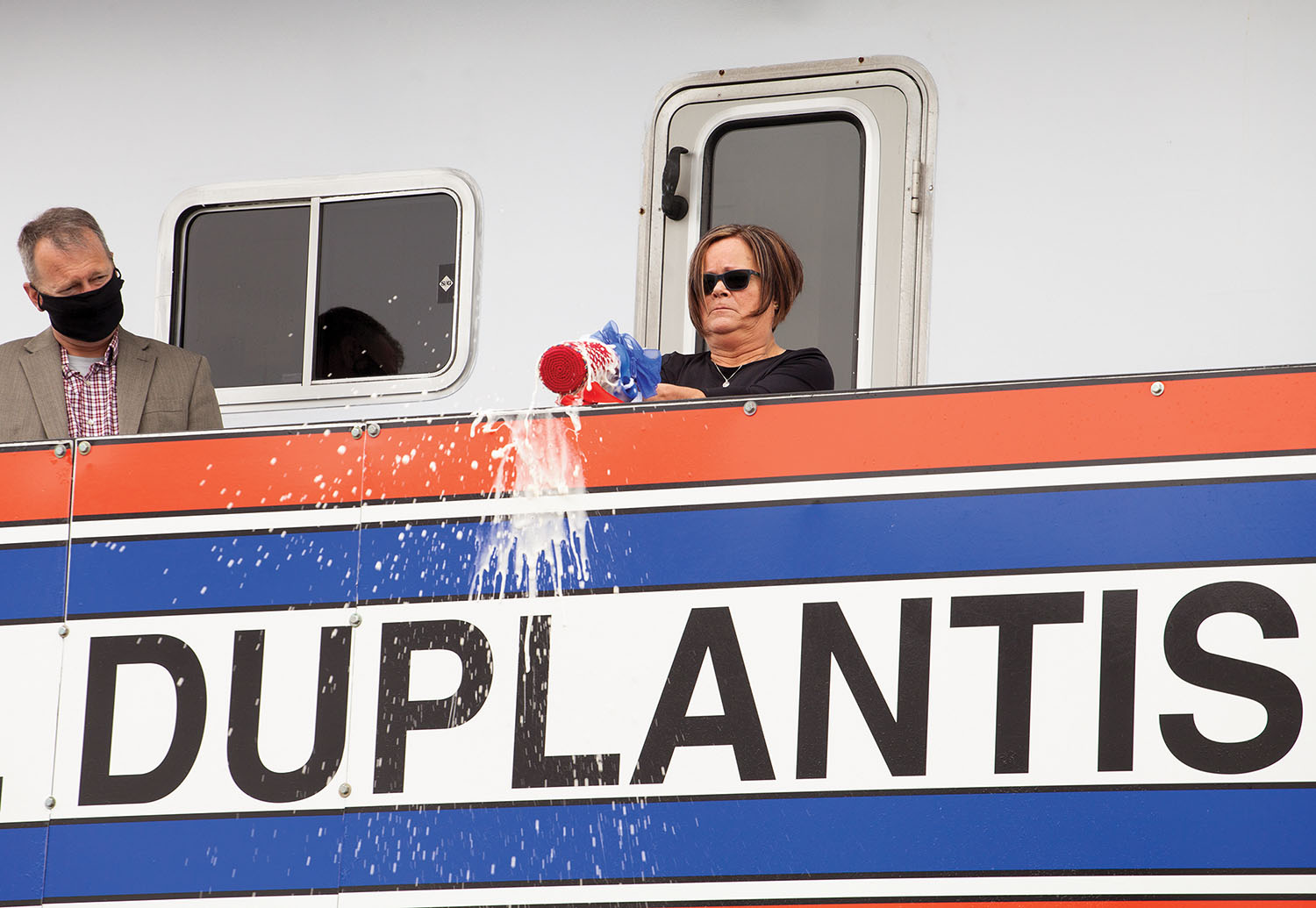 Duplantis's wife, Lisa, then capped off the dedication ceremony by breaking a bottle of champagne over the vessel's railing.
ACBL completed the overhaul work aboard the mv. Mark L. Duplantis in mid-March, with James Marine responsible for all hull and underwater work on the vessel. Marine Systems Inc. performed the main engine top end overhaul aboard the vessel, along with additional work by Bluewater Electric. Jared Degenhart, ACBL's vessel technician, installed the company's PLC-based vessel alarm and monitoring system.
For more photos from the christening ceremony, click on the slideshow below. (Photos by Frank McCormack)