Phil Wilzbacher, the longest serving port director in the Ports of Indiana's 60-year history, is retiring effective April 20.
Wilzbacher, 62, is retiring after 19 years of service at the Ports of Indiana-Mount Vernon facility.
"Nineteen years," he said. "Great memories. What a fantastic ride!"
Wilzbacher didn't have a family connection to the river. Instead, he grew up on a dairy farm near Fort Branch, Ind. His introduction to the river industry came about through his familiarity with agriculture, however. He worked his way up from a laborer at a grain elevator to eventually managing operations at various grain companies before transitioning into marketing and business development for two different short-line railroads.
Sign up for Waterway Journal's weekly newsletter.
Our weekly newsletter delivers the latest inland marine news straight to your inbox including breaking news, our exclusive columns and much more.
Along the way, he valued the relationships he built, some of which turned into friendships outside of work.
"I'm a firm believer that the relationships you develop over the course of business lead to more than just doing business," he said.
That proved to be the case when two of the people he met through the grain and railroad industries called him to tell him Ports of Indiana was looking for a director for the port in Mount Vernon. Until then, Mount Vernon and Jeffersonville shared a director, but Ports of Indiana had decided each facility needed its own full-time director.
"I thought it would be valuable experience to learn the river industry," Wilzbacher said, so in January 2002, he took the job.
It turned out to be the perfect fit.
"What I've come to understand about myself is I enjoy business development, and I enjoy logistics, and the job as port director allows me to do both," Wilzbacher said.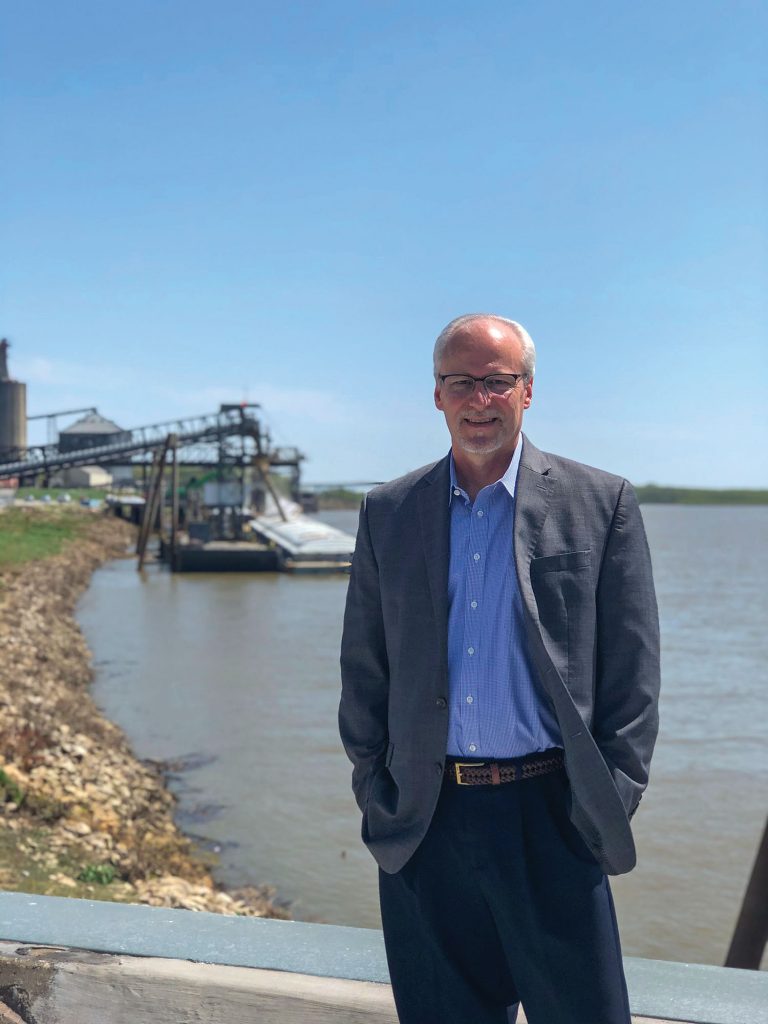 He said he has spent much of his time working with businesses at the port, looking for opportunities for expansion that fit within their industry sector. Promoting business diversification and looking for new potential industries are also important, he said, as is maintaining the port's infrastructure. Over the past 19 years, the port has completed nearly $20 million in capital improvement projects to attract more cargo and enhance the port's capabilities.
Although some new ideas have come and gone, "One thing hasn't changed: Ports of Indiana's mission to develop and maintain a world-class port system dedicated to growing the economy of the state of Indiana," he said.
Wilzbacher has been a big part of that mission.
Under his direction, the Ports of Indiana-Mount Vernon saw record tonnage for five consecutive years and an overall tonnage growth of 400 percent, propelling Mount Vernon to the seventh largest inland port in the United States, according to a news release from Ports of Indiana.
Companies welcomed during Wilzbacher's tenure have included Valero Renewables, Consolidated Terminals & Logistics Company (CTLC), American River Transportation Company (ARTCO), Cimbar Performance Minerals, Nutrien and Kosmos Cement. 
Both Valero and Consolidated Grain & Barge Company (CGB), two global leaders in ethanol production and soybean processing, invested in major plant expansions in recent years. Ports of Indiana-Mount Vernon serves as Valero's only ethanol plant able to directly load and ship products by barge. The port also is home to CGB's flagship soybean processing facility, shipping nearly 60 percent of the volume via barge. 
Wilzbacher said one of the things he has enjoyed most about his time as port director is helping the companies within the port to succeed.
"We want them to succeed," he said, adding that he likes to ask, "What is it that Ports of Indiana can do to set things in motion or to help that company to succeed, grow, expand or diversify? And what can we do to attract new industry as well?"
He continued, "I'm a firm believer in the old saying, 'Spend a day in the life of your customer.' Get to know and understand their business. It's also important to understand the capacity of what the port has to offer, the infrastructure that is already in place that can accommodate what type of commodities. Then it's a matter of putting together a strategic, targeted marketing plan."
He sees helping those companies succeed as helping the surrounding community, the entire region and the country itself to prosper. As an example, he noted that the port companies currently ship or receive products from 44 different states and 20 different companies through Mount Vernon, a community of 6,500 people.
"That's satisfying to think about for me," he said.
He's quick to add that the daily work of making a difference is in the hands of many people at the port, calling it a "team sport."
"I take a deep satisfaction from what I've been able to be involved in," he said. "The growth of the port speaks for itself. The working relationships, the expansion of the port, to me those are successes. They're not a result of just a singular effort. It's a team."
He sees the future as bright.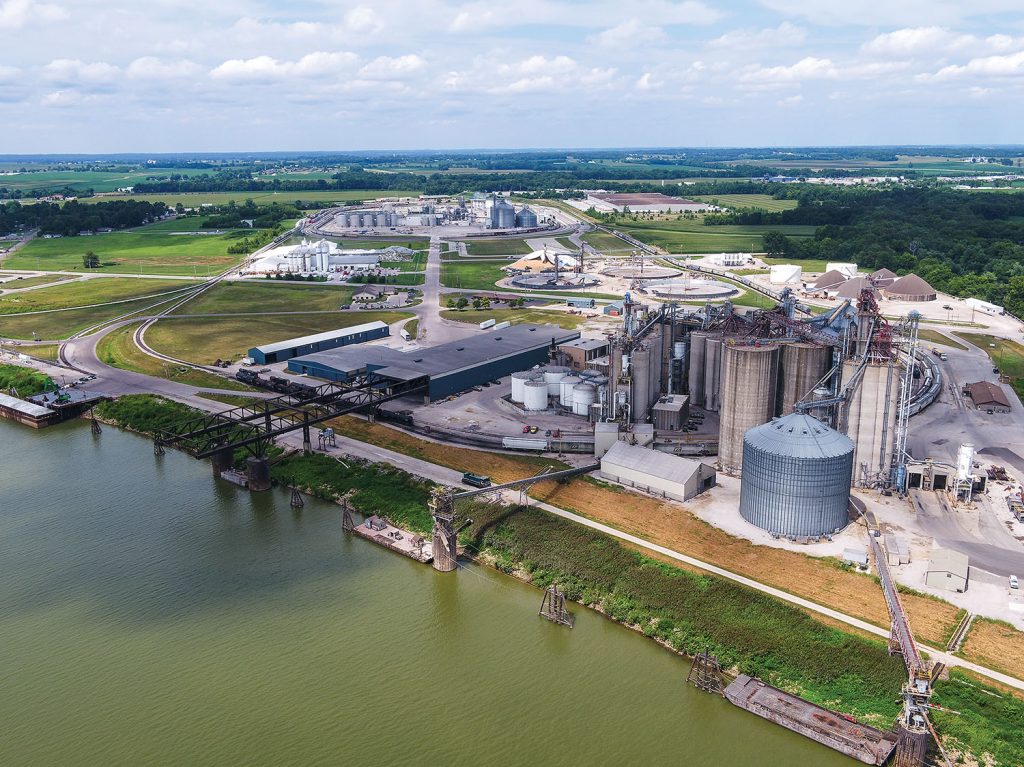 Under his leadership the Ports of Indiana-Mount Vernon has grown from 745 acres to 1,240 acres, including 600 acres open for development. One greenfield site is 544 acres. The port is actively marketing it for a potential steel production facility.
"In addition to having the river connection, you need great access to rail," he said. "You need great access to the highway and interstate system. That's something we have here at Mount Vernon."
He said he's looking forward to watching that next phase of growth from the sidelines, however. 
"I feel very fortunate to have served as the Mount Vernon port director for 19 years, a good portion of the port's 45-year history," he said. "It's been a privilege to work alongside an exceptional team and to conduct business with our port companies, the southwest Indiana community, other ports and industries throughout the U.S. inland river system and global markets. The relationships developed over time have become lifelong friendships, and for that, I am grateful."
Following his retirement, Wilzbacher plans on spending more time with his wife, Katie, son, Brian, daughter, Alison, and his and Katie's three grandchildren. He used to tournament fish for bass.
"I may have to buy a boat again and get my fishing tackle off the shelves," 
Also, he has always wanted to learn piano, so he will have time for that, he said.
Although he considers serving as director of the Ports of Indiana-Mount Vernon as the capstone of his career, he also doesn't believe his working days are completely over. Following a little rest and relaxation, he said, "There's a new challenge out there for me, and I'm committed to finding that."
Ports of Indiana CEO Vanta E. Coda II thanked Wilzbacher for his years of service.
"Phil's longtime professional leadership and commitment to the Mount Vernon port has been foundational to the organization we have become," he said. "His dedication to help grow Indiana's economy through landmark achievements, infrastructure investments and business partnerships is a remarkable legacy. With deep gratitude we wish Phil the best of luck in his next chapter."
Chief Operations Officer Andrea Hermer also wished him well.
"Phil has established a solid pathway to the next level future growth and prosperity we aspire to deliver for the Mount Vernon port and Indiana," she said. "We appreciate Phil's commitment to the Ports of Indiana and wish him all the best."
Ports of Indiana is searching for the new director of the Mount Vernon port. Until Wilzbacher's replacement is selected, Ports of Indiana-Jeffersonville Port Director Jeff Miles will act as interim director.