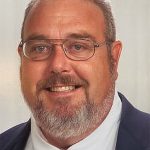 Bruce Bacon, NAMS-CMS of Milford, Ohio, owner and principal surveyor of Neptune Marine Surveys & Services, died March 25.
In the mid-1970s, Bacon got his start decking for Dravo Mechling Barge Line.  Later, he was a barge maintenance representative for National Marine.  He founded Neptune Marine Surveys in 1990 at Cincinnati, Ohio.  
Bacon was a member of the National Association of Marine Surveyors (NAMS) since 1999. He accepted assignments in commercial vessels, container loads, salvage and heavy lift.  He volunteered for the NAMS Western Rivers Region screening committee in 2012, serving as chairman from 2013 to 2016. He also had certification from the International Institute of Container Lessors as a container inspector.
Bacon served 30 years as a Scoutmaster with the Boy Scouts and led his three sons to become Eagle Scouts.