(Note: This is an updated and expanded version of a story that was initially posted on Waterwaysjournal.net May 12. This story will be updated as needed.)
The Coast Guard closed the Lower Mississippi River in both directions for a mile on either side of the Hernando de Soto Bridge in Memphis, Tenn., following the discovery May 11 of a crack in one of the main beams supporting it. 
The closure is between Mile 736 and 737. The bridge carries Interstate 40 between Memphis and West Memphis, Ark. Vehicular traffic was being rerouted via I-55, which crosses the river just downstream. 
During a May 12 news conference, Arkansas Department of Transportation Director Lorie Tudor called the crack a significant fracture in a steel beam crucial to the bridge's structural integrity. 
Sign up for Waterway Journal's weekly newsletter.
Our weekly newsletter delivers the latest inland marine news straight to your inbox including breaking news, our exclusive columns and much more.
"This fracture had the potential of becoming a catastrophic event that was prevented by our staff's diligent efforts in managing our bridge inspection program," she said. 
Tudor said it is too early to say for sure, but that ARDOT is hopeful that both a short-term and long-term solution for repairs will be possible. 
"Our goal is to reopen the bridge as soon as possible while ensuring the safety of motorists and barge traffic," she said. 
She voiced understanding of the importance of reopening the river to the barge industry and all those who rely on it. 
 "The Mississippi River is a waterway that is crucial to barge traffic and movement of commodities," she said.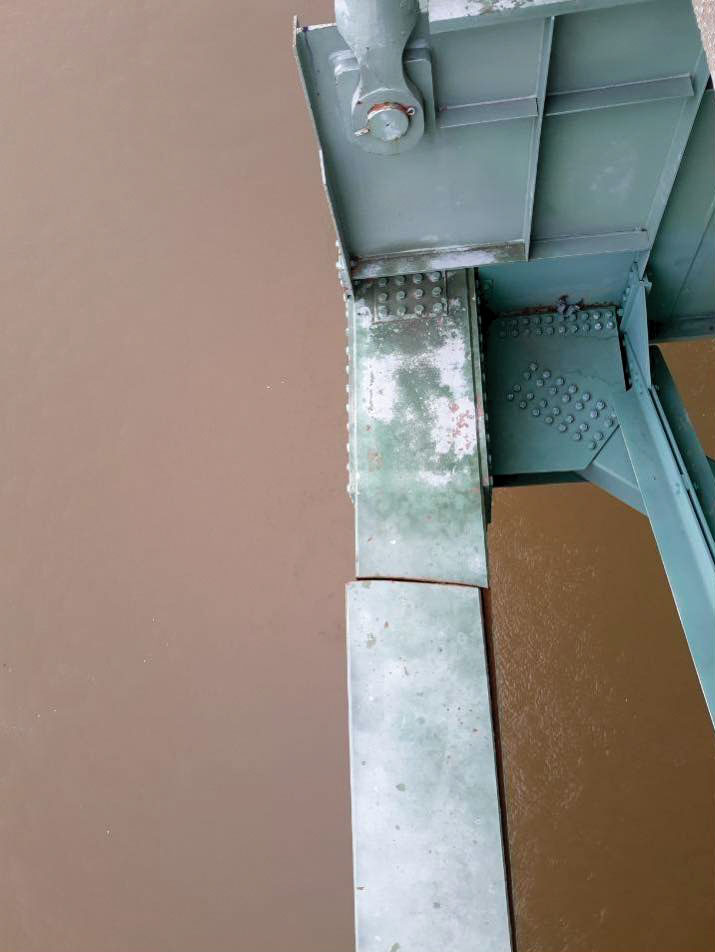 Arkansas transportation officials were unable to provide any immediate timeline for possible reopening of the bridge or the river.  
Paul Degges, Tennessee Department of Transportation (TDOT) chief engineer, said in TDOT's separate news conference that crews are working to determine whether the bridge can support its own weight without traffic on it, given the compromised steel beam. 
"When we get the answer to that, we'll be able to answer, 'Can we reopen barge traffic?'" he said. 
He said he hoped to know the answer to that question within a day or two. 
Inspectors were using drone footage of the crack to examine it up close and to determine if it is spreading, said Dave Parker, a spokesman for the Arkansas Department of Transportation (ARDOT).  
Michael Baker International, a contractor for ARDOT, discovered the crack near the center span of the bridge–over the navigational channel—on the first day of a routine bridge inspection, Tennessee Commissioner of Transportation Clay Bright said. The bridge is owned jointly by the states of Tennessee and Arkansas, with Arkansas leading inspections and Tennessee leading maintenance and repair efforts and both states splitting the cost equally. 
TDOT reported that three plates in a 2-foot-wide steel beam had separated by a fraction of an inch, and a fourth plate was cracked. ARDOT reported the bridge had last been inspected in September 2020. Although most bridges are inspected every two years, fracture-critical bridges are inspected on an annual basis. 
ARDOT has hired HNTB Corporation., a Kansas City, Mo.-based architecture and planning company, to help determine how repairs should proceed. TNDOT said Michael Baker International is also involved in the evaluations. Bright said officials had already sought and been granted permission from the Federal Highway Administration and U.S. Department of Transportation to move forward with an emergency contract for repairs. 
Lynn Muench, senior vice president-regional advocacy for The American Waterways Operators, said she had learned from the Coast Guard that as of 2 p.m. Thursday, May 13,  26 northbound vessels with 430 barges and 21 southbound vessels with 341 barges were waiting to move through the area.
Lower Mississippi River Committee chair Randy Chamness was embedding with the Coast Guard, developing a plan of action on how to move the queue under the bridge when the river reopens.
"Obviously, there is a lot of stuff that has to move," Muench said.
She emphasized that it was not clear when the river would reopen because engineering assessments were still underway.
"I think the impacts are so difficult to assess at this point because we just don't know anything. It could open this afternoon. It could open a long time from now," she said.
"The Coast Guard is currently working with Arkansas Department of Transportation, Tennessee Department of Transportation and river industry stakeholders on this developing situation," said Capt. Ryan Rhodes, captain of the Port of Memphis. "Based on the current information available, we have closed a portion of the Lower Mississippi River out of an abundance of caution. The captain of the port is monitoring the situation and will continue to ensure the safety of the maritime environment and surrounding community." 
The Coast Guard captain of the port determines when to issue a river closure by following a waterways action plan, which provides marine industry, the U.S. Coast Guard, state and local governments with a coordinated plan for facilitating the safe and orderly movement of traffic.  
Mike Steenhoek, executive director of the Soy Transportation Coalition, talked about the impact of the river closure at the bridge on agriculture interests. 
"It remains to be seen when barge traffic will be allowed to resume, but any suspension of traffic—even temporarily—on the Mississippi River is most unwelcome to U.S. agriculture," he said. "Almost every barge loaded with soybeans, corn or other agricultural commodity along the Upper Mississippi, Ohio, Illinois or Missouri rivers are destined to Gulf of Mexico export facilities near New Orleans and therefore must pass underneath the I-40 bridge." 
Steenhoek noted that according to the U.S. Department of Agriculture, in the week ending May 1, 438 barges moved downriver destined for Gulf export facilities and that most of these barges were loaded in areas north of Memphis.  
"It is reasonable to assume hundreds of barges of U.S. grain will be negatively impacted by the closure depending on its duration," he said. "Because U.S. soybeans are primarily exported between the months of September and February, other commodities, particularly corn, will bear more of the brunt of the barge traffic suspension, but soybeans will clearly be impacted as well." 
Tudor said the bridge generally carries about 41,000 vehicles a day, about 30 percent of which are commercial vehicles. Construction on the bridge started in the 1960s, and it opened in 1973. A seismic retrofit on the bridge was completed in 2011, she said, but it did not involve the affected beam. 
Caption for top photo: A crack in one of the main beams supporting the Hernando de Soto Bridge over the Lower Mississippi River has resulted in the closure of the bridge and the river for 1 mile in each direction. The bridge carries Interstate 40 between Memphis, Tenn., and West Memphis, Ark.  (Photo courtesy of Tennessee Department of Transportation)