With more than four decades of experience, Llebroc knows how to meet customers' needs for quality seating.
Wayne Corbell founded Llebroc Industries in 1979 in Fort Worth, Texas. The company's name is Corbell spelled backward. His son, Bryan Corbell, has served as president for 13 years, maintaining the focus of the family-owned company on its customers while expanding its marine divisions to include work boats, bass boats, bay boats, center-console off-shore fishing boats, yachts and boats for both the U.S. Coast Guard and Navy.
"We started out in the bass boat industry and grew to doing helm chairs around 2000," Bryan Corbell said.
The company now has entire lines of seats to meet customer demands. For example, eight different models of its series 1 helm chair are available for different looks, styles, comfort and needs.
Sign up for Waterway Journal's weekly newsletter.
Our weekly newsletter delivers the latest inland marine news straight to your inbox including breaking news, our exclusive columns and much more.
Customers can choose from leather or vinyl in a variety of colors, along with different styles of headrests, lumbar back support and even heater options. There are also different choices for sliders/swivels, footrests and electronic hardware. 
Because bodies come in all shapes and sizes, so do Llebroc chairs. For example, the Workmate 2 is a bit wider, with robust components.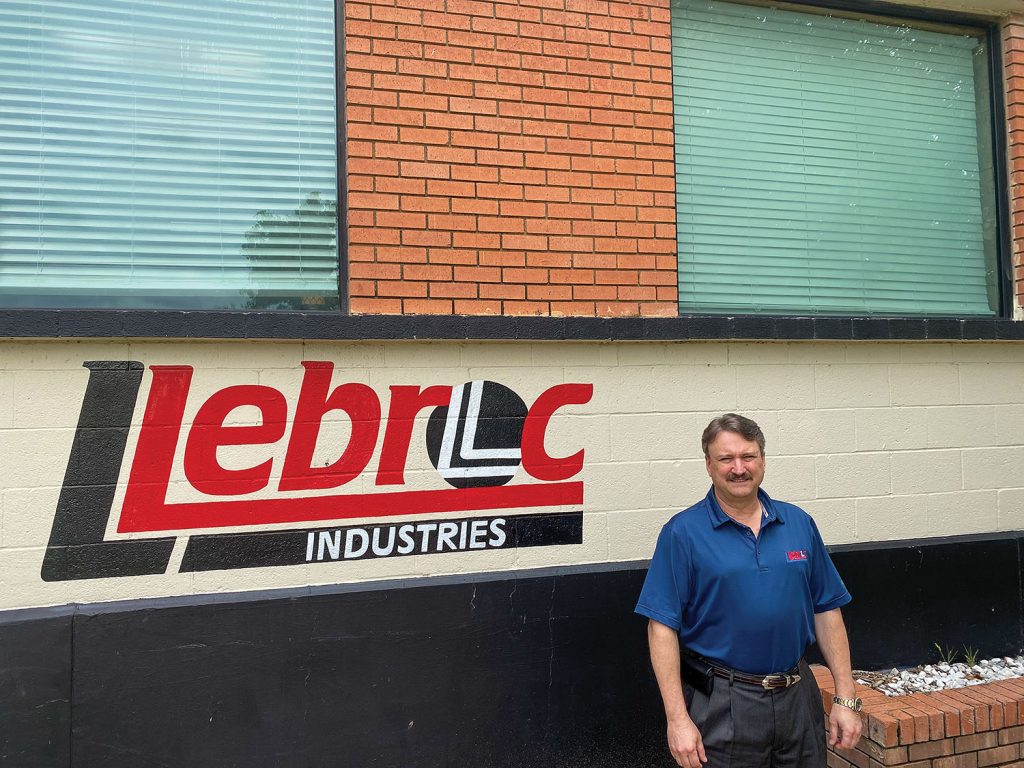 "I feel like we have a lot of different seat models and a seat range to fit just about everyone's requirements," he said.
Shock-mitigating seat bases are also available for extra comfort.
One thing is the same with all the alternatives, however.
"Our primary focus is a comfortable seat and one that lasts," Corbell said. "We aim to produce and ship it in a timely manner."
While many businesses endured challenges during the recent COVID-19 pandemic, Llebroc has seen increasing customer demand, a testament to the company's reputation among returning customers.
Additionally, Corbell said, more people are interested in recreational boating than ever before, in part as it allows them to be outdoors without being in a crowd.
"It's a whole paradigm shift, and a whole different idea of recreation," Corbell said. "We're just in the right place at the right time."
On the commercial side, Llebroc remains a popular choice because its seating is built to last, Corbell said. That is especially important in an industry dependent on the cost of fuel and the value of oil.
"We have a number of customers we've sold products to in Alaska or the Seattle area that are 10-12 years old, some of them 15 years old," Corbell said.
Returning customers often brag not only on the quality of products but also the reasonable turnaround, which includes shipping at no cost to the lower 48 states. Llebroc backs up its products with extensive customer service, he said.
Llebroc could not do all of that without its core company values, however. That includes giving back to the community. During the first two months of the pandemic, when most businesses were shut down, Llebroc maintained its payroll, kept employees working 40 hours a week and switched temporarily to sewing masks, some of which the company gave to a children's hospital and local government entities.
"We never shut down," Corbell said.
By July, the company was back to normal capacity, output and hiring.
Llebroc's employees are the root of its success, Corbell said, adding, "We have a great group of people here. We have employees that have been here almost 25 years in a lot of cases."
Llebroc makes sure employees know how valued they are with employee appreciation activities, including team-building events and monthly company luncheons.
The future looks bright for Llebroc. Corbell said the company has grown about 15 to 20 percent on average for the past eight years, now reaching 130 employees. The owners have also continued to invest in the company's operations, retooling the plant and replacing $1 million in equipment over the past seven years to increase operational efficiency.
Caption for top photo: A line of sewing operators sews covers at Llebroc Industries.