For years, said Neal Langdon, executive vice president of Arcosa Marine Products Inc., proponents of container-on-barge (COB) have had difficulty persuading stakeholders to invest in shoreside COB assets because they were "selling a concept."
No more. Arcosa is making a big bet on the future of container-on-barge with the rollout of two purpose-built barges specifically designed and built to handle containers. Langdon discussed the barges May 25 at the Inland Marine Expo as part of a panel discussion on "Enhancing Global Connectivity Through Infrastructure, Investment and Innovation." Langdon said the first barge was completed three weeks earlier, and the second was due to be completed in the next few days. 
Arcosa Marine Products is a leading manufacturer of dry-cargo barges, including deck and hopper barges, that are used to transport a variety of products on the U.S. inland waterways, including grain, coal and aggregates. Arcosa Marine Products also manufactures tank barges that carry petroleum, fertilizer, ethanol, chemicals and other liquid cargoes. It is also the largest U.S. manufacturer of fiberglass hopper barge covers used primarily on grain barges.
The other panel participants besides Langdon were Dennis Wilmsmeyer, executive director of America's Central Port in Granite City, Ill., just across the river from St. Louis; and Ron Tindall, president of the Terminal Railroad Association of St. Louis.  Mary Lamie, executive vice president of Multi Modal Enterprises and head of the St. Louis Regional Freightway, hosted the panel and directed questions at panel participants.
Sign up for Waterway Journal's weekly newsletter.
Our weekly newsletter delivers the latest inland marine news straight to your inbox including breaking news, our exclusive columns and much more.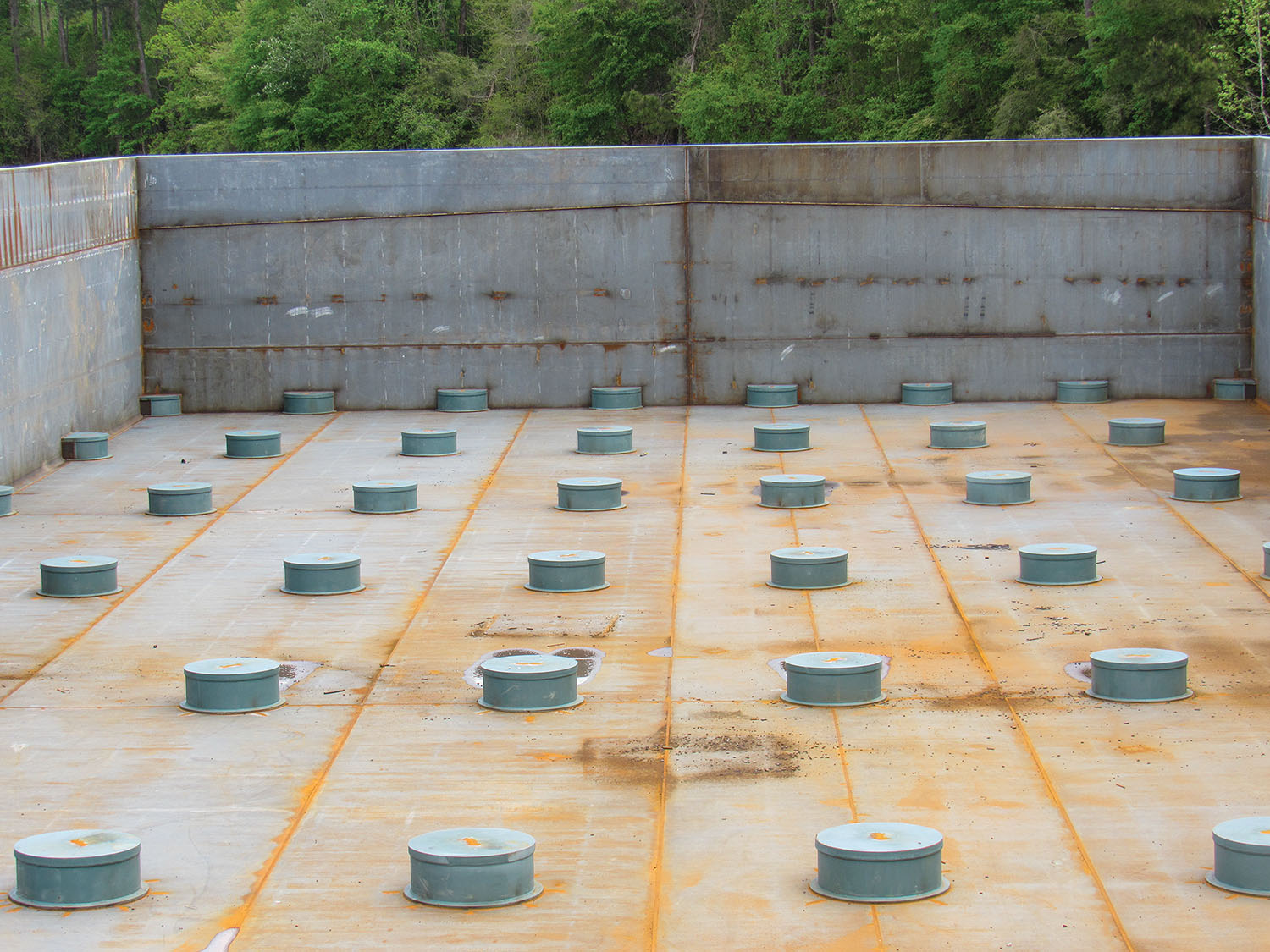 Although open hopper barges have been used to carry containers for years, they are not specifically designed for them. According to the Transport Information Service, "If the container is loaded to its maximum capacity, the weight of the cargo must be distributed as evenly as possible over the floor area. The load-carrying components of the [normal barge] … floor structure are the bottom side rails, which absorb the load of a cargo via the container floor. For safe transport, it is important for as many as possible of the bottom rails to be loaded. Point loads are to be avoided, since they can damage the container floor. Point loads always occur when relatively high weights are concentrated on a small bearing area."
That's why Arcosa's container barges cover the bottom with a series of spaced 12-inch pedestals to better handle the point loads. Each barge is 70 feet wide by 200 feet long: twice the width of a standard barge. Its inner corners are squared rather than rounded to better fit containers. Each barge can carry 72 40-foot containers or 144 20-foot containers. That's 40 more 40-foot containers than two standard barges would be able to handle, using the same space in a tow. Langdon said the barges can be used on the entirety of the U.S. inland waterway system.
Since 2016, American Patriot Holdings has been developing its own purpose-built, self-powered container vessels designed specifically for the inland waterways. A number of inland ports have signed memoranda of understanding or agreements to invest in assets to service the proposed network of container-on-vessel ports such a service would depend on. Arcosa's container barge design offers another option within the rapidly developing world of container-on-barge.
Rail Bridge Work Proceeding
"When you have shipping options, it makes an area more attractive to business," Tindall said. St. Louis already offers an almost unmatched variety of shipping options in rail, barge, airfreight and truck connections.
The top transportation infrastructure project of St. Louis rail interests has been the rehabilitation of the Merchants Memorial Mississippi Rail Bridge, which crosses the Mississippi River between St. Louis and Venice, Ill. The $180 million project is expected to be completed by March 2023. Significantly, St. Louis-area barge interests also said when polled that completion of the Merchants Bridge ridge repairs was their top priority as well, Lamie said. 
The bridge, which crosses the river three miles north of St. Louis' famous Eads Bridge, is 4,340 feet long and is traversed today by only 32 trains annually. "The bridge has functioned as a single-span structure because it is functionally obsolete," said Asim Raza, chief legal officer and director of corporate affairs for the Terminal Railroad Association of St. Louis, before the rehab effort began. "The centers are not wide enough to accommodate two trains, and it is load restricted."
The rehab effort includes replacing the main spans and piers, which have never been replaced, Asim said, although repairs were made where significant corrosion and defects were discovered through the years. "The purpose of most of the rehabilitation work performed, back from 1903 to present, was to increase Merchants Bridge's capacity," he said. "It's an integral connection for the St. Louis rail terminal. Coupled with the MacArthur Bridge, it is part of the system that moves freight and passenger rail traffic over the Mississippi."
Caption for top photo: At 200 by 70 feet, the new barge takes up the same space in a tow as two standard hopper barges, but can hold 72 40-foot containers, nearly twice as much as the two standard barges would be able to handle.