With 37 years in business and more than 10,000 users in 140 countries, the HYPACK suite of hydrographic software has become one users trust.
HYPACK, HYSWEEP and DREDGEPACK, all part of the Xylem brand, have been in development since 1984.
Partnerships with various manufacturers allow the software company to provide solutions for all types of surveying needs, from a simple area to more complex projects. Developers say their software design capabilities include: designing a survey, collecting data, applying corrections to sounding, removing outliers and invalid points, plotting field sheets, exporting data to CAD, computing volume quantities, generating contours, creating side-scan mosaics and creating and modifying electronic charts.
Sensor inputs provide the connection for positioning GPS and inertial systems, single beam and multibeam echosounders, sidescan and sub-bottom sonars, magnetometers, velocity sensors and more.
"In total we support over 400 sensors that are out there from all kinds of brands across the industry," said Straud Armstrong, director of product and sales.
The result is whether a client is collecting hydrographic survey data, environmental data or just positioning a vessel in an engineering project, the software provides the needed tools.
Although HYPACK has been a mainstay in the dredging industry for years, becoming a Xylem brand has allowed it to expand its offerings to include environmental sensors, Armstrong said. HYPACK has maintained the wide sensor compatibility by which it has become known, he said, while also bringing in information such as AIS data and fusing it all into a customizable and easy-to-read layout.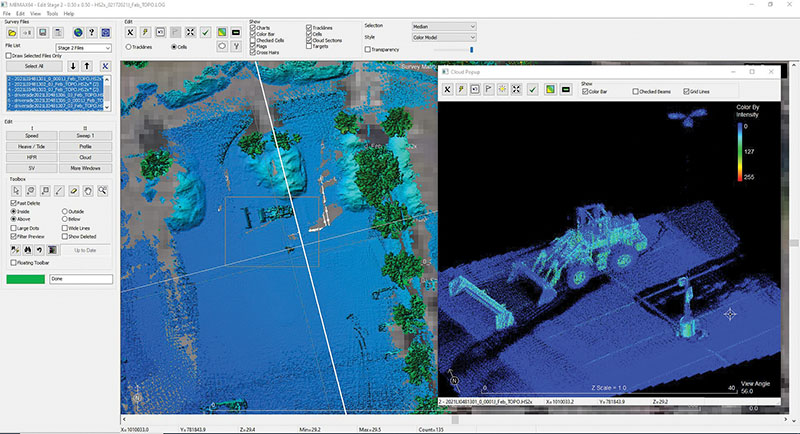 "The base layer is HYPACK," said Jery Knisley, the company's manager of technology. "Everything's been built on top of that."
HYPACK provides the tools needed to complete survey work with an echo sounder through a magnetometer.
HYSWEEP attaches on, allowing the mapping of swaths of information via a multibeam module that provides for the calibration, data collection and data processing of multibeam sonar and laser scanner data.
"That's hundreds of thousands of samples per second, looking under the water and now also above the water," Armstrong said of its sensor integration.
DREDGEPACK is the company's real-time dredge management system, designed to work with cutter suction, hopper, clamshell and excavator operations or for office and vessel-only usage. With its 3D view, DREDGEPACK gives operators situational awareness, Armstrong said. They can see right where the teeth are going, right where the bucket is going, get reporting data out per bucket and know what is going on at the river bottom. 
The survey side of the software essentially helps feed the dredging side, making sure operators know the answers to essential questions such as: How deep is the river? Can a ship pass? How deep should I dredge?
Although providing the answers to those questions hasn't changed, Knisley said, the technology to do so has. Company founder Pat Sanders once worked for the National Oceanographic Office. He debuted HYPACK in 1984 for his company, Coastal Oceanographics, in Connecticut because he saw the need the federal government had to map the waterways, Knisley said.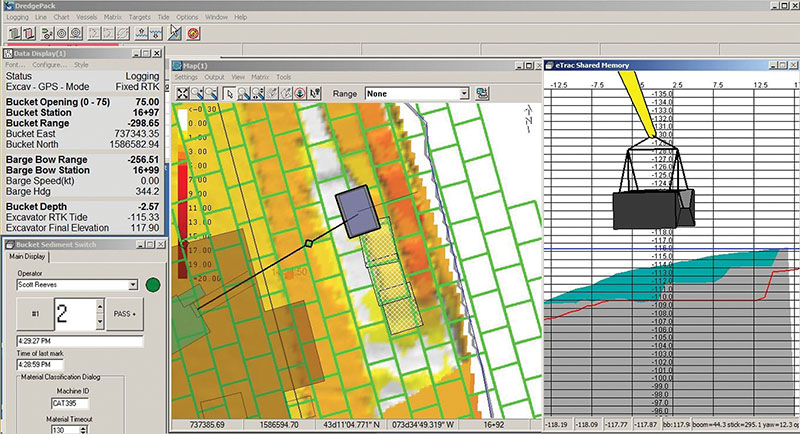 Everything was originally written in DOS and came on a floppy disk. Around 2000, when the program exceeded the eight floppy disks the company was originally sending, they switched to a CD-ROM version. Now the data provided is so immense, it's done via downloads and USB drives.
"It's grown exponentially," said Knisley, who has been with the company 23 years and seen much of the growth for himself.
One of HYPACK'S first customers was the U.S. Army Corps of Engineers, and the software continues to be used in every Corps district, Knisley said.
In 2015, Xylem, based in Rye Brook, N.Y., acquired the software and added its water quality interfacing. Several staff members have experience with the Corps of Engineers, NOAA and private industry, meaning they understand what their customers need, Armstrong said.
"We do really see ourselves as solutions providers and developing the capability to help someone who is out there in need," he said.
As the company moves forward, Knisley said it continues doing so with the customer in mind.
"We're taking a lot of tools and repackaging them in a way that they are focused on your needs," Knisley said.
 One of those needs is simplicity, customers have told them. They want to focus on only the data they want to see, so HYPACK makes that possible.
"We're hyper-focused on making the software easier for the average user," Knisley said.
That means streamlining the workflow and providing drop-down menus with optional layouts and a series of filters.
HYPACK also continues to reach into new and expanding markets, adding its aerial drone for topographic mapping. That expands the survey from the traditional hydrographic and takes the software on land for topographic needs. In January, the latest annual HYPACK release included long-awaited ESRI integration with ArcGIS.
As HYPACK moves into the future, 3D imaging capabilities are also advancing with more detailed renderings. Those renderings are driven in part by young, technology-adept customers who are growing up with 3D even in the video games they play.
"If I can go out in my back yard and get a quick 3D map of my back yard, why can't your software give me a 3D map?" Knisley said they want to know, so HYPACK is raising the bar. The result, he said, is that HYPACK is not just improving its capabilities. It's also focusing on giving customers exactly what they want in exactly the way they want it, helping them to be more efficient and thus more profitable.