The Greater Little Rock Regional Chamber of Commerce hosted a virtual event celebrating the 50th anniversary of the McClellan-Kerr Arkansas River Navigation System (MKARNS), a 445-mile waterway that stretches from the confluence of the White and Mississippi rivers to Catoosa, Okla., near Tulsa.
Along with Jay Chesshir, president and CEO of the Greater Little Rock chamber, elected officials and waterway stakeholders participating in the virtual anniversary celebration included U.S. Secretary of Transportation Pete Buttigieg; Arkansas Gov. Asa Hutchinson; Bryan Day, executive director of the Port of Little Rock; State Sen. Clarke Tucker (D-Ark.); and Frank Scott Jr., mayor of Little Rock.
Chesshir, who emceed the event, praised the waterway as "a system that means so much to us from an economic development standpoint, but especially so much to those around the country and around the world who actually utilize it as well."
Hutchinson offered a brief overview of the history of the waterway, which stretches back to a study conducted in 1943. Thirteen years later, in 1956, Congress appropriated funding to build the system, which includes 18 locks in both Arkansas and Oklahoma. 
Sign up for Waterway Journal's weekly newsletter.
Our weekly newsletter delivers the latest inland marine news straight to your inbox including breaking news, our exclusive columns and much more.
"Fifteen years after that, it received its dedication with President Nixon present at the Port of Catoosa," Hutchinson said. "So 13 years to develop funding, 15 years to do the project. That shows, as we celebrate this anniversary, how long infrastructure projects take in our country, both the planning stage and the development stage."
The MKARNS thrives today as a multi-use waterway, which provides flood management, navigation, port development, multimodal logistics, hydropower and recreation to the region.
But Hutchinson also cast his attention on the future, mentioning specifically the ongoing study into the feasibility of deepening the waterway from its current authorized depth of 9 feet to 12 feet.
"That's an important initiative, and we hope that can be carried out and become a reality down the road," he said.
Hutchinson also highlighted the attention given to maintaining the locks and levees on the system.
"All of these are funding issues and point to the need—as perhaps the secretary will make that point as well—that we do need to have infrastructure investment here across our country," Hutchinson said.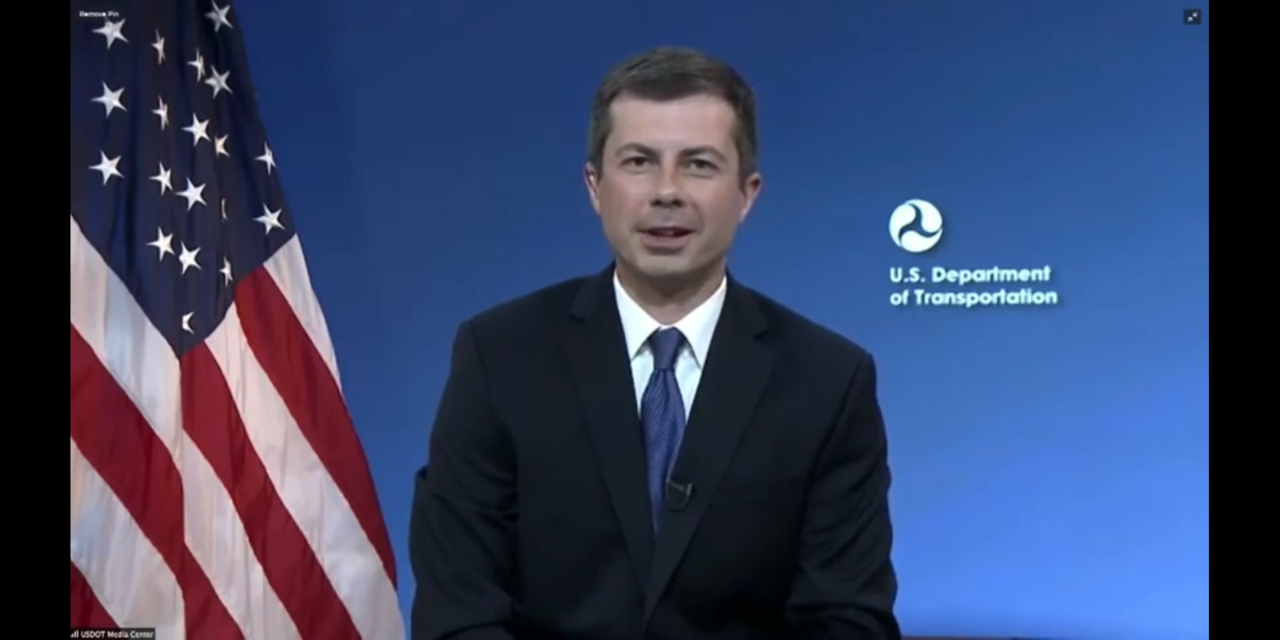 Addressing waterway stakeholders, Buttigieg noted his recent visit to the now-shuttered I-40 bridge over the Mississippi River between Memphis, Tenn., and West Memphis, Ark., praising local and state-level leaders who are working to mitigate the impact of the bridge closure.
"I know 50 years ago, you had a sitting U.S. president in your company, but hopefully a secretary of transportation will do the trick this time," Buttigieg joked.
Buttigieg then went on to discuss the significance of not only the MKARNS waterway, but all the nation's inland and coastal waterway infrastructure to the economic wellbeing of the nation.
"Our inland and coastwise transportation system employs more than 50,000 American workers, both afloat and ashore," Buttigieg said. "One of the crown jewels of that system is MKARNS, which generates well over a billion dollars of economic value in Arkansas, Oklahoma and throughout the region and helps support in some way the transportation needs of a dozen states."
Buttigieg acknowledged years-long efforts that it took to study, build and launch MKARNS, and he applied that discipline and vision to the present, calling today the "moment to be thinking about the investments that are going to be paying off for the next 50 years and beyond."
"We know how much of our infrastructure, including our maritime infrastructure, needs repair and re-imagination," he said.
Some programs already exist for making waterway infrastructure investments, Buttigieg said, including the Port Infrastructure Development Program, which has $230 million in funding available now, with applications due in July. Buttigieg also mentioned the recently announced Small Shipyard Grant Program awards.
"We're proud of the programming we have underway, but we know that we can and must do a lot more to fix and modernize our infrastructure," Buttigieg said. "That's why the president's vision for our infrastructure, the American Jobs Plan, invests an unprecedented $17 billion in our inland waterways, as well as coastal and land ports of entry and our ferries."
Buttigieg noted the plan for waterways includes a healthy ports program to address air pollution and worker development for neighborhoods surrounding ports.
It's a multigenerational, multidecade plan, Buttigieg said, and therein lies "the power of great infrastructure resources."
Buttigieg then joined Scott and Day in a panel discussion on infrastructure and the MKARNS system. 
A week prior to the Little Rock event, Tulsa Ports, formerly called the Port of Catoosa, held a celebration of its 50th anniversary as well. That event featured Dewey Bartless, chairman of the Tulsa Ports board of directors; Tulsa Mayor G.T. Bynum; Oklahoma Lt. Gov. Matt Pinnell, Oklahoma Secretary of Transportation Tim Gatz; Cassandra Caldwell, executive director of the Arkansas Waterways Commission; Brig. Gen. Christopher Beck of the U.S. Army Corps of Engineers' Southwestern Division; and Luke Holland, representing Sen. Jim Inhofe (R-Okla.).
"We are here celebrating what is, really I think, maybe the greatest return on investment in the history of American infrastructure," Bynum said during a June 4 event held in person at the Tulsa Port of Catoosa.
Caption for top photo: Little Rock Port Director Bryan Day, U.S. Transportation Secretary Pete Buttigieg and Little Rock Mayor Frank Scott Jr. take part in a celebration of the McClellan-Kerr Arkansas River Navigation System's 50th anniversary.