John Prine once sang about Mr. Peabody's coal train hauling away "Paradise" down by the Green River in western Kentucky. Now, along the Green River, there is no more Peabody, Patriot, Armstrong or Murray coal companies.
"There are no docks loading coal on the Green River anymore," said Tom Moosbrugger, president and co-owner of Wabash Marine.
Moosbrugger and co-owner Jim Guthrie bought Wabash in 2007. The business has been a service provider to all those coal companies since opening.
"One by one, they closed their mines and closed their docks down," Moosbrugger said. 
Sign up for Waterway Journal's weekly newsletter.
Our weekly newsletter delivers the latest inland marine news straight to your inbox including breaking news, our exclusive columns and much more.
Wabash's last customer, American Consolidated Natural Resources (ACNR), previously known as Murray Energy, closed its dock last month. 
By the end of this month, Wabash Marine's last two of its former 30 employees will be gone. Moosbrugger and Guthrie are closing the business and selling their equipment.
Two boats and four dock barges are for sale.
The 800 hp. boats are the Hallie B and the Timbo. Both are Subchapter M certified and come with spare gear, wheel and engines included.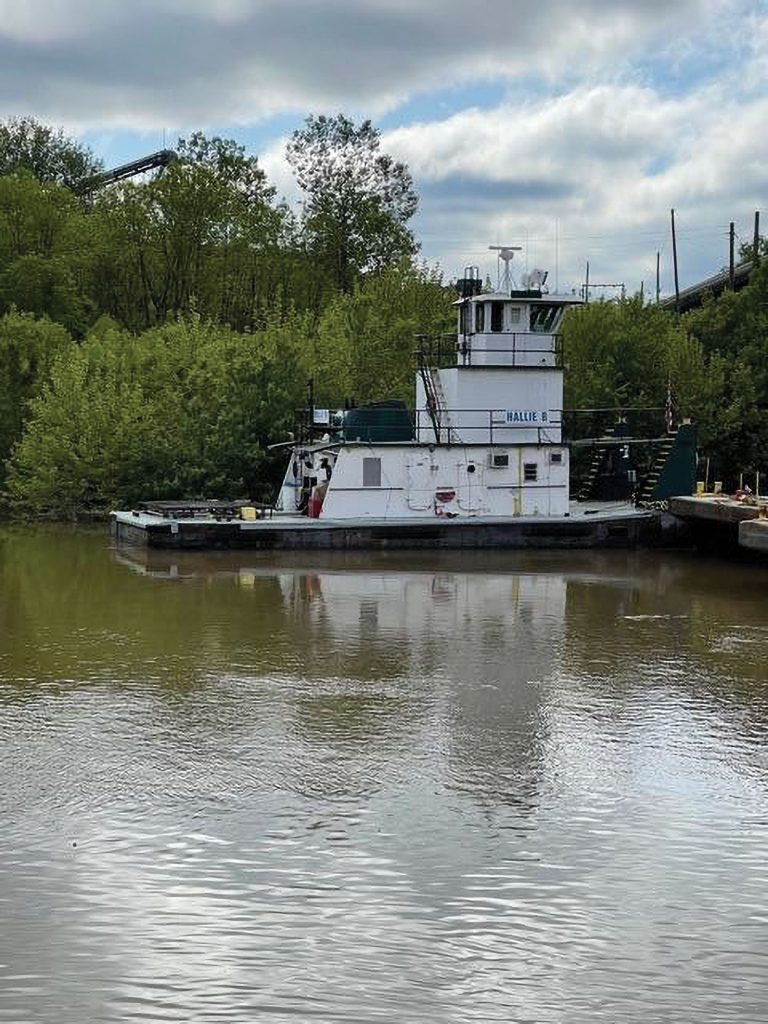 The 60-by-22-foot twin screw Hallie B was built in 1974 by Scully Brothers. It has Cummins NTA 855M engines, Twin Disc 6.0:1 gears and four flanking and two steering rudders.
The Timbo is a 50- by 18-foot, twin-screw boat built in 1963 by Barbour. It has Cummins NTA 855M engines, Twin Disc 4.5:1 gears, four flanking and two steering rudders. Eighty percent of the hull was renewed and coal tar epoxied in 2010.
There just isn't enough need for Wabash Marine's boats and services anymore, Moosbrugger said. Very few coal-operated power plants remain in western Kentucky, with Big Rivers Electric Corporation's D.B. Wilson Station in Centertown being the primary one in the Green River region.
While there is still a market for metallurgical coal, often called met coal, both for domestic steel production and export, thermal coal–the type of coal burned for electricity–has faced a steep decline as it is replaced by cheaper natural gas and renewable forms of energy.
Plant closures related to thermal coal are outpacing production of met coal, which only made up 15 percent of U.S. production in 2018, according to the U.S. Energy Information Administration (EIA). EIA data also showed that while generation of electricity is still the largest use of coal, it produced 50 percent of electric power in 2005 and only 27 percent in 2018. Coal production has also moved westward, with Montana leading the nation in coal production, providing 276.9 million short tons of coal (39.2 percent) of the nation's coal production, according to 2019 EIC data. 
At its peak, Wabash Marine had six coal docks, with its last three at Centertown, Sturgis, Ky., and Shawneetown, Ill. The company did business in terminal development, towboat operations, river construction and demolition. It offered towboats from 500 to 1,400 hp. and floating cranes from 50-ton capacity at its docks. Wabash Marine's website also boasted more than 70 years of combined management experience in river-related business.
"The river business has been good to me," Moosbrugger said. "I've been in it since 1985."
Before his connection with Wabash Marine, he was one of the owners of Evansville Marine on the Ohio River.
But now, he said, business has dried up, and he's in his 60s and looking forward to retirement.
You might say, at least if you were Prine, "Well, they dug for their coal till the land was forsaken. Then they wrote it all down as the progress of man."
Caption for top photo: Wabash Marine has put the mv. Timbo up for sale, following the end of the coal-barging business on the Green River.