With 108 years in business and a fourth-generation family owner, it's hard to find more experience than Stevens Towing has.
Now with offices in both South Carolina and Edenton, N.C., Stevens Towing started out on Yonges Island in South Carolina. The company originally engaged in moving produce and passengers from local barrier islands to the market in Charleston, S.C.
The business has about 225 employees, with about 100 in its shipyard in on Yonges Island, about 80 on boats and the rest in administrative positions, said Benjamin "Bos" Smith, vice president of operations.
On its website, Stevens Towing describes itself as a mid-sized freight business engaging in inland, coastwise and ocean towing, although Smith said inland towing is its primary trade, using both hopper barges and bulk transport. The business has operators along with a fleet of tugs, barges and cranes. 
Sign up for Waterway Journal's weekly newsletter.
Our weekly newsletter delivers the latest inland marine news straight to your inbox including breaking news, our exclusive columns and much more.
Twenty hopper barges are based out of its North Carolina site. From there it often receives cargo from ships and delivers it to Albemarle South, an inland run of about 150 miles. Pig iron and direct-produced iron is also delivered to a mill on the Chowan River in North Carolina, just down from Virginia. One of the company's primary customers is Nucor Steel.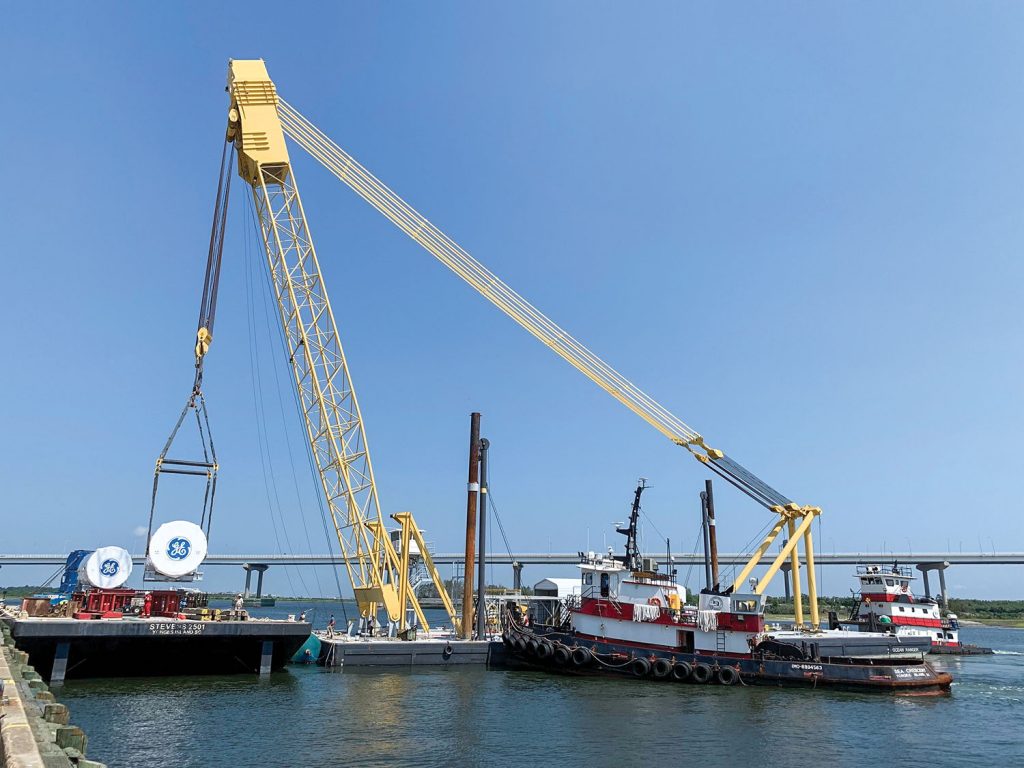 Smith says the company prides itself on its breadth of abilities. Its tugs are always working, he said, along with a project business with heavy-lift cranes. It has 500-ton floating cranes in both Charleston and Savannah, where it partners with both ports.
The business does a fair amount of project towing on the Eastern Seaboard but has also gone as far as Seattle, Wash., into the Great Lakes and on the Western Rivers, Smith said. Stevens Towing has five ABS load line crane barges and cargo barges, with the largest a 250- by-72- by 16-foot with a 4100 series III Ringer mounted on deck.
"We've got a wide variety of experience on just about every waterway in the United States," Smith said, adding, "We understand everything there is to know about either inland or ocean transportation."
Because much of the company's nearby work is along the Atlantic Intracoastal Waterway, where the controlling draft averages around 7-1/2 feet, Stevens Towing has picked up a lot of experience with shallow-draft operations, tidal effects and sand, mud and silt bottoms, Smith said.
The company uses shoes to protect propellers and rudders and 3/4-inch armor plating on the belly of its tugs for protection in shallow water. Although Stevens Towing has a super jumbo class hopper barge with 3,000-ton capacity, it is generally limited to 2,500-ton usage because of the waterway. 
Johnson Stevens, a fourth-generation family owner, took over operation of the company about seven years ago, Smith said. He expanded Stevens Towing's shipyard, which has increased its marine repair revenue by a factor of 10, Smith said.
"I would attribute that strictly to Johnson's drive and push," he said.
The company expects Subchapter M-required drydock hull inspections to become a significant part of the shipyard business.
Also helping Stevens Towing to stand out is that the company maintains its own professional engineer, David Osborne, on staff. Osborne does all ocean method statements and designs and installs the company's securements.
He's also essential in performing repairs since, under Subchapter M rules, drawings must be made and approved for any changes to a boat that are not original, such as adding shoes.
Moving into the future, Smith thinks the company's century-plus experience and willingness to work in a wide variety of conditions, along with its variety of services, will help Stevens Towing to grow.
"We're more of a full-service group than most," Smith said. "There are only a handful of guys who still do this kind of full-service business. If you give me the piece, I can make sure it's loaded, secure, delivered and unloaded at the final destination."
Caption for top photo: Stevens Towing shipyard at Yonges Island, S.C. (Photo courtesy of Stevens Towing)