Obituary: Capt. Jimmie Dale Brown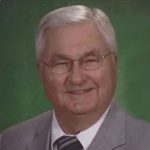 Capt. Jimmie Dale Brown, 82, of Selmer, Tenn., died June 25 after a long battle with Alzheimer's. He went to work on the river at the age of 19 (1957) and retired at the age of 65. After his second retirement, he tripped for various companies (Magnolia, Florida Marine, Southern) another five years. 
Brown started on the deck, worked his way through the engineroom and on to the wheelhouse. He was a licensed captain, retiring initially as port captain from Inland Oil & Transport Company and later retiring from Southern Towing Company. His first boat as captain was the mv. Lady Kimberly of IOT. While employed by IOT, he was privileged to be heavily involved in the construction and christening of the mv. Lady Mignon. Brown brought this boat out of the yard and rode it for many years as captain.
His son, Capt. Dale Brown, recently retired from Ingram Barge Line. His daughter, Pam Mitchell, is co-owner of Controlled Water Systems Inc. of Selmer.