In late May, Bayou La Batre, Ala.-based Steiner Construction Company delivered a pair of new-built towboats to American Commercial Barge Line (ACBL), with both vessels joining ACBL's operations in the Houston area.
The towboats, named the mv. Texas Transporter and the mv. Houston Honor, replaced the mvs. Colt and Mike Charlieville, respectively, two older vessels in ACBL's fleet. The Texas Transporter and the Houston Honor, which both feature Veth Z-drives from Sewart Supply, represent a significant and ongoing investment by ACBL in its operations along the Gulf Coast.
"These will support our liquids business and fleeting operations in the Houston Ship Channel in the coming years," said Bill Foster, senior director of boat maintenance for ACBL. "Houston is an extremely customer-focused location for ACBL, and new and highly reliable equipment is very important here. ACBL is looking to continue to upgrade our fleet and equipment to meet the needs of our teammates and customers for the long haul."
The mv. Texas Transporter measures 67 feet by 30 feet, with a depth of 11.4 feet. The vessel is powered by a pair of Cummins QSK-19 main engines that produce a combined 1,600 hp. The vessel's two Veth VZ-700 Z-drives are enclosed in Kort nozzles. Ship service power comes from a pair of 65 kW Northern Lights generators. The Texas Transporter has accommodations for seven crew members.
Sign up for Waterway Journal's weekly newsletter.
Our weekly newsletter delivers the latest inland marine news straight to your inbox including breaking news, our exclusive columns and much more.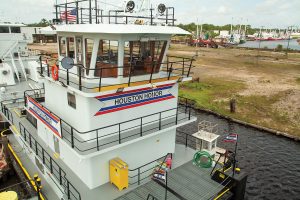 The slightly smaller mv. Houston Honor measures 65 feet by 28 feet, with a depth of 10 feet. That vessel's two Cummins QSK-19 main engines produce a combined 1,200 hp. Main engines are paired to Veth VZ-550 thrusters with open wheels. The Houston Honor also carries a pair of Northern Lights 65 kW generators. The vessel will serve as a day boat for ACBL and, thus, has no staterooms.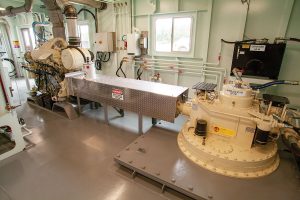 Eastpark Radiator supplied the engine cooling system aboard the vessels, and Gulf Coast Air & Hydraulics supplied the engine alarms. The fendering system aboard both the Texas Transporter and Houston Honor is by the Schuyler Companies. Wheelhouse Electronics supplied the electronics and communications equipment. Fire safety equipment is by Hiller. On deck, the vessels feature a pair of Patterson 40-ton deck winches.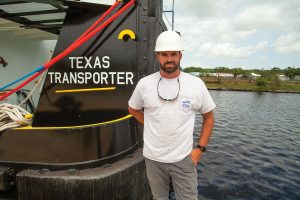 Foster said ACBL designed and equipped both vessels with their Houston areas of operation in mind.
"The simplicity of the design and heavy construction of these [Veth] drives make them a fantastic match to our operating environment," Foster said. "The fleeting locations of Houston run quite shallow in spots, so the drive on the Honor is smaller and, without the Kort nozzles, should be less likely to pick up debris."
Foster said that, while it's too early to have long-term data on the operational profile of the Texas Transporter and Houston Honor, particularly with regard to the Veth Z-drives, he's nonetheless confident in their performance.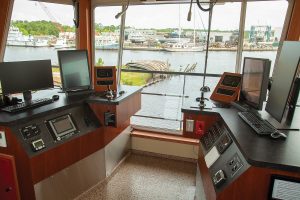 "Based on our experience with the other Z-drives in our fleet, we expect to see significant operational cost savings and productivity enhancements," he said.
With a fleet of more than 3,500 barges and close to 150 towboats in service, ACBL moves a wide range of liquid and dry cargoes throughout the inland waterways of the United States. The company operates fleets in Houston, Mobile, Ala., and along the Lower Mississippi River in Louisiana. ACBL, headquartered in Jeffersonville, Ind., also maintains a terminal in Memphis, Tenn., along with a fleet operation in Cairo, Ill.