The Paducah-McCracken County Riverport is undergoing a revitalization, increasing its throughput, landing new projects and seeking to expand its bulk product-handling capacity.
Executive director Tim Cahill said the port, located from Tennessee River Mile 1.3 to 2.0, has seen greater freight volumes each of the past three years and increased its throughput from 490,000 tons to 660,000 tons of freight moved year over year from 2020 to 2021.
"We came up with some creative ways to do it," Cahill said of handling the additional tonnage for existing port tenants. Strategies have included splitting work shifts to have two of the port's eight employees come in early and two to stay late to make the most use of time and equipment.
Cahill gave his remarks as part of the port authority's sponsorship of the Paducah Propeller Club meeting August 17 at Broussard's, a downtown Paducah restaurant. It was the first monthly in-person meeting the club has had since before the COVID-19 pandemic. The last one was in February 2020.
Sign up for Waterway Journal's weekly newsletter.
Our weekly newsletter delivers the latest inland marine news straight to your inbox including breaking news, our exclusive columns and much more.
Smithland Bridge
A highlight of Cahill's remarks included details of a lease agreement according to which the port has been selected as a site for American Bridge Company and Jim Smith Contracting Company to build significant portions of the new $63.6 million Cumberlavnd River bridge at Smithland.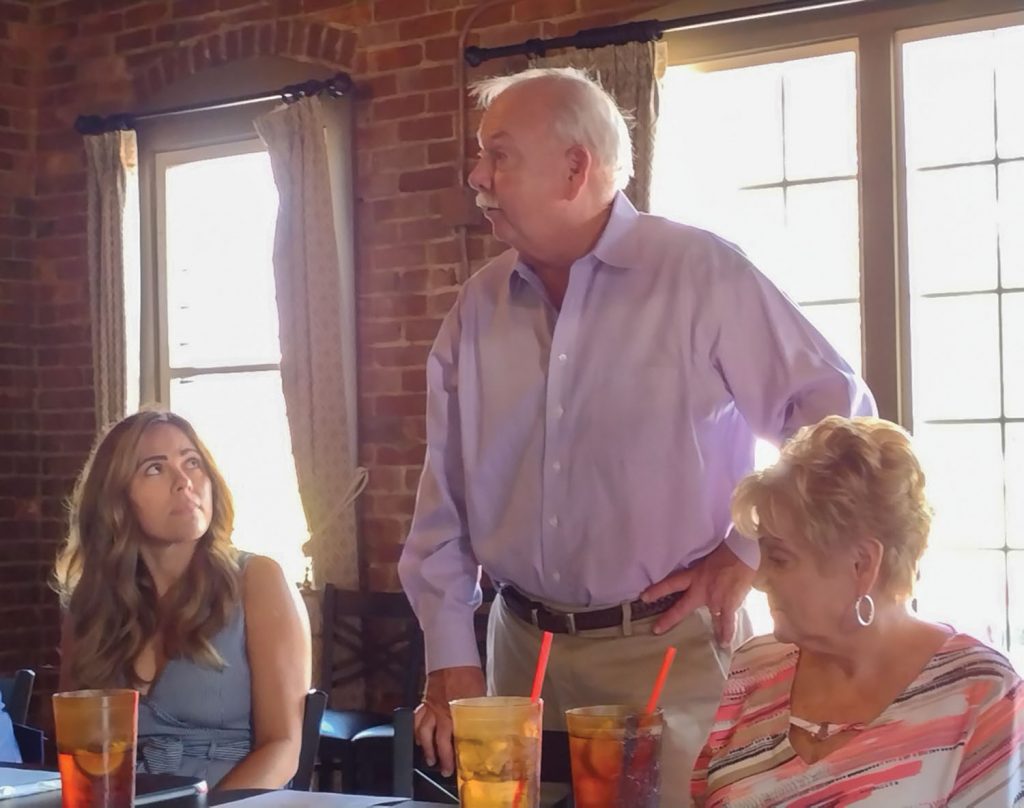 The steel structure will be built in sections on barges at the port using some of the port's equipment, including its massive Comansa crane, and then floated to Smithland via the Ohio River for assembly. Economic developers said the project will create 30 jobs during the next 18 months during their August 16 announcement.
"Our port strategically sits within our nation's 25,000 miles of inland waterways and serves as a major asset to our entire nation, including our good neighbors upriver at Smithland," McCracken County Judge-Executive Craig Clymer said.
 Paducah Mayor George Bray noted at the time how important the river industry is to the overall economy, saying, "Today's announcement demonstrates the expanded capabilities of the riverport authority and sets us up for future success." 
Cahill said the project would not have been possible without teams of people working together for the overall betterment of the community.
 "Our riverport team looks forward to working with the American Bridge organization on this infrastructure betterment project for western Kentucky," he said. "I would like to thank Congressman [James] Comer and his staff for their engagement and assistance in securing this opportunity for the riverport and the community. The expedited response in conducting the necessary due diligence assessments for this project by the U.S. Coast Guard Office Paducah and U.S. Army Corps of Engineers offices in Louisville and Newburgh is also greatly appreciated." 
Other Projects
Another major project at the port is PRCO-America's first U.S. production site, which is being built about 20 miles south of Paducah, just north of Mayfield, Ky.
The company is a manufacturer of ceramic bricks for steel furnaces.
As part of the plant's construction, Cahill said heavy-lift equipment is coming from China to the Paducah riverport by October. While the plant is in operation, Cahill said he expects the port to handle raw materials products arriving from New Orleans via barge in super sacks on a regular basis.
"They are hopefully going to be a good, long-term customer for us," Cahill said.
The port is also providing trans-shipment services for tenant Pine Bluff Materials to SRM Concrete, the new operator of a cement plant just across the highway from the riverport. 
Finally, Cahill noted that Southern FS, one of the port's tenants, recently invested $3.5 million in a new fertilizer building at the port.
Grant Application
While the new projects are gratifying, Cahill said the port needs upgrades to improve its functionality to continue seeing that growth in the future. 
"The facilities are old," he said, candidly. "Most of the equipment is almost as old as I am."
With a 50-acre riverport, only 12 developable acres remaining and no usable rail access at this time, the port needs to focus on its bulk yard as one of its greatest assets, in conjunction with its team of seasoned employees, some of whom have been with the port 15 or 20 years, he said.
That is part of the reasoning the riverport partnered with Bacon Farmer Workman Engineering to assist in preparation of a comprehensive application for the U.S. Maritime Administration's Port Infrastructure Development Program (PIDP) grant the last week in July. The grant application process was led by project manager Maegan Mansfield with participation by additional consultants, including Dr. Ann Schneider and Jeannie Beckett.
If approved, the PIDP small port grant would allow a $3.82 million rebuild of the riverport's 20-acre bulk commodity storage yard and transfer facility, modernizing and upgrading equipment and allowing the riverport to increase the yard's handling capacity, safety and environmental impact.
"This grant application will make port bulk cargo operations more efficient and expand capacity to handle additional commodity tonnage by modernizing material handling equipment, repairing damaged storage facilities and upgrading site conditions," according to the application's executive summary. "The riverport will be more resilient with the addition of a second scale and a reliable backup power supply."
The grant application includes a $500,000 local match from public agencies as well as committed funds from four of the riverport's largest customers and requests $3.32 million in federal grant funds. 
Among the requested improvements is the replacement of equipment that is older than some employees, Cahill said.
It would fund replacement of three fixed radial stackers: a 1972 Nordbert Model 260T Main Radial Stacker that is 30 inches by 150 feet and two 1966 Marco Model 650 Radial Stackers that are 30 inches by 150 feet. It would also replace a Marco Radial Hopper/Reclaim with a fixed conveyor system for the port's sand storage area.
The proposed grant package would also include approximately 30,000 square feet for a new ground storage pad laydown area and a truck route into and out of the bulk yard facility as well as demolition and removal of an old truck scale in the bulk yard.Also included is the roof reconstruction of two bulk yard domes that are 100 feet and 108 feet in diameter. The previous dome roofs were blown away in a storm in December 2018. The project would replace the domes with galvanized frames and 15-year warranty tarp/cloth covers, increasing covered storage areas.
Expansions would include the installation of a 90- by 11-foot truck scale with a concrete deck along with a 240- by 30-foot steel frame with tarp fabric canopy on its fertilizer building conveyor loadout system. The expansion is designed to increase fertilizer product transshipments by increasing the loadout of product during poor weather conditions.
The grant would also fund the addition of three 30-inch by 100-foot ground conveyors and a 30-inch –by 100-foot minimum radial stacker to expand bulk storage capabilities.
Finally, the requested grant funds would allow the purchase of four three-phase, 440-volt, 830kW gen sets to supply power as needed for the new ground conveyors and radial stacker. 
Cahill said public and private leaders in the neighboring states of Illinois and Tennessee have joined with western Kentucky officials to send letters of support on behalf of the grant application, showing that the port impacts not only western Kentucky but the entire region. Already, with limited services, the port's products reach 32 counties in four states, he said.
Cahill hopes to know whether the grant application is successful in October.
Caption for top photo: The Paducah-McCracken County Riverport hopes to expand the capacity of its 20-acre bulk commodity storage yard and transfer facility with landside yard and equipment upgrades and expansions. (Photo courtesy of the Paducah-McCracken County Riverport)