The Tennessee-Tombigbee Waterway Development Council held its 39th annual conference August 11–13 in Point Clear, Ala., on the eastern shore of Mobile Bay. More than 275 registrants and guests attended this year's conference, making it one of the best-attended gatherings in recent memory.
It was also one of the most spirited. Last year's conference was postponed due to the COVID-19 pandemic, then canceled due to tropical weather. "It's good to see people face to face again" was a common refrain throughout the conference.
The conference got underway with a spirited golf tournament, with golfers battling each other and the elements, which included periods of rain on Lakewood Golf Club's Azalea course. Proceeds from both the golf tournament and the August 12 silent auction benefitted The Agnes Zaiontz Tennessee-Tombigbee Waterway Transportation Museum in Columbus, Miss.
The waterway-focused portion of the conference opened with a presentation from Rob Spalding, a brigadier general in the U.S. Air Force (retired) and senior fellow at the Hudson Institute, who wrote a book titled "Stealth War: How China Took Over While America's Elite Slept." The session follows others from past installments of the Tenn-Tom Waterway Conference that focused on how China impacts commodity prices in the United States and on China's Belt and Road Initiative.
Sign up for Waterway Journal's weekly newsletter.
Our weekly newsletter delivers the latest inland marine news straight to your inbox including breaking news, our exclusive columns and much more.
Conference attendees then heard a report from John Driscoll, director and CEO of the Alabama State Port Authority, the entity that oversees the Port of Mobile. Driscoll first offered an operational profile of the Alabama State Port Authority, which saw 58 million tons of cargo handled, 424,476 TEUs of containers moved, and more than 165,000 rail cars transferred in 2020. The port's commodity profile is dominated by coal. Coal—primarily metallurgical coal for export—accounted for 49 percent of the port's commodities handled last year. Containers made up 20 percent of all commodities handled, with iron, steel and metals in a close third place at 16 percent.
Driscoll focused attention on the effort to modernize the ship channel leading to Alabama's only seaport, the Port of Mobile. The current authorized dimensions of the ship channel are 45 feet deep and 400 feet wide. With full federal and state funding in place, though, the U.S. Army Corps of Engineers is well on its way to deepening the harbor to 52 feet at the bar channel and 50 feet at the bay and river channels. The $366 million project will also lengthen and widen the ship channel and improve the turning basin.
"This is really going to be a game changer, not just for this generation but for many generations to come," Driscoll said. "It's going to allow the port to be able to attract more of the larger vessels that have drafts of 50-plus feet. They're currently limited to 45 feet in the lower channel."
Phase 1 of the deepening got underway in June and Phase 3 began in July. The entire project is forecast to be complete by 2025.
"It's going to be a great project, certainly, for our future and for the activities you and others do," Driscoll said.
After Driscoll, conference attendees heard Washington, D.C., reports from Paul Housel, district field director for U.S. Rep. Robert Aderholt (R-Ala.), and from U.S. Rep. Trent Kelly (R-Miss.).
Mike Randle, owner and publisher of Southern Business & Development, then spoke on "the Southern Economy," offering the catch phrase, "If it's not a Southern deal, it's a bad deal." Looking at economic data from recent years, Randle demonstrated how the South's economy continues to impress, not just on a national level, but internationally. And yet, Randle made clear the United States has a persistent population problem. The lower birth rate and high rate of retirement in the country is leading to an employment dilemma, Randle said.
"We need kids badly," Randle said. "It's incredible. We are in a time when our population is going to decrease. We're going to lose population for the first time in this nation's history. The implications are devastating."
Randle used workforce data from 2019 to drive home his point. In 2019, just over 10,000 people retired per day on average. Over that same year, just over 2,300 people turned 16 each day, which is the age used for entering the workforce. In other words, the United States lost close to 8,000 people each day from its workforce. 
Randle said that disparity has only worsened in the years since.
Day one of the conference ended on a high note, with Alabama Gov. Kay Ivey—who is serving as chair of the Tennessee-Tombigbee Waterway Development Authority this year—addressing attendees. Ivey highlighted the Rebuild Alabama Act that she spearheaded in 2019, discussed the impacts of the COVID-19 pandemic, and praised the state's manufacturing base, which includes Honda, Hyundai and Mercedes-Benz factories.
The day wrapped up with a look at tourism in the state by Tami Reist with the Alabama Mountain Lakes Tourism Association.
Focus On Cybersecurity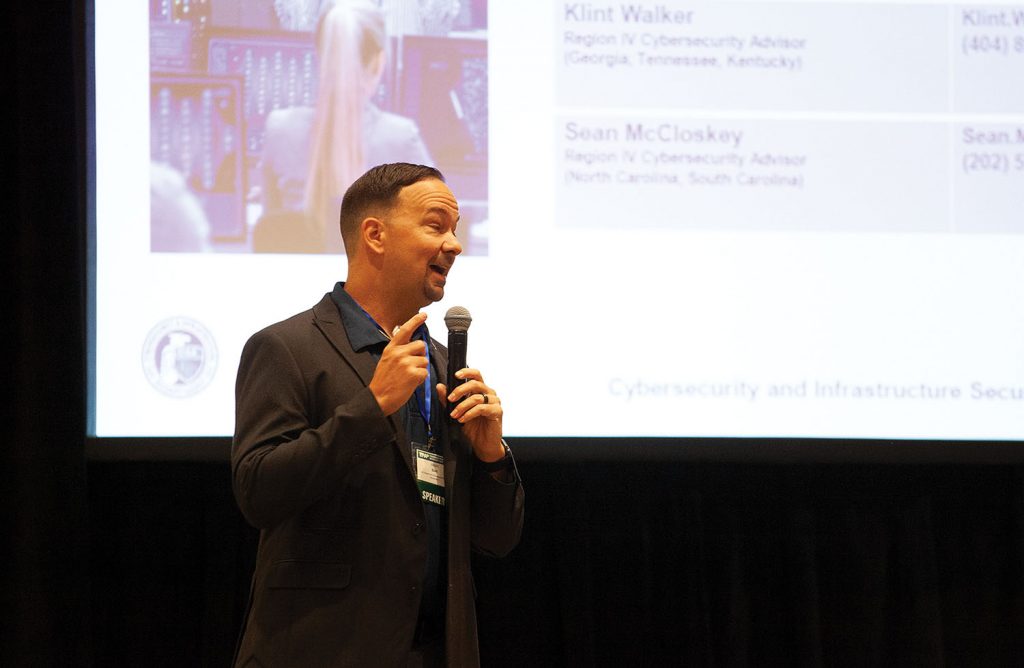 Jason Burt, cybersecurity advisor for the Department of Homeland Security's Cybersecurity and Infrastructure Agency (CISA) led off day two of the Tenn-Tom conference with a look at cyber threats that can face any company or individual. 
Burt said, while elaborate hacking schemes that shut down public and private infrastructure or steal valuables like cryptocurrencies often make the news, the vast majority of data breaches happen through email attachments.
"I guarantee you, if it's that urgent, you'll get a phone call, not an email," said Burt, who later added, "Your people are going to be your greatest strength or your greatest weakness."
Burt outlined services CISA provides to companies, like its "Cyber Resilience Review," which examines a company's "threat vectors," or its "cyber hygiene," and develops actionable recommendations. Companies then gain access to a Critical Infrastructure Security dashboard that allows them to compare their scores with others in the same industry. 
"Believe it or not, 90 percent of attacks are vulnerabilities that could've been avoided," he said.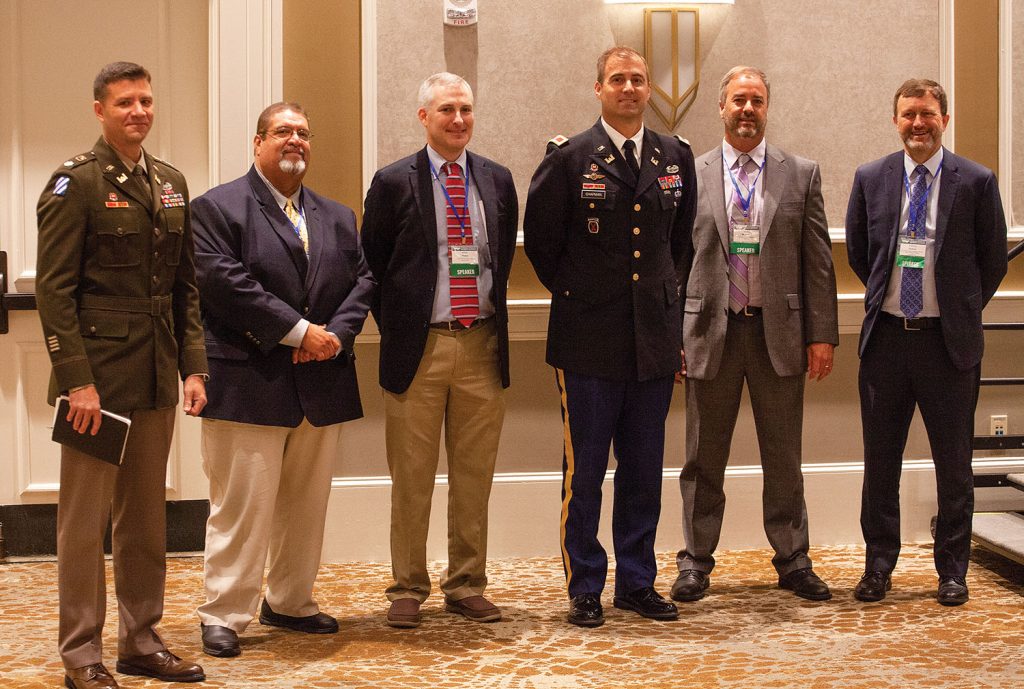 Waterway Reports
As in years past, day two of the Tenn-Tom conference was highlighted by reports from the U.S. Army Corps of Engineers and U.S. Coast Guard Sector Mobile.
Col. Jeremy Chapman, commander of the Mobile Engineer District, addressed the conference for the first time since assuming command of the district. Nelson Sanchez, the recently appointed operations division chief for the district, then overviewed the Mobile District's dredging program, which is the third largest in the country.
Justin Murphree, operations manager for the Tennessee-Tombigbee Waterway, caught waterway stakeholders up on the past two years' worth of activity on the waterway. Howell Heflin and Jamie Whitten locks both had maintenance closures in 2020. Then, during high water and swift flows on the waterway earlier this summer, a pair of barge breakaways caused damage to spillway gates at both John C. Stennis Lock and Dam and Tom Bevill Lock and Dam. The allision at Stennis was particularly problematic, Murphree said.
"This spillway gate took a lot of damage," Murphree said, referring to the dam at Stennis. He later added, "We were within 5 feet of undermining the entire spillway."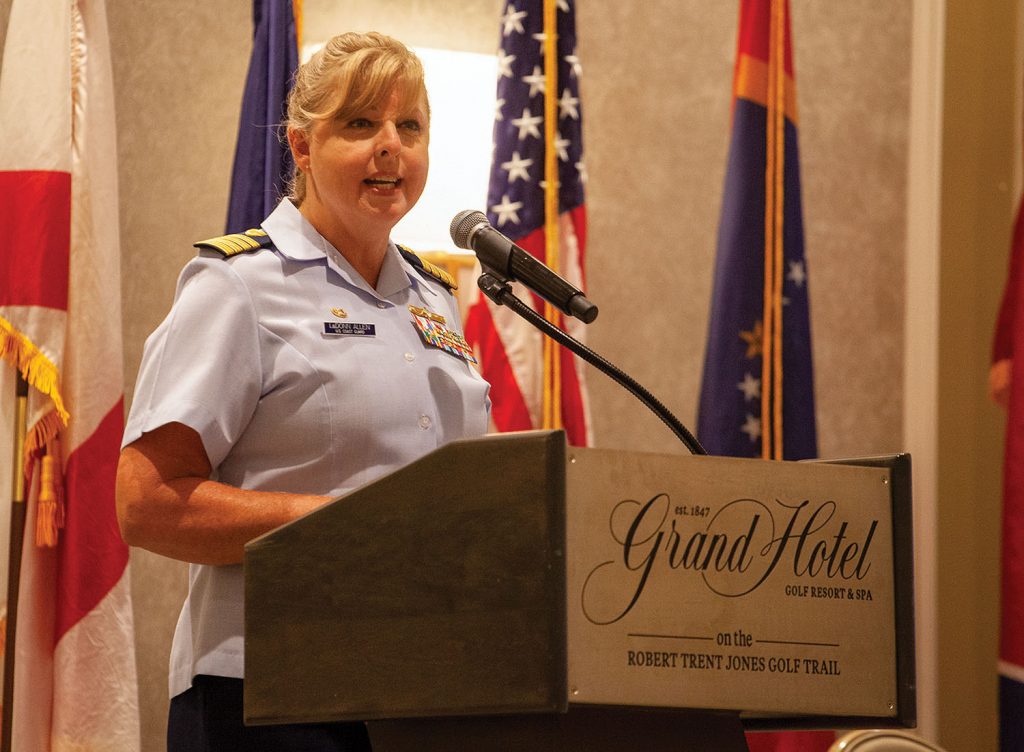 Exciting projects on the horizon for the Tennessee-Tombigbee Waterway include outfitting and deployment of a barge-mounted, long-reach excavator with cutterhead attachment that will allow for rapid deployment to address critical shoaling problems. Murphree said he expected that to be ready by next year. The waterway is also moving toward having a new Corps office in Columbus, Miss.
Anthony Perkins, operations manager for the Black Warrior-Tombigbee Waterway (BWT), also overviewed operations on his waterway, which saw both Bankhand and Oliver locks closed for maintenance this summer. 
Dredging needs remain on both waterways, with the Tenn-Tom just over halfway done with its 2021 dredging schedule and work remaining at several sites on the BWT.
Lt. Col. Joe Sahl, commander of the Nashville Engineer District, was on hand to offer an update on construction at Kentucky and Chickamauga locks. Capt. LaDonn Allen, commander of Sector Mobile, then offered an update on aids to navigation placement within the sector, along with Subchapter M inspections.
Johnathan Pote and Charlie Wax, professors from Mississippi State University, then closed out the conference with a look at how farms within the watershed might retain rainwater rather than drawing water from underground sources.
Caption for top photo: Mitch Mays, administrator of the Tennessee-Tombigbee Waterway Development Authority and president of the Tennessee-Tombigbee Waterway Development Council, presents Alabama Gov. Kay Ivey with a commemorative flag from the waterway's official opening in the 1980s. (Photo by Frank McCormack)