Lower Mississippi Traffic Slowly Resumes
The U.S. Coast Guard declared the Lower Mississippi River open September 3 after clearing several downed power lines and surveying the channel. In the aftermath of Hurricane Ida, the Coast Guard continues to work to reopen ports and waterways throughout southeast Louisiana.
Capt. Will Watson, Coast Guard captain of the port for the Port of New Orleans, said he is working in close coordination with federal, state, parish, city and maritime stakeholders to safely reopen maritime traffic along the Mississippi River and the Gulf Intracoastal Waterway. Some key areas along the river remain closed as recovery operations continue. Deep draft vessels operating on the Lower Mississippi River are restricted to daylight transit only.
"We continue to work closely with the state of Louisiana and our maritime industry partners to reconstitute our ports," Watson said. "This is a massive recovery effort, and we are doing our part to ensure that the commerce that sustains our nation can continue to flow freely and safely over our critical waterways."
Marine salvage companies along the Lower Mississippi River were busy in helping to retrieve or salvage hundreds of barges buffeted and blown by Ida's historic winds, with speeds of up to 150 miles an hour. The Coast Guard asked mariners to report any sunken barges or other obstructions.
Sign up for Waterway Journal's weekly newsletter.
Our weekly newsletter delivers the latest inland marine news straight to your inbox including breaking news, our exclusive columns and much more.
Winds Did Most Of Ida's Damage
Unlike Hurricane Katrina in 2005, much of Ida's damage was done by the winds, as a multi-billion-dollar flood protection system guarding four parishes in southern Louisiana held. Coastal barrier islands did experience storm surges, and some communities were left uninhabitable. Areas not covered by the flood protection system also experienced floods.
The website of Entergy, the region's power utility, reports that more than 30,000 power poles were downed by Ida's winds, compared to more than 14,000 for Hurricane Laura in 2020, more than 17,000 for Hurricane Katrina in 2005, and more than 11,000 for Hurricane Rita, also in 2005.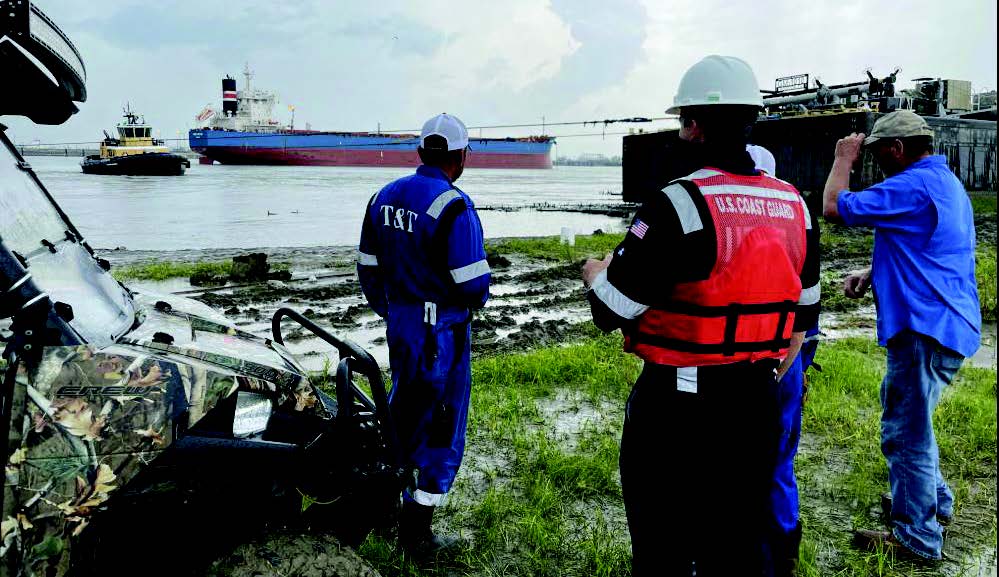 Pipeline Leak
In Ida's wake, a capped pipeline south of Port Fourchon leaked oil into Louisiana coastal water. Houston-based Talos Energy Inc. said it was working with state and federal authorities to identify the pipeline's owner. The shallow Gulf inland waters contain many abandoned and capped pipelines and wells, not all of which are properly identified on charts.
According to Natural Gas Intelligence, Talos was contacted August. 31 because it was a prior lessee of the site, but the company said it was not the owner. The company sent a response and dive team team to conduct oil containment and recovery operations with booms and skimmers. By September. 6, responders had installed a containment dome on the pipe, allowing recovery operations to collect the oil.