When Austin Sperry and Bick Brooks co-founded Maritime Partners in 2015, the pair had a plan to build a "world class maritime leasing business." But there was one problem: they had trouble convincing a bank to lend them the money to purchase their first boat.
"In the summer of 2015, we sourced our first deal, a 2,000 hp. towboat named the Rex Dobson, and paired it with a long-term charter," said Sperry, chief operating officer for the company. "Along the way, we received 53 rejections to our proposal from every major, regional and local bank you can think of, and some you have never heard of before."
Then, Sperry and Brooks approached Stonebriar Commercial Finance (SCF), a Plano, Texas-based finance company that was also launched in 2015.
"I'll never forget that first conversation I had with Dave," Sperry said, speaking of Dave Fate, founder and CEO of Stonebriar.
Sign up for Waterway Journal's weekly newsletter.
Our weekly newsletter delivers the latest inland marine news straight to your inbox including breaking news, our exclusive columns and much more.
Sperry was in his backyard, in an effort to avoid background noise from his kids while working to convince Fate to extend the loan to purchase the mv. Rex Dobson.
"I was interrupted but tried to run away while not sounding out of breath on the phone," Sperry recalled. "At last, Dave gave us a shot, and we were able to close on the purchase of that pushboat in October 2015. Bick and I made a life-changing $40 per day on that deal."
That first loan from Stonebriar Commercial Finance proved to be the launching point Maritime Partners needed. In less than six years, the company has grown to now own more than 550 boats and barges on long-term charter, with its fleet valued at around $500 million.
"I am proud of what the team has accomplished thus far and look forward to the opportunities and challenges in the future," Sperry said.
Sperry and the rest of the Maritime Partners team honored Fate July 27 with the christening of the mv. Dave B. Fate. The ceremony was held at John Bludworth Shipyard in Corpus Christi, Texas.
On hand to support and celebrate Fate were his wife, Tasha, and children, Jordan and Grant, along with Stonebriar Commercial Finance's president, Nick Sandler; senior vice presidents Jeff Wilkison and Lisa Ohlmeyer; executive vice presidents Steve White and Kyle Parks; and vice presidents Mark Gibson and Harrison Smith.
Fate is a Kansas native and the youngest of five siblings. He attended Fort Hays State University in Hays, Kan., where he played quarterback for the football team all four years. He started out as a credit analyst in 1983 for CIT in Wichita, Kan. Fate went on to work for ITT Capital Finance, Transamerica Equipment Financial Services and AIG Commercial Finance prior to starting Stonebriar in 2015.
"SCF currently has 47 professionals who are focused on originating deals through multiple channels, including direct clients, OEMs and strategic partner relationships," Sperry said. "To date, Stonebriar has issued eight [asset-backed security] transactions approximating $4.5 billion.
"Last year, Goldman Sachs recognized him as one of 2020's 100 most intriguing entrepreneurs," Sperry added, "and having played golf with Dave over the years, I would agree. This man is very intriguing, and it's been an absolute pleasure working alongside him over the years."
The mv. Dave B. Fate is a 3,400 hp. towboat that measures 110 feet by 32 feet, with a depth of 11 feet, a design draft of 8.5 feet and a wheelhouse eye level of 34 feet.
Cummins Marine supplied the vessel's main engines, two EPA Tier 3-compliant Cummins QSK50M1s. The main engines are paired to Reintjes WAF773 gearboxes with internal shaft brakes from Karl Senner LLC. Together, the engines and gears turn stainless steel Sound propellers, measuring 88 inches in diameter with a 62-inch pitch, from Texas Wheel Works in Port Arthur, Texas. Tail shafts feature NCB liners by R.C. Schmidt & Sons Machine Shop and Duramax shaft seals from Sabine Universal.
Ship's service power comes from a pair of Cummins 99 kW generators, also from Cummins Marine.
Rio Controls & Hydraulics provided the Dave B. Fate's steering system. The vessel's laminated rubber fenders are by M&M Bumper Service in Bourg, La. Premium Electronics of Houston, Texas, supplied the vessel's radars, AIS, GPS and communication equipment. RIO Marine Electric supplied electrical equipment and wiring.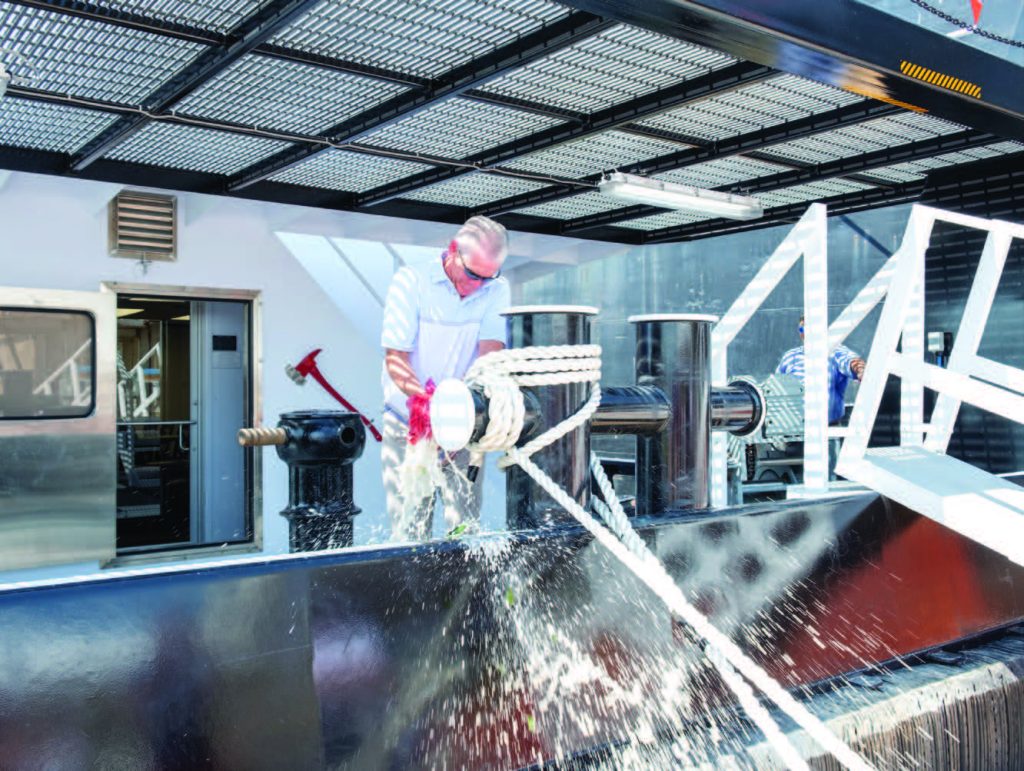 On deck, the Dave B. Fate features a pair of 65-ton Patterson deck winches from Stanley Parts & Equipment Co. and a 14-inch, double barrel, 100,000-pound static line pull capstan from Schoelhorn-Albrecht Machine Co. in St. Louis.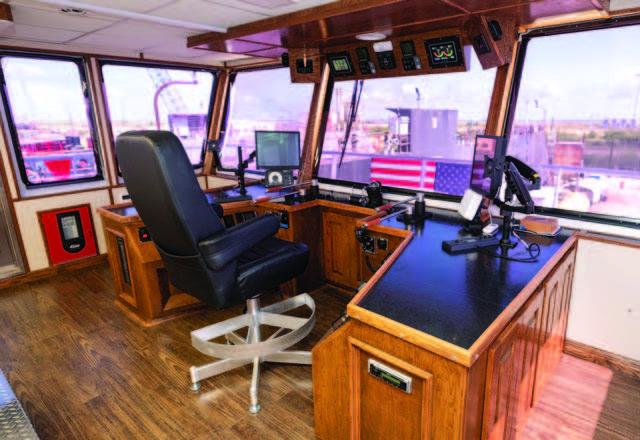 The Dave B. Fate offers nine berths spread across six staterooms, along with four full bathrooms. The vessel has tankage for 70,144 gallons of fuel, 19,145 gallons of potable water, 750 gallons of lube oil, 250 gallons of gear oil, and 1,000 gallons of slop oil.
John L. Bludworth III designed the mv. Dave B. Fate.
"This is our seventh delivery of eight towboats from Bludworth Shipyard," Sperry said. "Our experience thus far with the entire team has been fantastic. The quality and attention to detail are first class. Shipbuilding is not easy, and everyone at Maritime Partners acknowledges your dedication and appreciates the sacrifices you make daily to build and deliver a first-class vessel, which will be used to transport cargos that impact all of our daily lives."
Following Sperry's introduction, Fate addressed the crowd gathered at John Bludworth Shipyard for the christening of his namesake vessel. Following his remarks and a blessing over the boat, Fate and his family climbed aboard to crash a bottle of champagne over its side, officially christening it into the Maritime Partners fleet.
Note: For more pictures from the mv. Dave B. Fate christening, see the WJ Photo Page on the inside back cover of the Sept 13 print issue.