For 42 years, Ben Jackson was an operator on a line-stripping rig, unloading more than a million tons of rock a year for Luhr Bros., the most in company history.
Now Luhr Bros. has honored Jackson with the launching of its new barge named in his memory, the Big Ben.
"As soon as we started working on designing this new barge, Jay said we wanted to name it after him," said Cody Shields, port captain at Luhr Bros. in Columbia, Ill., of his initial conversation with company president Jay Luhr.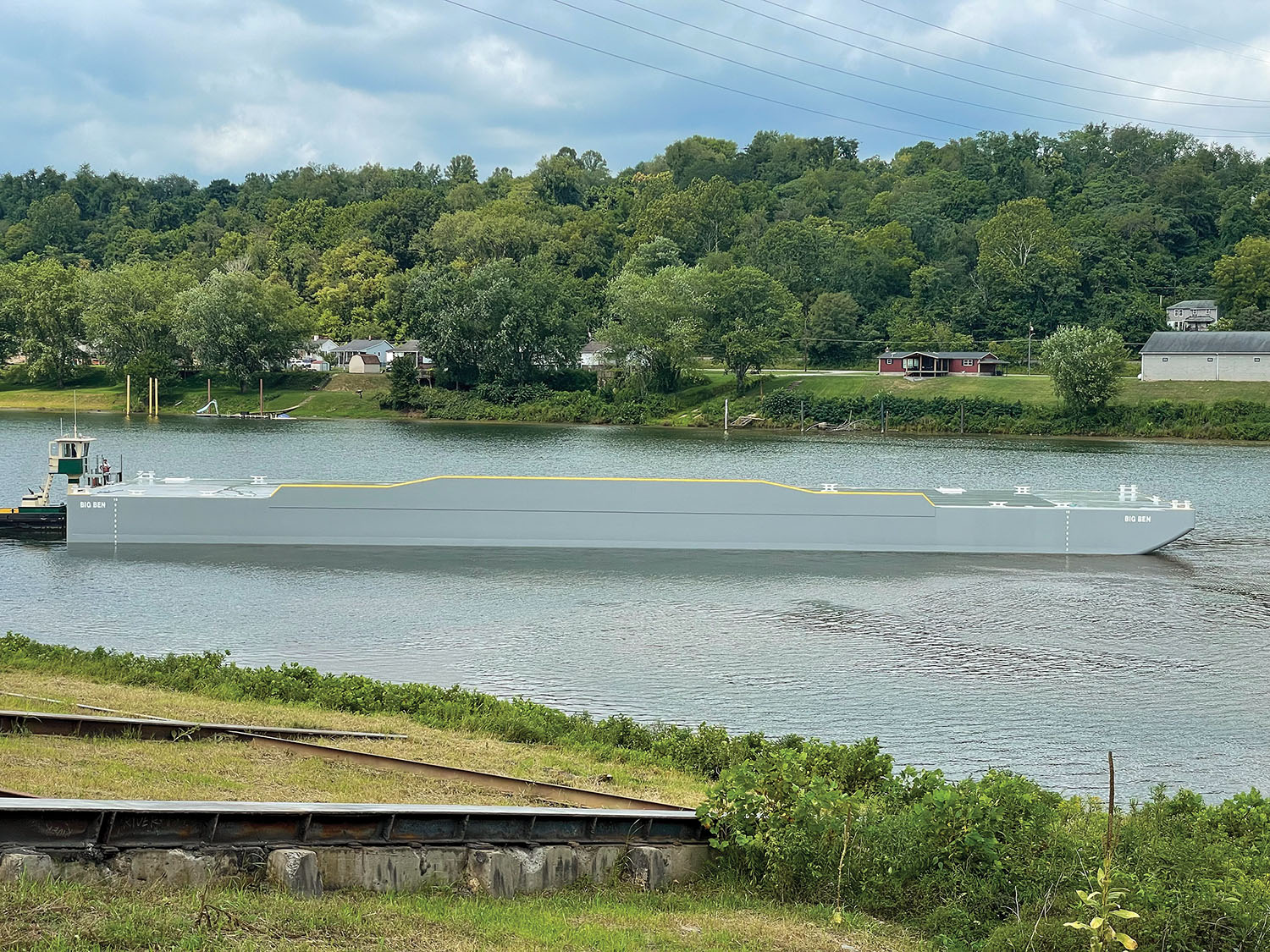 Shields called the 615-ton barge a "jack of all trades."
Sign up for Waterway Journal's weekly newsletter.
Our weekly newsletter delivers the latest inland marine news straight to your inbox including breaking news, our exclusive columns and much more.
"It's the heaviest barge that we've ever built," he said. "It's going to be designed to work off anchors and spuds. It's the only barge our company has that's set up that way."
The Big Ben is 210 feet by 45 feet by 11 feet. After being outfitted with equipment, it will go to work between St. Louis and New Orleans, on the same stretch of the river where Jackson worked maintaining navigable waterways, generally performing work for the Corps of Engineers in dike and revetment management.
Heartland Fabrication Inc. built the barge in Brownsville, Pa., and hosted a launching ceremony for Luhr Bros. on August 12.
"Luhr Brothers is proud to have worked with Heartland Fabrication," Shields said. "The quality of this barge is second to none. We look forward to working with Heartland Barge in the future."
Heartland also manufactured the L-1112 spud barge for Luhr Bros. last year, and the companies have a close working relationship.
"We were honored to have the opportunity to build the barge for Luhr Bros., number 1, and number 2 we were lucky enough to be able to have Chase White to come out and do the launch and just to see what it meant," said Andrew Holthaus, executive vice president of Heartland Fabrication Inc.
White is Jackson's grandson and has worked for Luhr Bros. for 14 years, much of that on the same barge his grandfather worked on. He was promoted to steersman in July. White had the honor of breaking a bottle of champagne to christen the Big Ben at its launch.
Jackson was much more than White's grandfather and mentor.
"He was pretty well my best friend," he said. "He raised me. He was more my Dad than he was my grandfather."
White said Jackson, whom he called Papaw, taught him a lot about work and about life. His lessons included "Keep your head down," "Don't worry about what others are doing," and "Always take care of family."
"He was 100 percent a company man, as you'd say," White said. "He would have been proud."
Jackson passed away in October 2019 at age 77 after a hard-fought battle with cancer.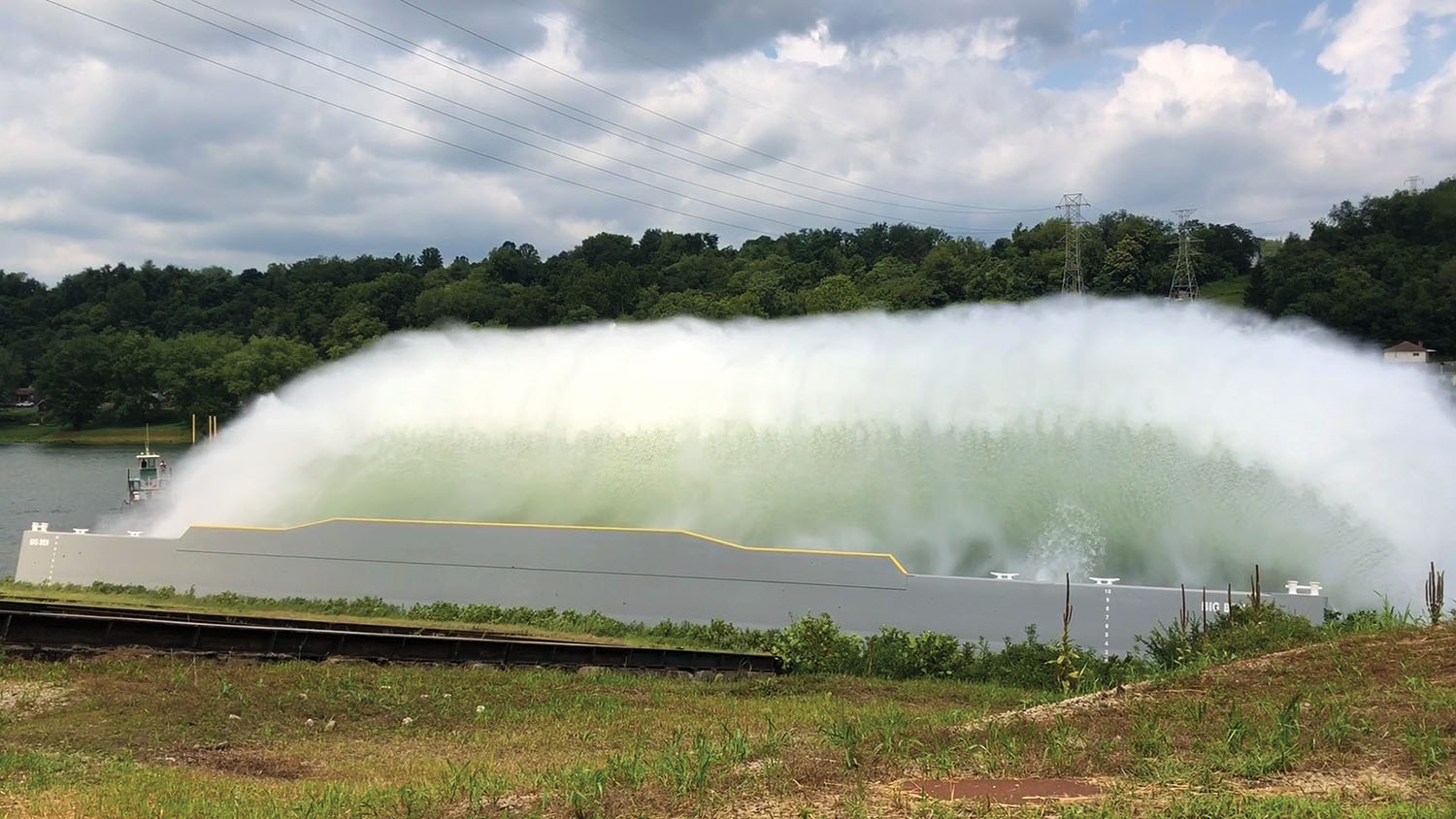 White said Luhr Bros. naming the Big Ben after his Papaw and inviting him to take part in the ceremony meant a lot to him.
"I'm not a real emotional person, but I kind of got a little teary-eyed there," he admitted. "It was a great day."
Caption for top photo: Before the barge launch are, from left, Rodney Linker, Cody Shields, Leo Dufrenne and Chase White. (Photo courtesy of Heartland Fabrication)