With five new stations established along the western rivers this year, the U.S. Coast Guard hopes to improve safety and security.
Officers with Marine Safety Unit Paducah and Station Paducah, both in Paducah, Ky., explained how the new stations differ from the existing marine safety units during the Paducah Propeller Club's September meeting September 28 at the River Discovery Center along the city's historic downtown riverfront.
The meeting was sponsored by the law firm McMurry & Livingston, PLLC.
Station Paducah was established in August as the third of five new stations the Coast Guard is forming along its 8th District Western Rivers Sectors, spanning 26 states. The others are in St. Louis, Memphis, Louisville and Pittsburgh.
Sign up for Waterway Journal's weekly newsletter.
Our weekly newsletter delivers the latest inland marine news straight to your inbox including breaking news, our exclusive columns and much more.
Paducah is already home to Marine Safety Unit (MSU) Paducah. The unit's executive officer, Lt. Commander Mihai Leta, said MSU Paducah is responsible for a portion of the Mississippi River watershed from roughly 40 miles above to 60 miles below its confluence with the Ohio. It is responsible for 469 miles of river.
The area includes portions of four major navigable rivers: the Mississippi, Ohio, Tennessee and Cumberland, along with Kentucky Lake and Lake Barkley, formed from impounding portions of the latter two rivers.
That means the unit is responsible for 218,000 acres of water surface and more than 3,000 miles of shoreline.
"That's a lot of shoreline," Leta said.
The area of responsibility includes five locks and dams and the ports of Calvert City, Murray, Hickman, Fulton and Paducah, Ky.; Cairo, Ill.; and Southeast Missouri. It includes two public port authorities with commercial docks, eight facilities and nine fleeting areas.
Because of its location near major fleeting areas, such as those in close proximity to the confluence of the Ohio and Mississippi rivers, the unit responds on a relatively frequently basis to barge breakways.
"When you're not used to that, when you have vessels that are just floating on the river, you think 'Oh my God, we've got to get this,' but I find that industry partners work well with each other," Leta said. "They have a vested interest in keeping the waterway open. That way the commodities can flow back and forth."
MSU Paducah previously had 26 personnel, but it decreased to 19 recently, three of whom are civilian employees. Reservists have also been moved from MSU Paducah to Station Paducah.
MSU Paducah focuses primarily on prevention and safety and includes close relationships with existing industry partners.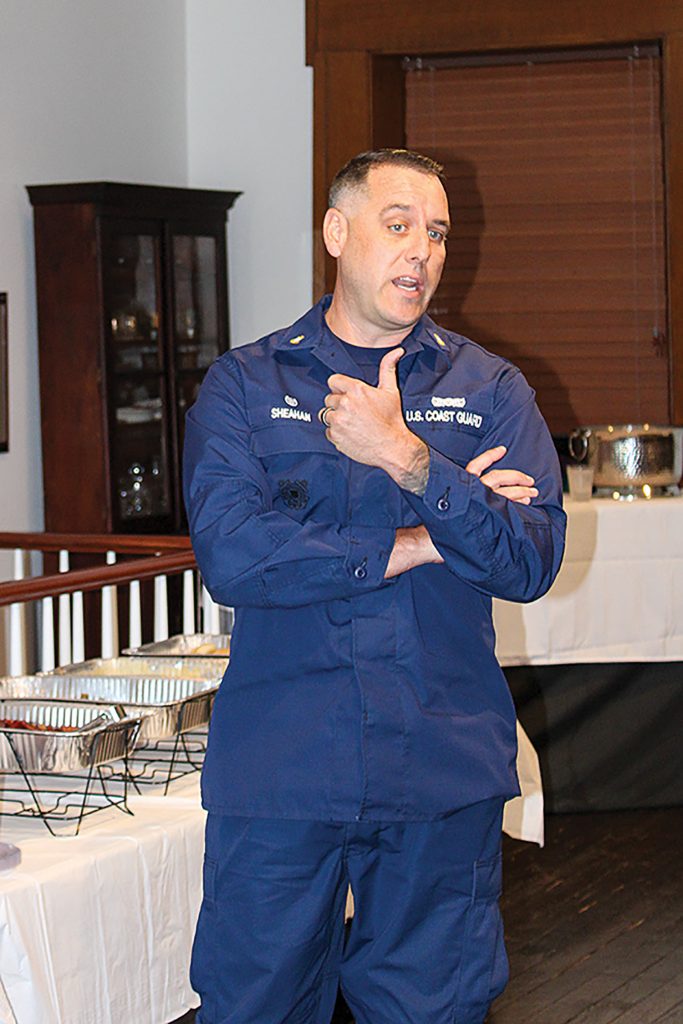 Michael Sheahan, officer in charge of the new Station Paducah, said while Station Paducah has the same physical area of responsibility as MSU Paducah, its mission is focused more closely on recreational boating safety, so officers spend more of their time on Kentucky Lake and Lake Barkley, especially between Memorial Day and Labor Day. While they have the same powers, they work in a law enforcement capacity most of the time instead of focusing on commercial inspections. Station Paducah is also involved with search and rescue, generally assisting local first responders, such as fire departments, as necessary.
Station Paducah has eight active duty crew and 22 reservists and is deployable to the Gulf of Mexico for hurricane flood response.
Sheahan admits it can be confusing to people outside of the Coast Guard.
"The biggest question I've had since I've arrived in town is what is a station, why is it here and why did we split from the marine safety unit," he said.  "So there are a couple of sides to this. One is people are starting to figure out your guys' little secret, that you have a good community here, so your boating traffic has risen exponentially in about the past six years. The way the Coast Guard looks at it is based off registered boats, so we try to board 1 percent of the registered boats in a given district. Unfortunately, when you have more boating traffic, what comes with that is more marine fatalities and the need for boating safety."
Standing up Station Paducah adds a second command structure focused on dealing with this increased traffic. Unlike other aspects of the military, which tend to be reactive, Station Paducah is designed to increase law enforcement to safeguard against problems.
Station Paducah typically conducts three or four patrols a week and is present at large marine events on various bodies of water. The unit also prioritizes port, waterways and coastal security and spends a lot of time at waterfront facilities.
In the cooler months, Station Paducah will spend more time focusing on tugs and towboats, so it's possible vessels could be boarded at different times by both Marine Safety Unit Paducah and Station Paducah, but, Sheahan said, "What they're doing and what we're doing are completely different."