The Illinois International Port District (IIPD), located on Chicago's south side, recently named Erik Varela as its executive director. Alongside IIPD's board of directors, Varela will work to "solidify" the port district as an important domestic and international trade hub.  The port properties consist of a frontage along the Calumet River and a deepwater port,  called Iroquois Landing, where the river meets Lake Michigan.
Varela comes to the port from his most recent position as senior director of public affairs for Union Pacific Railroad. In that role he was responsible for leading all legislative, governmental and community relations activities in Illinois and Wisconsin on behalf of Union Pacific.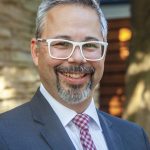 Varela's appointment comes at a unique inflection point for the history of the IIPD, the port said, since Chicago's COVID recovery plan focuses on transportation, distribution, logistics and warehousing.
Varela spoke to The Waterways Journal two weeks into his new job. 
Sign up for Waterway Journal's weekly newsletter.
Our weekly newsletter delivers the latest inland marine news straight to your inbox including breaking news, our exclusive columns and much more.
Within the past year, the port has begun developing its master plan, with help from the Chicago Agency for Metropolitan Planning.  Phase 1, which includes "examining existing conditions, performing market assessments and visioning," is complete. In Phase 2, "scenarios for improvements" will be identified to take advantage of grant opportunities from the federal government, state of Illinois and city of Chicago.
The port hopes to publish a request for proposals for rail improvements by the end of the year. The Union Pacific, Varela's former employer, recently expanded its Global 4 intermodal rail hub at Joliet, Ill., already the UP's largest. 
The port's barged cargoes are mostly bulk and break-bulk, said Varela. Commodities include grains, soybeans and soybean oil, steel coils, asphalt, concrete and precious metals. 
The port can handle containerized cargoes, though, and hopes to look further at those possibilities, said Varela. 
The port property also includes a golf course that contributes revenue, and Varela said he wants to look at other community and recreational development opportunities, including a bike trail to the nearby Pullman neighborhood—originally a separate company town built by George Pullman to keep his rail workers happy. The Pullman National Monument includes a historic building and park and has become a big tourist draw in Chicago.
"Be on the lookout for exciting news and RFPs during the coming year," said Varela. "Demand for freight in the Chicago area is expected to increase by 40 percent over the next 20 years. Cargoes can move through here from the St. Lawrence Seaway all the way down to the Gulf. We have to invest smartly in ourselves. But a lot has to happen first!"  
Varela is looking forward to helping to make it happen.