If it can be said that ensuring the smooth operation of towboats is akin to hunting rabbits, then Keith Doss fits the bill. He is a port engineer for Nashville, Tenn.-based Hines Furlong Line Inc., and he loves to hunt rabbits, which takes a lot of skill—much like fine-tuning the diesel engines of a bunch of harbor tugs. He also loves working with engines, obviously, and that earned him the honor recently of being the namesake of a new HFL vessel, built and delivered by the Bourg, La., shipyard Intracoastal Iron Works.
Doss comes from a family of rivermen, so much so that he went to work on the river only one week after graduating from high school in Point Pleasant, W.Va., where he grew up. His father, who just turned 80, he said, was a captain for Crounse Corporation and AEP, his uncle worked for M/G Transport, his younger brother is captain on the mv. Glenn A. Hendon, and his middle brother is port engineer for AEP. "I graduated on a Friday," he said, "and the very next Friday caught the J. Page Hayden. There wasn't any time for messin' around."
That was in 1981, he said. Since setting foot on the Hayden, where he began as an oiler, Doss progressed to chief engineer on the mv. James H. Carey and several other vessels before eventually finding his way to a job as port engineer with Hunter Marine Transport, now Hines Furlong Line. As of this coming January, he will have spent the last 17 years with the company. He came into the office in the mid-'90s, he said.
"Keith started working for Hunter Marine in 2006 and is very dedicated to Hines Furlong Line," said Glenn Hendon, the company's chief operating officer. "He is responsible for the maintenance of our harbor tugs, as well as many other vessels, and the honor of having a new tug named after him is well deserved. He never dreamed there would be an mv. Keith Doss, and he was very humbled when we presented him with the rendering of his namesake."
Now that he's a port engineer living and working in Paducah, Ky., Doss has been able to devote more time to his favorite hobby, rabbit hunting. "I've got four beagles," Doss said, "Cleo, Daisy, Sissy and Belle." He put them through a four-week training course he called "rabbit running camp" when they were six months old. At the camp, he said, the dogs were shuffled between different pens for learning to run and track rabbits by sight, and then by scent, and so on, until finally they were paired with older, experienced dogs during the fourth week to learn some of the finer points. 
He said he enjoys watching the dogs work as much as, if not more than, he enjoys hunting the rabbits. "I love seeing them on a trail," heads down, tails going like windshield wipers in a downpour.
An Uncommon Pilothouse
Unlike most retractable-pilothouse boats, the mv. Keith Doss has two decks. "Most retracts have only a single deck but with this one being a harbor tug, she's pretty short, so to give the crew extra room we went with a second deck," Hendon said. "And we can still get under the bridges up here that we were concerned about." Hines provides towing and fleeting services in the Cumberland River region.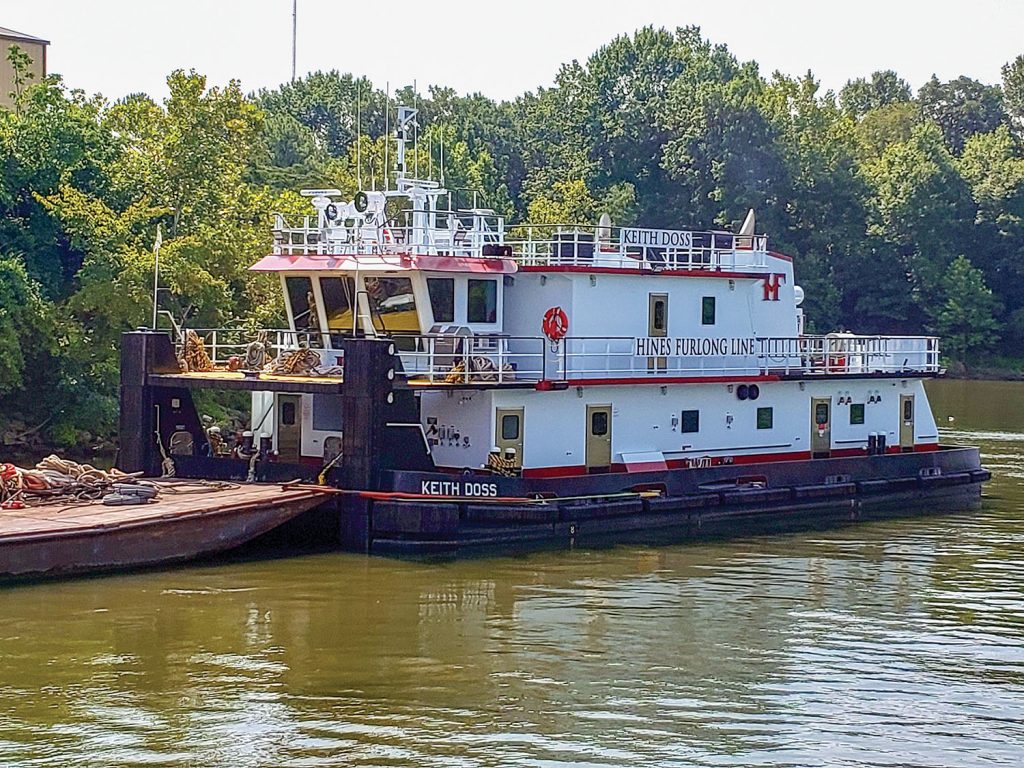 When in the raised position, the pilothouse of the mv. Keith Doss is 28 feet 4 inches high; when lowered, it is 17 feet 4 inches. The boat was built by Intracoastal Iron Works as designed by Entech & Associates specifically for Hines. It measures 78 feet long by 34 feet wide with a 10-foot draft, and it is the first retractable-pilothouse vessel built by Intracoastal Iron Works and the first one owned by Hines. It was delivered May 20.
The pilothouse is made of 3/8-inch aluminum, which is very unusual, according to Hines' chief engineer of new construction, Karl Morley, who oversaw the vessel's construction. "It (aluminum) was selected by the shipyard, and I agreed that it would serve two purposes: strength and reduced weight," Morley said. The boat also has a guide system that locks the jack-up pilothouse in any position, he said, adding a greater level of stability and safety.
The pilothouse lifting system was furnished by Hydra Force, as was the full-follow-up, electric-over-hydraulic steering system.
The 2,000 hp., twin-screw vessel is powered by a pair of Cat C32 Tier 3 diesel engines from Louisiana Cat that operate at 1,800 rpm. They turn Sound, 74- by 60-inch wheels on 7-inch, ABS 2 shafts with Duramax seals and bronze bearings from Dale's Welding. The Reintjes WAF 572L gears from Karl Senner have a 6.41:1 reduction ratio.
Auxiliary power comes from two John Deere 75 kw. generators from Allemand Industries. The vessel is equipped with heating in all machinery spaces. The main engines are cooled via an East Park grid-type cooling system. Engine alarms are from Unlimited Controls.
Inside the hull, there is tankage for 28,270 gallons of fuel, 6,610 gallons of potable water, 4,400 gallons of dirty bilge water and 720 gallons of dirty oil, as well as lube, gear and hydraulic oil totaling 870 gallons.
The two full decks on the vessel, which allow for comfortable living quarters for six crewmen, include a galley, four staterooms, a separate lounge and an air-conditioned exercise room. The deckhands' bunkrooms are on the main deck aft of the all-stainless-steel galley. They share a full head, as do the captain's and engineer's staterooms on the second deck, where there is also a lounge with settees and an LED television set. The workout area is between the pilot room and the rudder room on the main deck.
The Keith Doss is equipped with insulated windows and a pilothouse defrost system for cold climate operation. Heating and air conditioning is from a Carrier split-zoned system. Sound and vibration damping is rockwool with navy cloth facing.
Electronics and communications equipment in the pilothouse features two Koden 25 kW radars, a Furuno bridge alarm and an Intellean satellite TV system with six TVs, all from Rhodes Electronics. On deck are two Wintech 65-ton electric winches. The hull is fully protected with fenders from M&M Bumper.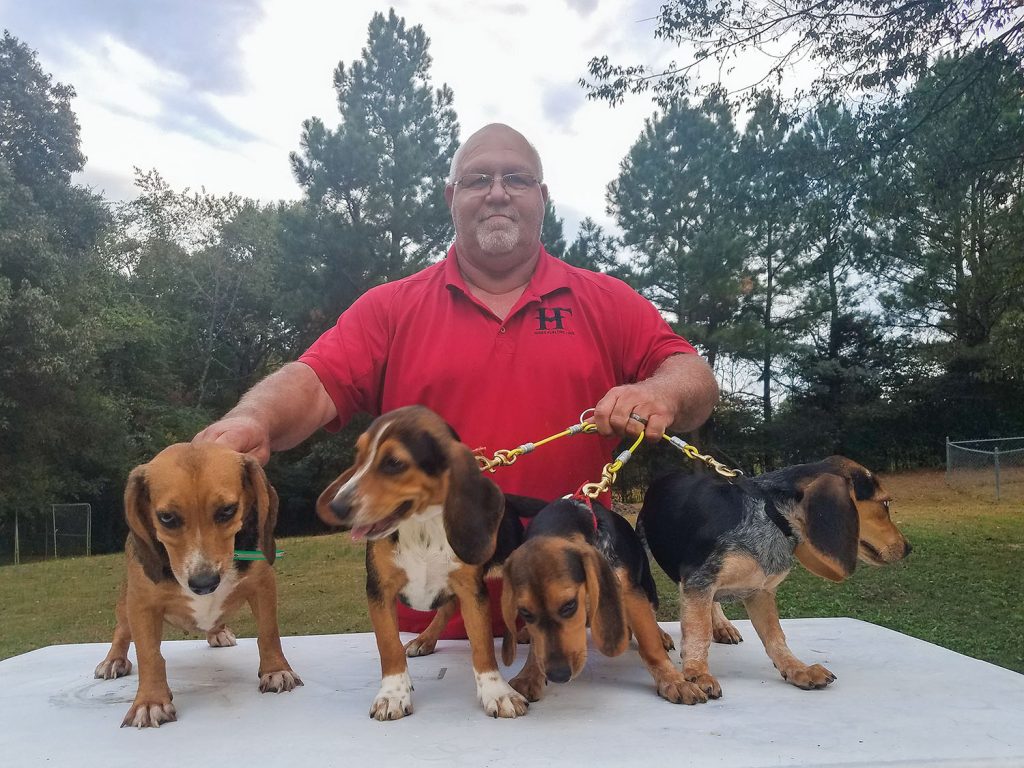 Caption for top photo: The retractable-pilothouse mv. Keith Doss was built by Intracoastal Iron Works. (Photo by Glenn Hendon)