The importance of the inland waterway system now and into the future was the focus of the annual Inland Rivers, Ports & Terminals Inc. (IRPT) conference October 18-21.
Waterway, port and terminal professionals from around the country gathered for the conference this year in Biloxi, Miss. 
In her presentation, IRPT executive director Aimee Andres talked about IRPT's work on a bill calling for the creation of a separate, set-aside program supporting infrastructure improvements at inland ports and terminals as part of federal grant funding.
The IRPT board separated into six teams and visited Capitol Hill to lobby for the legislation, scheduling 37 different meetings with lawmakers, explaining the difficulty of small inland ports to compete with large, coastal ports to obtain grant support.
Sign up for Waterway Journal's weekly newsletter.
Our weekly newsletter delivers the latest inland marine news straight to your inbox including breaking news, our exclusive columns and much more.
"I'm just so excited to say that thanks to those efforts, thanks to our board, thanks to your letters, thanks to you contacting your lawmakers, that you were able to get a small set-aside passed in the Port Infrastructure Development Program," she said. "You did it! In 2019, we asked you to do it. You did what we asked. You've done it, and now these funds are available for you."
The $41 million set-aside program requires a 20 percent local match from agencies requesting the federal grant funding.
"What ended up not getting in the bill is the set-aside funding where private terminals can independently apply for the funds, and that was part of our goal," she said.
However, she encouraged private terminals to go to their state departments of transportation, agriculture or economic development and to request that those organizations sponsor them as a grant applicant.
"Hopefully, in the future, you will be able to apply independently of that public sponsor," Andres said.
In looking at other IRPT goals, Andres said that in March the board approved exploring the formation of an Inland River Transportation Caucus in Congress. The caucus would be formed of congressional members representing districts along navigable rivers. She said it would allow them to get together to brainstorm and to support each other. The idea is making its way through the House administration for approval, Andres said, and she added that once approved IRPT would be reaching out to members to ask them to get their legislators to join the caucus.
"This is our next step in the legislative arena to bring the inland river transportation system as a whole to the front of all those conversations in those committees and subcommittees," Andres said.
Upcoming Legislation
John Anderson, vice president of Van Scoyoc Associates, a federal lobbying agency, spoke about the infrastructure package currently pending in Congress.
Currently, President Joe Biden's administration is working closely with moderate Democrats to trim the cost of the proposed social or "soft" infrastructure package to ensure their votes for his "Build Back Better" initiative. Republicans, backed by a few moderate Democrats, have preferred a version that considers traditional hard infrastructure items only. House Speaker Nancy Pelosi had originally hoped to reach agreement on a reconciliation bill and bring the measure to a vote by the end of September, then by the end of October.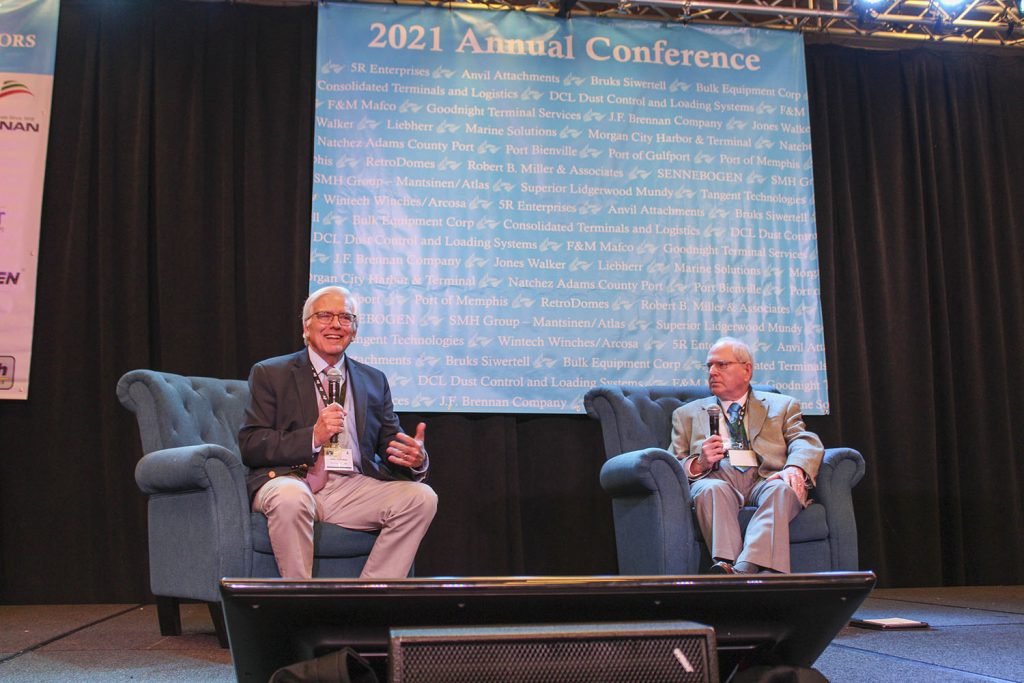 "I am still optimistic that we're going to get something through," Anderson said. "That sweet spot is going to be found somewhere. I couldn't tell you where it's going to be."
As part of any agreement, Anderson said he was "going to go out on a limb" and say he doesn't believe the $1.2 trillion in traditional or hard infrastructure items in the overall package will change much, if at all, as they are largely supported by both Democrats and Republicans. 
Once passed, the Corps of Engineers will have 60 days to approve a work plan on how to spend its portion of the funding, which could amount to $17 billion for the Corps' Civil Works program, more than twice as much as it is used to getting in annual appropriations. That amount would be in addition to whatever fiscal year 2022 appropriations it receives.
"Right now is a good time to be talking to the Corps of Engineers, making sure they fully understand the goals of this association and your individual projects or goals out there in terms of funding," Anderson said.
He noted that although it was recently extended, the federal government's debt ceiling expires after December 3. The continuing resolution funding the government for fiscal year 2022 expires the same date because appropriations bills have not been passed in Congress, he said.
"It's going to be the perfect storm coming up, I think, in early December, very similar to sort of the same ugly fights we had in late September and early October," Anderson said of so many issues pending at the same time.
In general, Anderson said the maritime community is being paid attention to in Congress, but that proponents must keep that attention to be effective.
"You've got to keep the momentum going," he said. "You've got to keep the buzz in Washington going around, getting members talking about inland waterways, getting the Corps of Engineers' headquarters people talking about inland waterways so that when the Corps folks sit down and start to decide how are we going to write this work plan, which projects, at least let them have in their head, well, I know about inland waterways and I know even some specific projects that would be good places to spend some of this $17 billion we're going to get."
Another conference presenter, maritime attorney James Kearns of Jones Walker's New Orleans maritime practice group, discussed earmarks and what they mean for marine transportation.
Following a previous moratorium on earmarks, members of Congress are once again allowed to make requests for discretionary spending on various projects, but with updated requirements. Among those requirements are that they must make appropriate disclosures and are limited by a spending cap.
Governor's Remarks
Mississippi Gov. Tate Reeves addressed the membership during a special keynote luncheon.
Tate spoke of the state's important role along the Mississippi River, Tennessee-Tombigbee Waterway and the Gulf coast, along with its 16 publicly owned ports, handling more than 55 million tons every year and supporting almost 126,000 jobs.
"Mississippi and in my opinion the nation's economic prosperity is greatly dependent upon our ports and their success, which is why I believe it is of the utmost importance regardless of our political views and our political ideals that we work together to improve and fund the port system throughout our nation," he said.
He spoke about a backlog of unfunded capacity improvement projects that he said could boost productivity in Mississippi and around the country.
"There's no doubt that making significant investments in our port systems will make our nation more competitive in what is now a global marketplace," he said.
He credited the federal government with making some investments in the system, such as through the Harbor Maintenance Trust Fund, but he said Congress needs to provide funding that is flexible for states to use to meet the individual needs of their ports and that a one-size-fits-all program was not in those ports' best interests.
Even within the state of Mississippi, "Our inland ports and their needs and meeting their customers' desires are very different from what is happening on the Gulf coast," he said.
He also pledged state resources for what he called transformational investments in key assets as well as in workforce development initiatives.
The luncheon also included a recorded welcome from Sen. Roger Wicker of Mississippi.
"Marine transportation is without a doubt one of the most efficient and least costly ways to move valuable cargo," he said.
Wicker said that while COVID-19 had hit hard, ports had weathered difficulties to keep the economy moving at a crucial time. He also pointed out funding changes to the Harbor Maintenance Trust Fund and the Inland Waterways Trust Fund designed to make positive improvements in addressing maintenance and construction needs.
Wicker said he supports congressional funding for traditional infrastructure as well as the recapitalization of the Coast Guard's inland river fleet through its waterways commerce cutter program for its next-generation inland buoy and construction tenders.
Federal Agency Updates
IRPT deputy director Dede Smith provided some insights into Water Resources Development Act (WRDA) implementation priorities from the National Waterways Council's navigation caucus, which she chairs. One of the issues important to her is decreasing the critical backlog of maintenance projects.
"What I would like to see is a national database where all the districts input what the needs of that channel are," she said.
She gave the McClellan-Kerr Arkansas River Navigation System as an example with which she was familiar. In 2011, she said, the maintenance backlog there was approximately $75 million. By 2019, she said, it had ballooned to $256 million.
These projects would cost far less overall if they were executed in a timely manner, she said.
"I just think it's important that we know exactly what we need so that when we talk about the successes of the river system, we also talk about the needs that are out there," Smith said.
Timothy Pickering, operations development manager for the U.S. Maritime Administration's America's Marine Highway Program, provided an update on the program. 
The program currently has 28 marine highway routes, three of which have been added in the last year. Those routes include 52 designated projects.
Pickering mentioned that representatives in the area surrounding the Kaskaskia River in central and southern Illinois have just applied for possible inclusion as Marine Highway 3. Additionally, he said, port officials in the Pittsburgh area are working on getting the Monongahela and Allegheny designated as a marine highway route, and officials in Alaska are looking to extend a marine highway toward the city of Nome.
Looking ahead to the draft 2022 National Defense Authorization Act, which contains Marine Highway Program funding, Pickering said the designations and grant awards would be moved from the secretary down to the administrator, which could cut approval time in half, from six months to three months. It also contains language concerning wind farms, which could allow for designated projects moving supplies between ports and wind farms, he said. 
Proposed language also decreases or in some cases may waive the non-federal cost share for the grant program at the discretion of the secretary or administrator.
Program language would also be added to prevent funds from being used to clear sunken vessels, to build structures not related to marine highway projects or to acquire land.
Pickering noted that all the draft language is preliminary.
Global Supply Chain
Also highlighted in a keynote luncheon, attorney Christopher Swift of Foley & Lardner LLP, a Washington, D.C.-based firm specializing in supply chain issues, discussed the global supply chain disruption and future strategies that could prove advantageous for shipping on the inland waterway system.
"In 2021, we're facing circumstances and challenges that none of us would have anticipated 20 years ago," Swift said.
After the September 11 attacks in 2001, an economy that was globally integrated began to break down into regionalism, he said. Then, when the COVID-19 pandemic hit, the World Trade Organization estimated that 36 percent of the global trade would collapse in one year.
Last year, Foley & Lardner performed a survey of 150 executives from major multinational companies headquartered or incorporated in the United States, asking them about supply chain issues. Most were manufacturers, and they included automotive, chemical, health care, transportation and logistics and heavy equipment industries. 
Of those surveyed, 45 percent had experienced missed, late or short shipments from suppliers. Twenty-three percent had experienced severe disruptions.
Executives said they were prioritizing reliability and flexibility over production of an adequate product at the lowest possible price. 
Also, Swift said, executives said they were doing away with just-in-time delivery because they no longer had faith their supplier was going to be able to get them what they need in the right time with the right level of quality and in the right quantity. Twenty percent of those surveyed said they were so worried about their supply chains that they were considering a business acquisition of their supplier, Swift said.
Additionally, he said, 90 percent of the companies surveyed said they had been affected by the trade war between the United States and China with 47 percent reportedly having pulled out of China entirely or being in the process of doing so and another 10 percent seriously considering it. Of those leaving China, 74 percent planned to bring some or all of their business back to the United States, with some companies choosing Mexico instead.
 "A logistics provider that can help solve the supply chain problem is going to be highly valued partner in the current environment," Swift said.
To take advantage of business opportunities in the current environment, Swift said it is important for companies to show that they are stable and reliable but that they are also flexible and quick to adapt to changes. Manufacturers are also looking for real-time tracking and planning, continuous communication and transparency that builds confidence and assurance in the shipping process.
Caption for top photo: Mississippi Gov. Tate Reeves was a keynote speaker at the annual Inland River, Ports and Terminals conference in Biloxi, Miss. (Photo by Dee Dee Whitaker)