Craig Philip Combines Industry, Academic Experience To Benefit Inland Maritime Sector
In his long career, Dr. Craig Philip has combined the best of academia with the best of work experience in the maritime industry.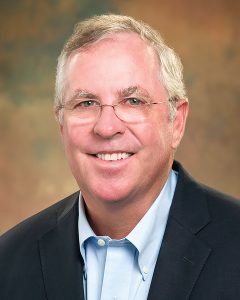 Philip, 68, of Nashville, Tenn., received his bachelor's degree in civil engineering from Princeton University before earning his master's and doctoral degrees in the same field from the Massachusetts Institute of Technology (MIT). He was attracted to the freight transportation realm early on and decided to get some experience in it before returning to academia.
What he intended to be a couple of years of work in the industry quickly turned into decades, however. He spent some time working for various companies associated with the railways, but most of his career was spent working for Ingram Barge Company in Nashville, Tenn. He retired as president and CEO in 2014 and wanted to be sure to recognize his former employer and colleagues for all the help and support they have provided to him over the years.
Throughout his time working for Ingram, Philip made it a priority to serve in leadership roles on boards and committees seeking to advance transportation and logistics, something he added that he is grateful that Ingram supported him in doing. Major positions include past chairmanships of The American Waterways Operators board of directors and National Waterways Conference board of directors as well as the U.S. Chamber of Commerce's logistics and infrastructure committee.
He continues to serve on the executive committee of the Transportation Research Board, as vice chairman of the Marine Board of National Academies, on the board of directors for the National Waterways Foundation, as vice chairman of the Seamen's Church Institute board of trust and on the advisory committee for America's Watershed Initiative.
As Philip approached retirement, he decided to once again venture into academia. He now serves as research professor of civil and environmental engineering at Vanderbilt University in Nashville as well as director of the Vanderbilt Center for Transportation and Operational Resiliency (VECTOR).
Focus On Resiliency
Although Philip does spend some time in the classroom, most of his days are spent securing and conducting research with teams of both graduate and undergraduate students. His research focus is on maritime systems, including infrastructure sustainability and the application of risk management tools to transportation systems, carrier safety management and transport policy.
Vanderbilt already had a strong focus on system resilience, so Philip has spent much of his time researching, writing and presenting on that topic.
"The concept of resilience is easy to say and hard to put your arms around," Philip said. "It's the notion of when things are disrupted, how easily and quickly can you recover from that disruption."
That has become an especially useful field with the supply chain disruptions caused by the COVID-19 pandemic.
"There's been a lot of déjà vu for me in the last six to nine months as we have had all these supply chain problems in the United States," he said.
He noted that the explosion of trade with Asia in the late 1980s and early 1990s was one of the reasons he went to work for Southern Pacific Railroad at that time. The company pioneered double-stack railroad cars and is one reason why the ports of Los Angeles-Long Beach has become the biggest port complex in the country.
For years now, he said, companies have focused on building bigger ships and moving manufacturing sites farther away from where products are consumed. This helps provide goods at the lowest cost.
"When things go well, we enjoy all the fruits of that being inexpensive," he said.
The problem is when things do not go well. For example, he said, many of the ships today are too big to get through even the expanded Panama Canal.
"In many cases we haven't given ourselves many options," he said.
Inland Waterways Importance
Philip is in the midst of a study for the Department of Homeland Security focusing on port resilience. While most of the government's attention has focused on coastal ports until now, he said, it is beginning to realize the potential for increased use of the inland waterways system and that the system can be especially important when other modes have problems.
Additionally, Philip said, his unique combination of industry and academic leadership experience has put him in a position to "tell this good story that the waterways need to be viewed as part of the whole network."
"There aren't that many of us who have worn both hats, and I'm glad to be given that chance," he said.
As part of the broader port resilience study, Philip's colleagues, Professor Janey Camp and several students are developing a section of the port resilience guide focusing on inland ports using the Tennessee and Cumberland rivers as a case example. The study will allow others to create similar resilience plans for other watersheds.
"Obviously the situation today is proving we need to have a better lens of resilience," Philip said.
While the COVID-19 pandemic has reshaped supply chains, it  has not been the only force to do so. As part of his study, Philip also considered the disruption that would be caused by an earthquake or if the Colonial Pipeline serving the Southeast were to be disrupted.
Unexpectedly, his team was able to test the effects of the pipeline closure when a ransomware attack caused it to shut down for five days earlier this year (See WJ, November 15). The shutdown allowed a rare, real-time opportunity to study the effects on gasoline prices in Nashville, which has inland port access for petroleum products, compared to Knoxville and Chattanooga, which do not. 
One Ph.D. student, Miguel Moravec, determined that it would be possible to use the gas station price-checker website Gas Buddy to compare the availability of gas and its price in the three cities. Because the waterway served as an alternative means of bringing petroleum products to the market, "Problems in Nashville proved much lower than the other two," he said.
Philip and VECTOR are finishing the appendix to the main report now.
"I think the big message is you need to look at the multimodal picture if you're going to understand transportation resiliency," he said. "You can't just look at a single mode or a single port or a single facility. You have to look at how the interplay happens."
Opportunities For Growth
That concept is even more important now that Congress has passed an infrastructure bill that includes funding for many waterways projects.
"There is a tremendous amount of money that is going to be provided mostly to governments to do, hopefully, great things to improve our infrastructure, so we're anxious and excited about possibly having work to do to help the government agencies figure out how best to spend those dollars," Philip said.
He added that given the recent experiences with the pandemic, "I think everybody's going to be much more interested in this notion of resilience, at minimum making sure we are not making the system less resilient."
He believes that presents opportunities for underutilized inland waterways at a time when highways and rails are reaching capacity. It also brings into focus another reason that continuing investment in infrastructure along the rivers, including at the nation's locks and dams, is important. 
Outside of his work at Vanderbilt, Philip said he especially continues to enjoy working with the Seamen's Church Institute.
"I'm really proud to have been part of the effort to bring Seamen's Church to the Western Rivers and become such an important part of the industry today," he said, noting that it is uniquely positioned to care for the mind, body and spirit of mariners.
When not working, Philip can most often be found on the golf course, which he called the closest thing to feeling normal during the pandemic as it was outdoors and naturally socially distant.
He also enjoys spending time with 21-month-old grandson John Philip-Schmitthenner in Madison, Wis., where his daughter is completing her training as a transplant surgeon.
Although Philip's career hasn't taken the trajectory he expected, he said the research he is doing is fulfilling, and he also enjoys sharing his experience in the working world with the next generation of students that will guide transportation into the future and also continue to be involved in the maritime industry. 
"The students at a place like Vanderbilt are fantastic," he said. "They're curious, and so excited to work on projects that will have an impact on the future."