A $1.6 million Port Infrastructure Development Program (PIDP) grant is aimed at building a new pier that will allow the Tell City River Port to increase its capabilities.
Jared Kleemann, chief operations officer for Perry County Port Authority, which operates the port on the Ohio River at Mile 727, said he believes the grant will help make the developing port more competitive.
The grant will allow the construction of a 40-foot-diameter pier capable of holding a crane. It was bought in anticipation of future equipment purchases.
The pier design will allow barge unloading operations regardless of water levels. Once the new pier is complete and operational, grant funds will be used to demolish the existing pier, which is more than 60 years old and is structurally unsound, according to grant documents.
Sign up for Waterway Journal's weekly newsletter.
Our weekly newsletter delivers the latest inland marine news straight to your inbox including breaking news, our exclusive columns and much more.
Currently, the port's stevedore unloads barges via a ramp, but that can be problematic in high- or low-water conditions.
"In the short –term, having this will allow us to take away that uncertainty with the water levels," Kleemann said. "In the long –term. it will allow us to market ourselves better to be able to unload different types of material and unload directly from barge to truck."
The pier will also allow the potential for the port to load barges directly from trucks, something that has not been possible in the past, Kleemann said.
He noted that there have been a few times the port has had to turn away business because it has not had facilities that would be needed to handle equipment. 
"It's going to be a big help for us," he said of the new pier.
Kleemann praised legislative requirements that required a portion of the PIDP funding to go to small ports for small projects. It was previously very difficult to obtain grant funding when competing against much larger projects, he said. Additionally, he noted that smaller ports don't have the financial resources many larger ports do.
As the port is municipally owned by the city of Tell City, Ind., "It's hard for us to fund big projects like this out of our operations budget, so this kind of grant program really helps us," he said.
The port authority partnered with the city of Tell City and the Indiana 15 Regional Planning Commission to complete the grant application.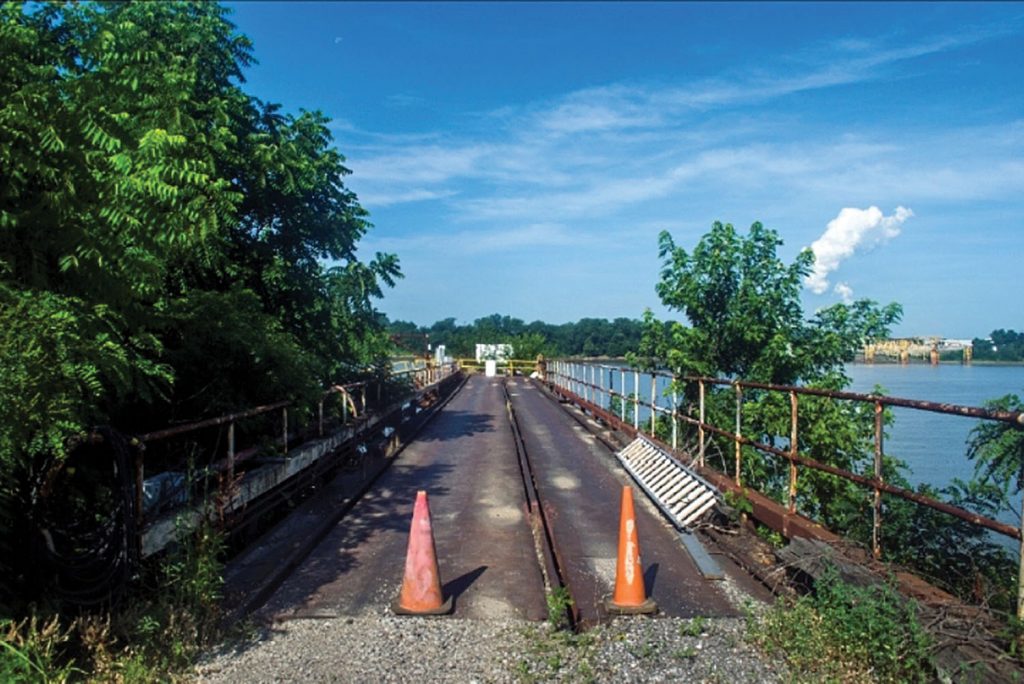 The port previously served as a yard for barge builder Maxon Marine. It was acquired by the city in the mid-1990s. Around the same time, Norfolk Southern Railroad abandoned lines running through the town, and Perry County purchased the property and established the Hoosier Southern Railroad.
The Tell City River Port has a business relationship with Waupaca Foundry, unloading pig iron barges and bringing in rail cars of raw materials and sand. It also unloads coal barges and brings in raw materials, including clay, for a Waupaca supplier.
The Tell City River Port currently unloads about 63 pig iron barges and about eight coal barges yearly.
The grant award is projected to complement other capital development projects, Kleemann said.
Those have included adding rail spurs, a transload pad for rail-to-truck and truck-to-rail shipping, nearly doubling the size of storage pads.  A major road project  will provide direct access between the port and a state highway.
The port is served by American Commercial Barge Line, Celtic Barge, Cooper Consolidated and Ingram Barge Line. It specializes in the handling and storage of bulk material offloaded from barges.
The port area is composed of nearly 38 acres with 3,300 feet of Ohio River frontage and nearly 75,000 square feet of concrete and asphalt pad for the storage of materials not requiring inside storage. 
Land is available within the port to install additional asphalt pad, and an additional 3,500 feet of river frontage is not yet developed. Available on the port property are two buildings providing for more than 46,000 square feet for the storage of bulk materials.
Caption for top photo: The Tell City River Port is operated by the Perry County Port Authority at Mile 727 on the Ohio River. The port currently unloads about 63 pig iron barges and about eight coal barges yearly but hopes to see an increase in business as a result of receiving a Port Infrastructure Development Program (PIDP) grant. (Photo courtesy of Tell City River Port)