Over the past 20 years, he's been a pig farmer, sewer inspector, a shrimper, a casino food recycler, a well digger, a bridge painter, a wind farm technician, a high-rise window washer, a steel galvanizer and a water tower cleaner.
Over that time on Discovery's show "Dirty Jobs," Mike Rowe has shined a light on many jobs that are essential to the world economy and the American way of life, though they often go unseen or underappreciated.
Episode Three of the current season of Dirty Jobs, which aired January 16, put the spotlight on the maritime industry, and shipbuilding in particular, with Rowe working for a day at Coden, Ala.-based Master Boat Builders. James and Michael Rice, a father-son team, founded the shipyard shortly after Hurricane Frederic came ashore in Coden in 1979. In the years since, Master Boat Builders has delivered around 430 vessels, including OSVs, fishing vessels and dive support vessels.
The yard's specialty, though, is building tugboats, and that's the job Garrett Rice, president of Master Boat Builders and son of the shipyard's co-founder and CEO Michael Rice, assigned to Rowe when he was onsite last spring to film the episode.
Sign up for Waterway Journal's weekly newsletter.
Our weekly newsletter delivers the latest inland marine news straight to your inbox including breaking news, our exclusive columns and much more.
Rowe wasted no time in the episode pointing out the significance of the work shipyards like Master Boat Builders do every day.
"Today's job: build a tugboat, or at least spend a day with the men who do," Rowe said. "Men who often work around the clock, doing a job that makes civilized life possible for the rest of us."
In greeting Garrett Rice at the shipyard, Rowe asked him what he hoped viewers of the show would see about the shipyard first and foremost. 
"The guys in the yard," Rice said. "These guys get up every morning at 4 o'clock. They get here between 5 and 6 every day, and they work 10 to 12 hours a day, six to seven days a week, to build boats. Boats that serve the harbors of the country.
"That doesn't happen overnight," he added. "They do the work that nobody knows."
The show then featured a monologue where Rowe explained the importance of tugboats.
"The $14 trillion global shipping trade is 100 percent dependent on tugs, and so are you," Rowe said. "We all rely on goods and products brought to us on container ships, and none of those ships would be able to make it in and out of port without the assistance of a tugboat. This was true 55 years ago when I first read about the illustrated adventures of Scuffy the Tugboat, and it's still true today."
At the time the show filmed, Master Boat Builders had tugboats under construction and a workforce near 200. That's an impressive workload, Rice said, for what's still essentially a small, family-run business. 
"My dad hired an engineer and a production guy in 1980," Rice said. "They've been with him, and they're all retiring this year. All three of their sons—myself and his two partners, their sons—are doing the same jobs their dads did."
Rowe spent the first part of his day working alongside Braxton Ackridge, a 34-year-old ship fitter who has worked at Master Boat Builders since he was 20.
"First thing we're going to do," Ackridge told Rowe, "is make sure you can use a torch without blowing yourself up."
Ackridge then put Rowe to work cutting out pad eyes. Shipbuilders weld pad eyes to various parts of vessels during the construction process to aid in putting the structure together. In the next scene, Rowe used a come-along winch hooked to a pad eye to help secure two sections of the tug's hull. That scene also featured another of the yard's father-son duos: ship fitter foreman Brian Williams and his son, John, who at 20 years old was operating the crane that lifted the bow portion of the tug into place.
"John may be young," Rowe said, "but he grew up around this work. He's good at his job, and he welcomes the responsibility that comes with it."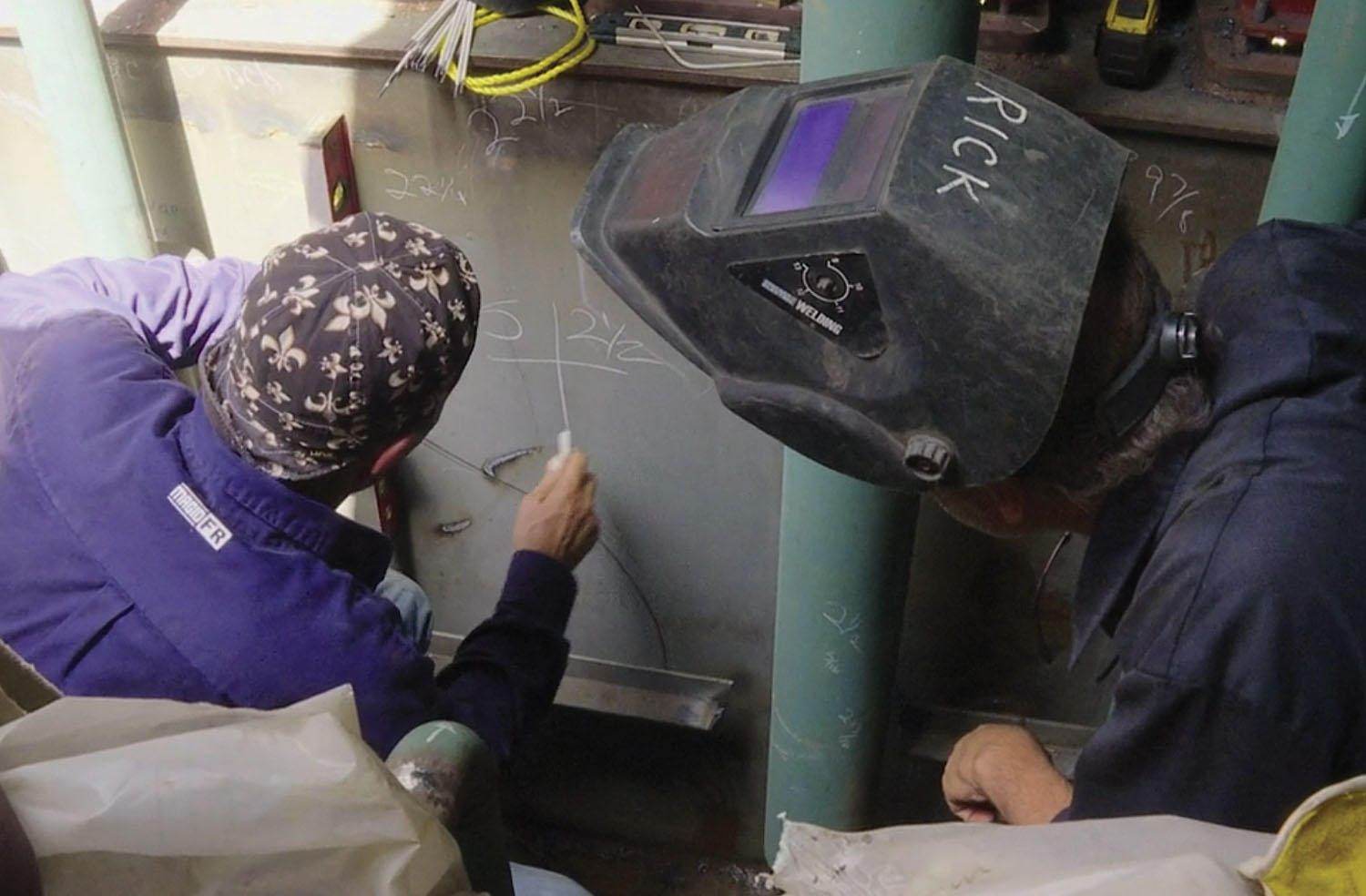 With the two portions of the tug put together, Ackridge then took Rowe—and his camera operator—down into the vessel's voids to remove pad eyes that were no longer needed.
"Y'all are slower than a herd of turtles," Ackridge joked.
"This is an inhospitable work environment," Rowe replied.
With sweat beading on his brow, Rowe removed one pad eye at his feet. Then, Ackridge pointed out another pad eye overhead.
"There's probably a smarter way to do this," Rowe said in a voiceover, "but sensing a teachable moment might be at hand, Braxton says nothing."
With sparks raining down, Rowe let out a yelp as the melted metal cut a hole in his pants and burned his leg.
"Jeez," Rowe said. "What are we doing here, man?"
"We're doing what we love, or what I love," Ackridge said.
"And tell me again what you love," Rowe said. "Building boats or cutting things to pieces? I can't make up my mind."
"I love to build boats," Ackridge said. "It's great. You're building something that brings worlds together."
Rice was waiting on deck when Rowe and Ackridge emerged from down below. 
"You came out a lot slower than he came out," Rice said with a smile.
"Well yeah," Rowe said. "He's a 34-year-old man at the absolute height of his power."
Rowe then spent the remainder of the day fitting pipes in an engine room alongside veteran pipe fitter Eddie Wooten.
"To fit the right-sized pipe into the space provided, Eddie relies on math—lots and lots of math," Rowe said in his voiceover.
With chalk pen in hand, Wooten proceeded to calculate the length and angles needed for the pipe to be cut. 
"I feel like I'm trapped in Good Will Hunting," Rowe quipped.
After the show aired, Rice said the pipe fitting scene opened his eyes to a new aspect of the job.
"I've known Eddie since I was a kid, 10 years old or 5 years old, somewhere close to 30 years," Rice said. "I learned something about him. I'm around those guys day in and day out. … I didn't know it took that type of quick thinking and understanding of fractions and measurements. Watching him do it and explaining it gave me a sense of how skilled and how talented our workers actually are.
"I hope somebody in high school sees that and sees this isn't just a laboring job," he added. "This is something that you have to think about, use your brain. You have to think through it and actually train. It's a skilled labor job."
Building For The Future
While the episode of "Dirty Jobs" featured a traditional tugboat under construction, Master Boat Builders is in the midst of a groundbreaking, first-of-its-kind tug for the U.S. market: Crowley's forthcoming eWolf, an all-electric tugboat. 
The shipyard started construction of the eWolf just over a month ago, with about 20 percent of the steel already done. Rice said the vessel is on schedule for delivery in early 2023.
"We have great partners in Crowley Engineering and ABB, and we're all working well on it," Rice said. "We're excited about what's to come as we continue through the construction process.
"As for the importance of it, it's a game changer for the industry," he added. "It's new, it's different, and it's difficult, but once I think once it's there, it will help people realize how tugs can affect the environment and how making investments in our transportation can really do good things for our country and the world in general."
Rice complimented the leadership at Crowley for stepping out and taking a risk on the project. He said the eWolf will fit well in the relatively compact working environment of San Diego, while an all-electric tug might not work as well in a port where tugs have to cover long distances to get to ships.
"This e-tug will set a path forward to understanding battery technology and how it's used in different areas of the country," Rice said. "Right now, operators all over the country are figuring out what makes sense for their operation."
That could be larger batteries or smaller batteries or even a hybrid setup, combining battery power and diesel generators.
"There are a lot of different options that really become job specific," he said. "As we transition to this new technology, we really have to think more about what's the boat going to do and design a vessel around a certain job, or what we've done, design a vessel that's extremely versatile."
Rice said Master Boat Builders and the nation's other shipyards are up to that task.
"It's exciting for us, but really exciting for the industry," Rice said. "It's not just about us. It's about shipyard workers all around the country, whether it's at Steiner Shipyard up the road from us, or at Ingalls, or Bath Iron Works, Main Iron Works in Louisiana, or Washburn & Doughty in Maine. This industry sticks together as a whole, and we want to celebrate those workers all over the place and recognize them for the hard work they do every day."
"Dirty Jobs" is broadcast on Discovery Channel and can be streamed on Discovery Plus.
Caption for top photo: Mike Rowe and Master Boat Builders President Garrett Rice. (Screen capture from "Dirty Jobs"