Capt. Todd Butts doesn't consider himself an artist.
So Butts, 53, was surprised when a friend approached him after seeing some of the photos he has taken while on the towboat he captains for Ingram Barge Company, the mv. Y.S. Chi.
"He contacted me and asked me if I was interested in having a showing with my pictures," he said. "I told him I'd never really thought about it."
In the end, Butts gave the friend a thumb drive full of pictures, and the friend selected the ones he wanted, framed them and displayed them at the Janice Mason Art Museum in Butts' hometown of Cadiz, Ky.
Some of the pictures sold quickly.
"I donated all the money to the museum," Butt said. "We did pretty well."
Butts has taken a lot of photos of his work since starting with Ingram in November 1988 as a green deckhand.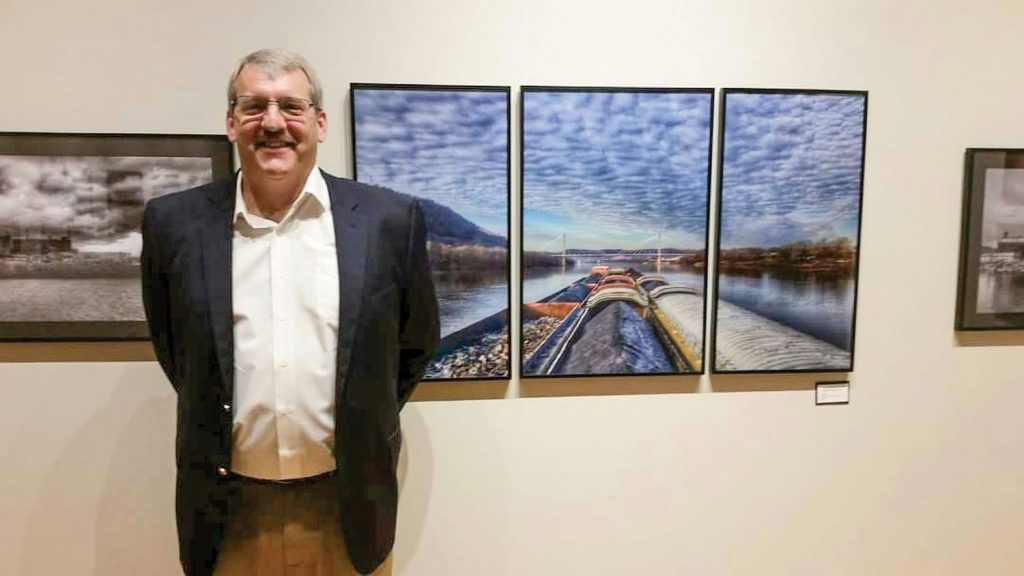 "I take a lot of pictures because a lot of people at home, they don't know what we do," he said. "I take pictures of the guys working and the locks, just to give them an idea of what's going on."
Butts posts most of his photos on social media. He has also sent some to the RiverWorks Discovery Center to use in teaching children about the navigation industry.
His favorite photos, however, are of sunrises and sunsets, part of his love for the outdoors that attracted him to working on a towboat more than 33 years ago.
Butts is the first person in his family to work on the river. It wasn't always his plan. He had a four-year football scholarship when he graduated from Trigg County High School to play for Kentucky State University. Eventually, however, he decided he was more interested in going to work and making money than he was in finishing college. Less than a month after turning in his application, he went to work on a boat.
"I like being outdoors, and I knew I'd be working outdoors," he said.
Plus, he said, he was attracted to having a schedule that would allow him to be off work six months of the year.
"I love to hunt and fish, and that was a key driver," Butts said. "I thought, I'm going to have six months of paid vacation to hunt and fish."
From nearly the moment he started the job, he thought it would be good to work his way up into the wheelhouse.
A chance mishap also dedicated him to ensuring the safety of every team member on his crew.
Butts was working on the O.H. Ingram on the Upper Mississippi on the last trip before he became mate. He was on the head of the the tow coming out of a lock in icy conditions when he slipped and started sliding toward the edge of the barge. A fellow crew member, Mike Hall, who also later became a captain, grabbed his foot and yanked him back.
"From that day forward, I was extremely careful," Butts said.
For Butts, that means telling his crew not to get in a hurry if it would mean jeopardizing their own safety. "Quality, not quantity," Butts said. "That's one of my favorite sayings."
It has paid off in the form of a spotless safety record.
"I've never sent anybody home hurt," he said. "I've never had any kind of accident with a tow, no spills. Ingram's big saying is zero harm, and I've been zero harm my whole career."
That dedication and commitment to his crew has also paid off in another way. In an industry that often has a high turnover rate, Butts' core crew has stuck with him.
Pilot Jason Roberts has worked with Butts for 18 years. Mate Robert Middleton has been with him 19 years. The cook, Cheryll Wuelfing, has been with him 20 years.
"They are a big reason for the success," Butts said. "We just know how each other works, like a family."
The crew worked together for more than 15 years on the mv. James Paul Ayres. When the vessel was retired, they moved to the mv. Y.S. Chi soon after it was christened. For the past two years they have run the Ohio from Columbus to Cincinnati.
Among the most unusual things Butts has seen on the river all these years was, he swears, an alligator swimming in the Tennessee, just above Decatur, Ala.
"I thought it was a piece of drift at first, but then I saw the waves and knew it was moving," he said.
He called the mate up to look through the binoculars and verify what he was seeing, and then took the time to call Wheeler Wildlife State Park, finding out that in the 1960s the park released 50 alligators to control the beaver population. The alligators were supposed to be single sex so they couldn't reproduce. Evidently, they weren't.
Like other veteran captains, Butts has also seen a lot of changes to the industry itself. When he started, towboat crews were still reliant on paper charts instead of digital ones. Time off-watch was different, too. Although cabins had TVs, "You had to be going through a city to pick up anything for a few minutes," he said.
"The biggest change is the safety forefront," Butts said. "Back in the day the focus was how quick can you get it done? How quick can you get here? Now the focus is all on safety."
Butts thinks the reliance on technology to do the work is bound to continue.
"Right now we're already laying down tracks on a computer screen where we're at," he said. "It's not going to be long, I think, that I'll be able to put a track up on the screen, and it's going to follow that track: auto-pilot. The technology is there. Airplane pilots don't even take off or land anymore. The computer does it. If they can land an airplane with a 40 mph. wind, I don't know why they couldn't get it where it could drive a towboat into a lock."
In his off-time, Butts enjoys spending time with his wife, Jane, and children Taylor, 25, Troy, 16, and Sara Elizabeth, 15. They enjoy watching the University of Kentucky Wildcats playing on TV and occasionally going to watch a game or two.