A sister ship to Weeks Marine's dredge Magdalen is on the way from Eastern Shipbuilding Group's Allanton shipyard. The forthcoming dredge R.B. Weeks is expected to be delivered early next year.
The R.B. Weeks will be a trailing suction hopper dredge with a hopper capacity of 8,550 cubic yards. The vessel will measure 356 feet long by 79.5 feet wide, with a draft of 27 feet 3 inches. The Royal IHC-designed dredge will be equipped with a pair of IMO III/Tier 4 main engines by Wabtec Corporation (previously GE Transportation) that drive a pair of Wartsila controllable-pitch propellers in kort nozzles. The R.B. Weeks will have accommodations for a crew of 26.
"In nearly all respects, the R.B. Weeks is identical to the Magdalen," said Joey D'Isernia, president of Panama City, Fla.-based Eastern Shipbuilding Group (ESG). "The R.B. is a technical sister ship to the Magdalen, so the vast majority of the ship's designs were transferable to the Magdalen with relatively minor updates.
D'Isernia said those technical similarities allowed for impressive construction efficiencies.
Get the latest infrastructure and dredging news in your inbox.
Powered by the Waterways Journal and International Dredging Review, our monthly Infrastructure Report newsletter covers dredging, construction and civil engineering.
"This has been great for us and for Weeks Marine," he said. "We were able to drastically cut down the engineering timeframe at the front of the project, get a quick start on construction and continue construction with good information to build the vessel quickly and efficiently."
It's been just over four years since Eastern delivered the Magdalen to Weeks, so there have been some regulatory updates, like with the engine package.
"Updated EPA emissions regulations required upgrading the engines from Tier 2 to Tier 4," D'Isernia said. "It was very convenient that the Magdalen had GE engines [now Wabtec Corporation], because this manufacturer opted for EGR [exhaust gas recirculation] to meet Tier 4 requirements, rather than urea after treatment. That meant we did not have to find a home for an SCR or urea tanks, or build a separate urea system."
Crew accommodations were also updated aboard the R.B. Weeks, with an additional six bunks and enhanced climate controls in staterooms.
With channel deepening projects and beach renourishment needs growing around the country, the increased capacity for the U.S. dredge fleet from the R.B. Weeks will, no doubt, be put to quick use.
"I've heard it said with only a small amount of sarcasm that 'a Jones Act dredger never gets scrapped,'" D'Isernia said. "Domestic operators get as much life out of their dredgers as they can, so we can expect to see the R.B. Weeks work alongside the Magdalen for many decades to come."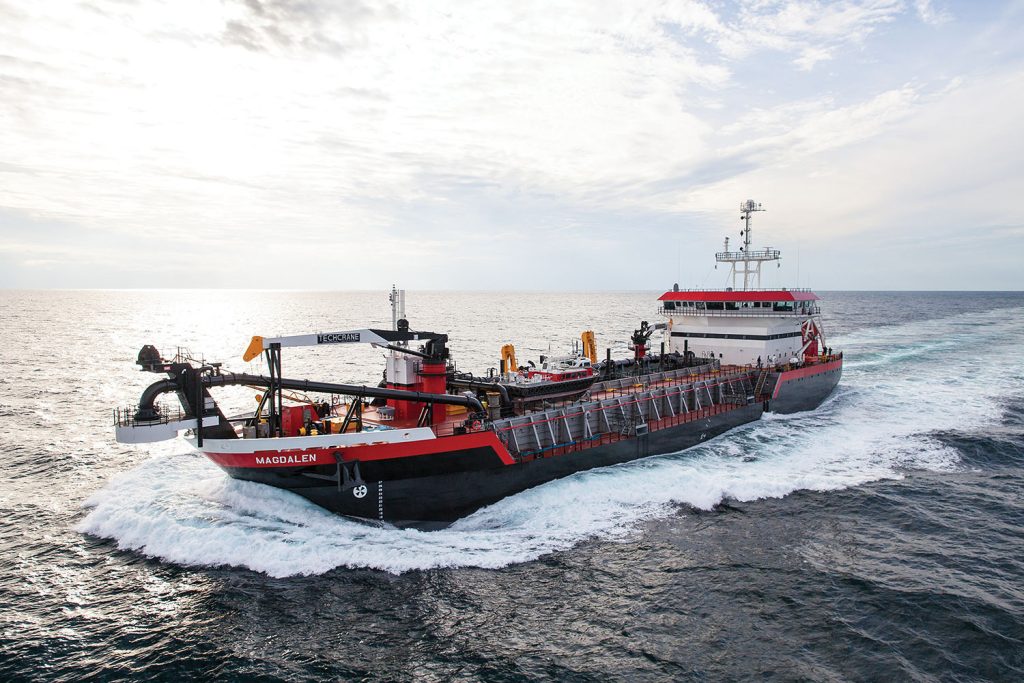 Steve Chatry, senior vice president of Cranford, N.J.-based Weeks Marine, said the company is eager to deploy its next dredge from Eastern.
"As we eagerly await completion of the R.B. Weeks early next year, the Magdalen, delivered in December 2017, continues to exceed all of our expectations in terms of performance, reliability and endurance," Chatry said. "This is a testament in large part to the quality and workmanship that we have come to expect from the Eastern Shipbuilding Group.
"Currently, construction of the R.B. Weeks is approaching 70 percent complete, and to our delight, has been remarkably uneventful," he added. "Since the R.B. is virtually a replica of the Magdalen, it has been the beneficiary of the 'learning curve' gained during the Magdalen's construction."
It's been a whirlwind at Eastern Shipbuilding the past four years, with Hurricane Michael coming ashore in 2018, then the onset of the pandemic in early 2020. During the pandemic, the shipyard was able to maintain operations with COVID-19 safety protocols in place, while also offering on-site medical clinics and vaccine drives. 
"We were committed to ensuring we kept our projects on budget and on schedule," D'Isernia said. "During the pandemic, we delivered two new Staten Island ferries, the North Star fishing vessel and started construction on the third offshore patrol cutter for the U.S. Coast Guard.
"I'm hopeful that the worst is behind us," he added. "The people we've retained and hired along the way have been hardworking and committed, so we have been able to keep up with all our commitments. We have marked several major milestones in the past few years, including the opening of our third shipyard at Port St. Joe and the dedication of our Nelson Shipyard to the Offshore Patrol Cutter program."
The shipyard group also completed a new aluminum fabrication and assembly hall, built especially to support the delivery of two Offshore Patrol Cutters per year.
The shipyard has done all this despite supply chain disruptions and soaring prices.
"We've had to get creative, source materials from alternate suppliers and find alternate shipping routes to shave time from delivery schedules," D'Isernia said. "But we persevere, find solutions and keep moving forward."
Eastern has invested in its employees over the same time period through its BUILD initiative, which promotes workforce development, recruitment and retention.
"I'm proud to say that ESG has successfully doubled its direct and subcontract workforce since Hurricane Michael, while at the same time increasing the percentage share of our workforce that is direct hire," D'Isernia said. "We have also developed a pipeline of talent through partnerships with more than a dozen CTE [career and technical education] programs in the area and will continue to invest in the shipbuilders of tomorrow."
D'Isernia said, in doing so, Eastern Shipbuilding Group is doing its part to preserve and enhance the shorelines and waterways of the United States.
"It is our responsibility to protect our country, our infrastructure and our institutions," he said. "This country did not become the world's pre-eminent power by accident. Generations of hardworking men and women built it, preserved it and made it better. We are blessed to stand on their shoulders.
"Now it is up to us to continue their legacy and bring this country to new and greater heights," D'Isernia added. "Our mission every day is to keep our promises and deliver results. We are proud to be building the Offshore Patrol Cutters for the U.S. Coast Guard where they will serve critical national security missions around the globe, as well as these critical Jones Act dredging assets that will sustain our environment and protect our waterways for decades to come."
Caption for top photo: Aerial view shows progress on the dredge R.B. Weeks at Eastern Shipbuilding. (Photo courtesy of Eastern Shipbuilding)