Big River Propeller (BRP), part of the James Marine family of companies, has expanded to the Big Easy, with the official launch of a propeller shop in the New Orleans area.
It's a strategic location for BRP, with the new wheel shop adjoining James Marine's JMI Elmwood Repair & Maintenance shipyard, near where the Harvey Canal meets the Gulf Intracoastal Waterway.
"This is a hot spot," said Sam Davis, who founded Big River Propeller in 2014 and now serves as general manager. "Kentucky is a good spot, but I'm not too sure this isn't going to be an even bigger spot. There are a lot of dry docks in this area."
Davis got his start working on propellers in 1982, right out of high school, with Missouri Dry Dock.
"That was my first job, and I developed a passion for it," he said. "I grew up in the business."
After 17 years with Missouri Dry Dock, Davis moved to Texas to begin working for Houston Propeller. He then spent some time with Atlantic Marine, now part of BAE Systems. All those years, though, Davis maintained a desire to start his own propeller shop, building on that passion for "pitching wheels" he discovered right out of high school.
"We always talked about starting up a propeller shop," said Tyler Davis, Sam Davis's son and assistant general manager for BRP. "We jumped off the cliff eight years ago and started the shop."
BRP's original shop is in LaCenter, Ky., just west of Paducah. That shop has grown to now have a team of 16 who routinely complete several dozen large propeller jobs each month.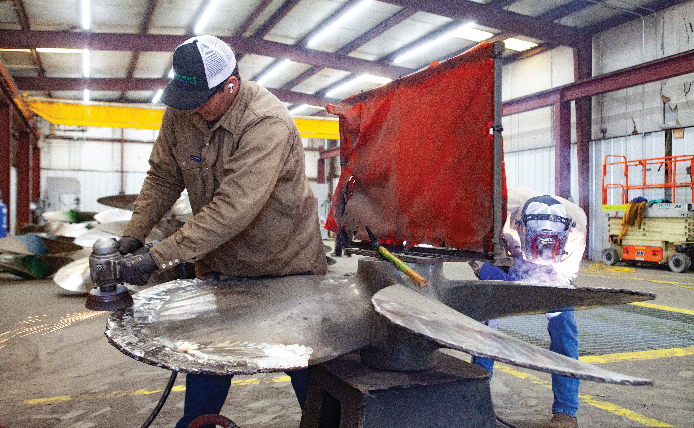 "They move at least 35 big propellers a month through that shop," Sam Davis said. "That's a little more than one a day, and that's up to 10-foot from tip to tip."
Davis said that number doesn't even include the smaller propellers the shop routinely handles.
In July 2021, James Marine announced the acquisition of Big River Propellers, with BRP taking over all of James Marine's propeller repair facilities. That specifically included a wheel shop in Paducah and James Marine's propeller work in New Orleans. The BRP team opened the new location on the Harvey Canal several months ago.
"Right now, we have six employees, and that will keep growing," Davis said of the New Orleans shop. "I think it'll end up growing to a 16-man shop. That's where we are in LaCenter, and we can turn around a lot of work with 16 people."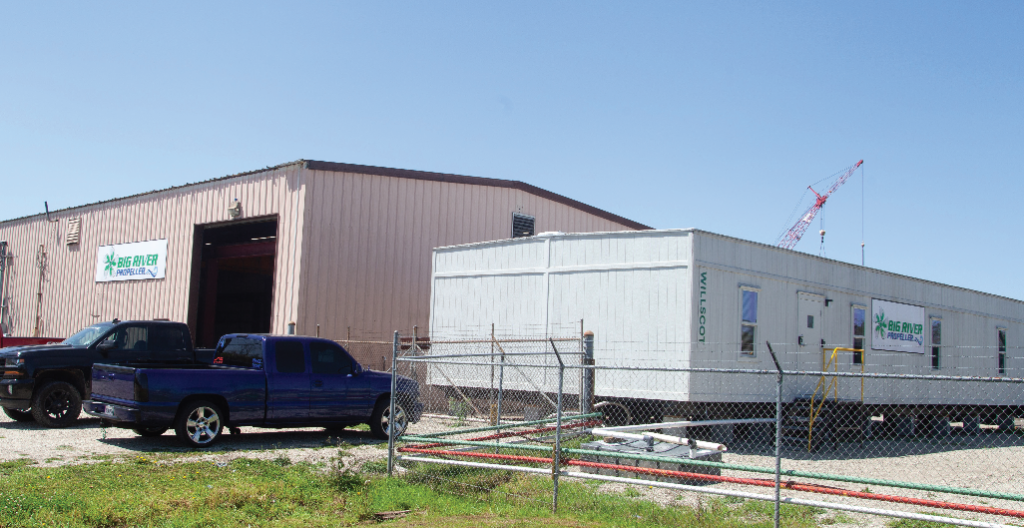 Big River Propeller hosted a crawfish boil and open house March 18 at the new wheel shop, which is located at 222 Bayou Road, Belle Chasse, La. Representatives from both James Marine and Big River Propeller, along with customers from the maritime industry, gathered in the warehouse to mark the occasion.
Tyler Davis said propellers play a huge role in the function and performance of towboats. Using their skill and excellent attention to detail, the BRP team is able to dial in the correct pitch, track and balance on each propeller for excellent performance.
Having propellers dialed in has an impact on vibrations and crew comfort, and it also helps a company's bottom line by improving the fuel efficiency of engines. Sam Davis said he's had customers tell him they have seen a 400-gallon-per-day reduction in fuel usage after a wheel job.
"It's one of the most critical things on the boat," Sam Davis said. "It's the first thing they look at when things go south, and it's one of the cheaper things to repair. When they get their wheels tuned in good, it will save them real money."
Featured Image: Welders Darnell Williams (left) and Zeb Gaddis arc weld a propeller blade.
Visit our March 28, 2022 e-edition, page 15, to see the additional photos from the Grand Opening.