Washington, D.C.—President Joe Biden nominated Adm. Linda Fagan to serve as 27th commandant of the U.S. Coast Guard and become the first woman to serve in that position.
Fagan currently serves as vice commandant.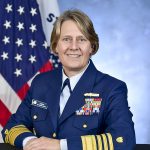 Homeland Security Secretary Alejandro Mayorkas praised Biden's nomination, calling Fagan "a tremendous leader, trailblazer and respected public servant who will lead the Coast Guard across its critical missions with honor."
 "Over Adm. Fagan's 36 years in the Coast Guard, she has served on seven continents, was previously commander of the Coast Guard Pacific Area and is the officer with the longest service record in the Marine Safety field."
That record made Fagan the Coast Guard's first-ever Gold Ancient Trident.
If confirmed by the Senate, she will succeed Adm. Karl Schultz as commandant during a change-of-command ceremony scheduled for June 1.
Fagan has selected and Biden has nominated Vice Adm. Steven Poulin to serve as the Coast Guard's next vice commandant.
Budget Reduction?
A key Senate Democrat warned that President Biden's "dramatic" funding reductions proposed for the U.S. Army Corps of Engineers undercuts the value of the historic trillion-dollar bipartisan infrastructure law passed last year.
"The point of the bill was to address the backlog in infrastructure funding, not replace the regular funding program," said Sen. Dianne Feinstein of California, the chairwoman of the Senate Appropriations Subcommittee on Energy and Water Development.
During a hearing on the Corps' fiscal year 2023 budget request, Feinstein pointed out the proposal calls for cutting more than $1.7 billion from the enacted level for the Corps' civil works program, which would see its funding drop from $8.3 billion to $6.6 billion in the next fiscal year.
"That's a 21 percent cut," she said.
"I'm particularly disappointed that $1 billion of that (cut) is to the construction account."
Feinstein expressed hope members of her subcommittee could hold informal talks on infrastructure funding to keep from setting the nation back.
The senator laid out her budget concerns during her opening statement but did not directly engage witnesses Michael Connor, assistant secretary of the Army for civil works, or Lt. Gen. Scott Spellmon, chief of engineers and commanding general of the Corps.
In his testimony, Connor spoke of specific provisions in the budget request, such as the priority it gives to the maintenance of coastal ports and inland waterways with the highest commercial traffic and the $3 billion included for the study, design, construction, operation and maintenance of inland and coastal navigation projects.
Jones Act Alert
President Biden's  announcement to release 1 million barrels of oil daily from the nation's reserves for the next six months prompted The American Waterways Operators (AWO) to urge its members to respond to surveys that might impact Jones Act waivers.
Administration officials have stated they will "promptly process Jones Act waiver requests…within two days," AWO counsel Patrick Parsons said in an alert to members.
"I urge you to quickly respond if your company has available vessels that meet the specific criteria listed in each survey, particularly given the administration's timeline for reviewing waiver requests."
Parsons wrote that AWO and the American Maritime Partnership (AMP) are working closely with the administration to ensure robust communication between the federal government and the domestic maritime industry in assessing vessel availability.
"Administration officials have reiterated to both AWO and AMP that the Biden administration is committed to maximizing the use of U.S. vessels and to ensuring strict, 'by the book' scrutiny of any and all Jones Act waiver requests to ensure that traders are not able to game the system," Parsons stated.
"The administration has stated that it expects "Jones Act-qualified vessels will be available" to meet transportation needs for areas of the country not serviced by pipelines."
Small Shipyard Grants
The Maritime Administration (MarAd) announced the availability of nearly $20 million to help modernize small U.S. shipyards and train workers in this critical sector.
MarAd said its Small Shipyard Grant Program, which has awarded 299 grants totaling $263 million since it was first funded in 2008, strengthens the economic competitiveness of shipyards.
Shipyards with fewer than 1,200 production employees are eligible.
"America's waterways and shipyards are vital to the American economy," Transportation Secretary Pete Buttigieg said.
Applications for the grants are due by 5 p.m. EST on May 16.
For additional information, contact David Heller at David.Heller@dot.gov.
Ocean Shipping Reform Act
The Senate passed the Ocean Shipping Reform Act that Senate Majority Leader Chuck Schumer (D-N.Y.) said "will reduce costs for the American people by reforming unfair shipping practices hurting exports and consumers alike."
Approved by a voice vote, S.3580 headed to the House, where a related bill, H.R. 4996, passed in December by an overwhelming bipartisan vote of 364 to 60.
Those measures are expected to go to conference, where differences can be reconciled.
"We have all seen the pictures of scores of ships lining up in ports from Los Angeles to Seattle to New York to Savanna," Schumer said. 
"Every single day that goods lie idle on our ports, it costs producers more and more money."
The Senate's version would require ocean carriers to certify that detention and demurrage charges comply with federal regulations or face penalties, shift burden of proof regarding the reasonableness of those charges from the invoiced party to the ocean carrier and prohibit ocean carriers from unreasonably declining shipping opportunities for U.S. exports as determined by the Federal Maritime Commission in new required rulemaking.
Offshore Safety Committee
The National Offshore Safety Advisory Committee is scheduled to meet via teleconference April 26 to discuss the exploration of offshore mineral and energy resources within the jurisdiction of the Coast Guard.
Open to the public, the meeting is set to begin at 9 a.m. EDT.
Comments and supporting documents for members to review before the meeting should be submitted by April 12.
Pre-registration is required no later than April 19; teleconference lines will be limited and available on a first-come, first-served basis.
For additional information on joining the teleconference, contact Lt. Kimberly Gates at 202-372-1455.