Paducah's River Discovery Center Names New Executive Director
The River Discovery Center in Paducah, Ky., has chosen Polly Brasher as its second executive director.
Julie Harris, the center's first director, had announced that she is retiring this summer after 21 years in the position. Brasher expects to start in her new role in mid-June, while Harris stays on in an advisory capacity for a limited time.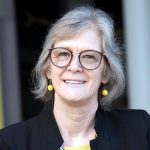 Brasher, 59, of Union City, Tenn., has been employed at Discovery Park of America for 12 years. The 100,000-square-foot museum founded by Robert and Jenny Kirkland sits on a 50-acre heritage park and includes exhibits on local history, nature, military history, art and science.
For the past nine years, Brasher has served as senior director of education and guest experience, leading the education, membership and reservation teams and overseeing major events. Her responsibilities included staff training and new-hire orientation, supervision of school field trips and field trip programs, educational classes and programming, including STEAM Saturdays, the Independence Day celebration, National Ag Day, Davy Crockett Day, the Cardboard Boat Regatta, the Southern Heritage Arts & Crafts Festival, Canstruction, Pediatric Day and the Historical Theatre Academy.
Sign up for Waterway Journal's weekly newsletter.
Our weekly newsletter delivers the latest inland marine news straight to your inbox including breaking news, our exclusive columns and much more.
Prior to her current position, Brasher was a founding director of Discovery Park of America, working with contractors, designers and fabricators during the park's three-year building phase. She is also past president of the Tennessee Association of Museums.
Brasher said she is looking forward to leading the River Discovery Center.
"Rivers help to shape our lives in many ways, and I look forward to supporting the mission of the River Discovery Center, stimulating curiosity and understanding of our nation's vital river system through real stories and interactive experiences," she said.
She said she was especially interested in the role because it will allow her to spend her time at a smaller museum with more of a focus on one topic area.
 "I can still branch out with some art ideas and some music ideas and architecture and things like that, but to have that central focus is actually very appealing to me," she said.
The move will also allow Brasher to be closer to her adult son, who lives in Paducah; so she is also looking forward to the opportunity to both live and work in Paducah.
"It's a beautiful town," she said, having spent significant time in it while visiting with her family. "I'm an arts person, and it's an arts town."
She said she also appreciated how Paducah has grown while also preserving its historic downtown.
Outside of work, Brasher enjoys the arts, theater,  music and spending time with her son and her daughter and other friends, especially playing board games. She also plays the piano for her church.
"I love getting to know people, getting to hear their stories and learning about life from their point of view," she said.
River Discovery Center board chair Nathan Rowton welcomed Brasher.
"The board is excited to have Polly join our team as executive director," he said. "With her experience in education and 12 years starting as founding director at Discovery Park of America, she's a perfect fit for our organization, and she comes to us already with a love for Paducah! With her thoughtful leadership, we know she will be an asset to the center."