New Port Of S. Louisiana Executive Director Paul Matthews Looks To The Future
It's been a whirlwind decade for Paul Matthews.
Matthews got his start in the maritime industry in 2012 at the Port of New Orleans, where he worked in community affairs. In 2017, he moved downriver to Plaquemines Parish, where he spent the next 4.5 years as deputy port director of the Plaquemines Port Harbor & Terminal District.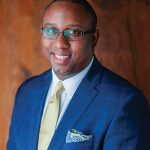 In January, Matthews became executive director of the Port of South Louisiana, the 54-mile port district that covers both sides of the Mississippi River between the ports of New Orleans and Baton Rouge. He succeeded Paul Aucoin, who served in that role for more than eight years.
Reflecting on the path and experiences that led him to the Port of South Louisiana, Matthews said building relationships with colleagues in the industry and people in the community has been a key to success.
Sign up for Waterway Journal's weekly newsletter.
Our weekly newsletter delivers the latest inland marine news straight to your inbox including breaking news, our exclusive columns and much more.
"The way I look at it, it's all about relationships," he said. "When I was given the opportunity to trailblaze community affairs at the Port of New Orleans, I recognized there was a disconnect between industry/business and the community. People knew there was a port on the other side of the floodwall, but they didn't know how that activity related to them in the real world."
It's a challenge facing most ports and waterway-based businesses. To help bridge that gap, Matthews said he reached out to schools, businesses, civic and business organizations and nonprofits to build knowledge and grow relationships.
"Networking is key to building alliances and having everyone on the same page," he said.
Matthews also acknowledged the roles Gary LaGrange and Sandy Sanders, the chief executives he worked for at New Orleans and Plaquemines, respectively, played in his early career.
"Port of New Orleans' then-director Gary LaGrange saw the potential in me, gave me a chance and introduced me to the world of maritime commerce and operations," Matthews said. "At the Port of Plaquemines, as I became intimate with all aspects of port operations—from finance to logistics to marketing to legal issues—Executive Director Sandy Sanders further instilled in me the confidence to be the type of leader that gets things done and promotes the same characteristics in others."
Matthews said Aucoin offered simple-yet-powerful advice as he begins his own tenure as the chief executive of the Port of South Louisiana.
"Acknowledge short-term and long-term challenges, establish goals, formulate a plan while leaving room for adjustment, rely on your staff and understand the board," Matthews said. "Paul helped to continue the Port of South Louisiana's success. My intent is to do the same, in my own way."
Room To Grow
Looking at the Port of South Louisiana's existing capabilities and room to grow, Matthews said he sees plenty of opportunity.
"There is always room for growth and innovation, no matter how established things are," he said. "As a matter of fact, the Port of South Louisiana district has more available land, ripe for development, than anywhere in southeast Louisiana. We can accommodate any industry, from grain elevators to alternative energy projects to warehouse distribution centers. The Port of South Louisiana has the spread and intermodal connections to fit the bill."
Matthews sees multimodal connections and infrastructure investment within the Port of South Louisiana as a pathway for growth in the region. He pointed to the port's rail connections on both sides of the Mississippi River.
"Having cargo moved via six Class 1 railroads really makes a difference," he said. "The only other place that you can move cargo via as many rail lines is Chicago."
The port recently installed two high-capacity Konecranes harbor cranes at the general cargo dock within its Globalplex Intermodal Terminal. The port also hopes to extend the runway at its airport in order to accommodate cargo planes.
"Very few know that the Port of South Louisiana is the only port on the Lower Mississippi River that has an airport," Matthews said. "Ideally, we want to get to the point where we can move cargo from our docks and vice versa. At that point, we will truly be multimodal, having access to the Mississippi River, rail, road, pipeline and, finally, air. … To have all the pieces of intermodality in place and operating would be a game changer for the Port of South Louisiana and the river region."
Another game changer would be construction of Greenfield Louisiana's planned $600 million export grain facility in St. John the Baptist Parish. It would be the first new grain terminal built in Louisiana in 40 years. Already, 60 percent of the United States' grain exports pass through the Port of South Louisiana. Annually, that's about 48 million tons of grains, including more than 26 million tons of corn and close to 18 million tons of soybeans. The new facility would boost export capacity within the Port of South Louisiana by close to 10 percent, Matthews said. That investment comes at a significant point in time, with U.S. grain exports in high demand, especially in light of the war in Ukraine.
"We feel that American farmers and the Port of South Louisiana are poised to become an alternate resource, offering logistic and price advantages to those reliant on Ukrainian and Russian grain, perhaps expanding to sunflower and other oilseed crops that are in such high demand," Matthews said.
Energy Hub
The Port of South Louisiana is also a major energy hub, with petrochemical products leading the way at more than 100 million tons per year. Matthews said he sees the Port of South Louisiana continuing to serve as a major energy port for the country, including with the move toward renewable fuels.
"We need to be proactive rather than reactive," he said. "I see the Port of South Louisiana as a cutting-edge leader in the energy transition process. Via private or public-private partnerships, we aim to find funding to establish alternative fuel sources like green ammonia, biodiesel, hydrogen and methanol."
The Port of South Louisiana is one of five deepwater ports on the Mississippi River in Louisiana. Taken together, the ports of Baton Rouge, South Louisiana, New Orleans, St. Bernard and Plaquemines make up the largest port complex in the world. Each port is a separate entity, individually established by the Louisiana Legislature, so there is an element of competition for projects and funding. Matthews, though, said he'd like to see more collaboration among the Louisiana ports as they compete with ports in other parts of the country and across the globe.
"Long term, I see the need for our state ports to have more of a collaborative effort with one another," he said. "If we look at the benefits of each of our ports, we can collectively market our resources to the rest of the world. If we can market our ports collectively, we can attract more businesses to the Lower Mississippi River and the Gulf Coast, which would put us on a level playing field with ports like Long Beach and L.A.
"At the Port of South Louisiana, I welcome any port wanting to work with us and find ways to collaborate, because if a project can't be at the Port of South Louisiana, I want it to go to another port in our state," Matthews added. "We want the cargo movement, we want the jobs, we want the economic development in the state of Louisiana."