Obituary: Capt. Larry Mason Smith
Capt. Larry Mason Smith, 91, of Rogers, Ark., a longtime towboat captain, died at his home on March 29.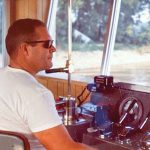 He started in 1957 with Rose Barge Line, and in the course of his career worked for a number of companies, including the Missouri River Barge Line, Valley Line, Alter Barge, Flowers Transportation and others. Over the years, he trained a number of pilots, many of whom went on to become port captains and marine superintendents of river companies.
Two sons and five more members of his extended family have made careers in the river industry.