Few living within the Big Sandy River valley today could imagine that at one time the best way to travel in the valley was by steamboat. In the late 19th and early 20th century, the stream became known for very-shallow-draft craft utilizing small, uncovered sidewheels known as "batwing" steamers. It was said that with their few inches of draft they could "go uptown on a heavy dew." Many were simple, utilitarian craft with few creature comforts, while others were somewhat more elaborate.
The Big Sandy was very shallow for most of the year, but was navigable to Pikeville, Ky., some 88 miles from the mouth at Catlettsburg, Ky., in the rainy seasons.
Capt. Gordon C. Greene had a small boat named Cricket built at Parkersburg, W.Va., in 1900. It was intended for low-water work. The scow-bow hull was 132.6 by 18.3 feet and had one boiler to power the 9-inch, 2-1/2-foot-stroke engines.
The hull was open except for a small area at the bow, and it drew a mere 15 inches when light. Capt. Jesse P. Hughes was master and one-quarter owner. After completion, the boat was chartered to the U.S. Engineer Department and towed a flat with an A-frame, serving as a snagboat between New Albany and Evansville, Ind., on the Ohio River. 
Sign up for Waterway Journal's weekly newsletter.
Our weekly newsletter delivers the latest inland marine news straight to your inbox including breaking news, our exclusive columns and much more.
In 1901, the Cricket ran the Big Sandy River, and this must have been successful, as in 1902 it was taken back to Parkersburg, where it was rebuilt with a model bow, then drawing 20 inches light. Compared to the batwings, this boat was almost palatial and was even equipped with a calliope.
The Cricket continued in the Big Sandy trade for the seasons of 1902–1904, serving in other areas and as a low-water boat at other times. According to Way's Steam Towboat Directory, it towed the Markle's showboat Grand Floating Palace from Parkersburg to Wheeling and Charleston, W.Va., and Evansville, Ind., in 1901. In 1903, the Cricket towed the Great American Water Circus from Ironton, Ohio, to Paducah, Ky., and back.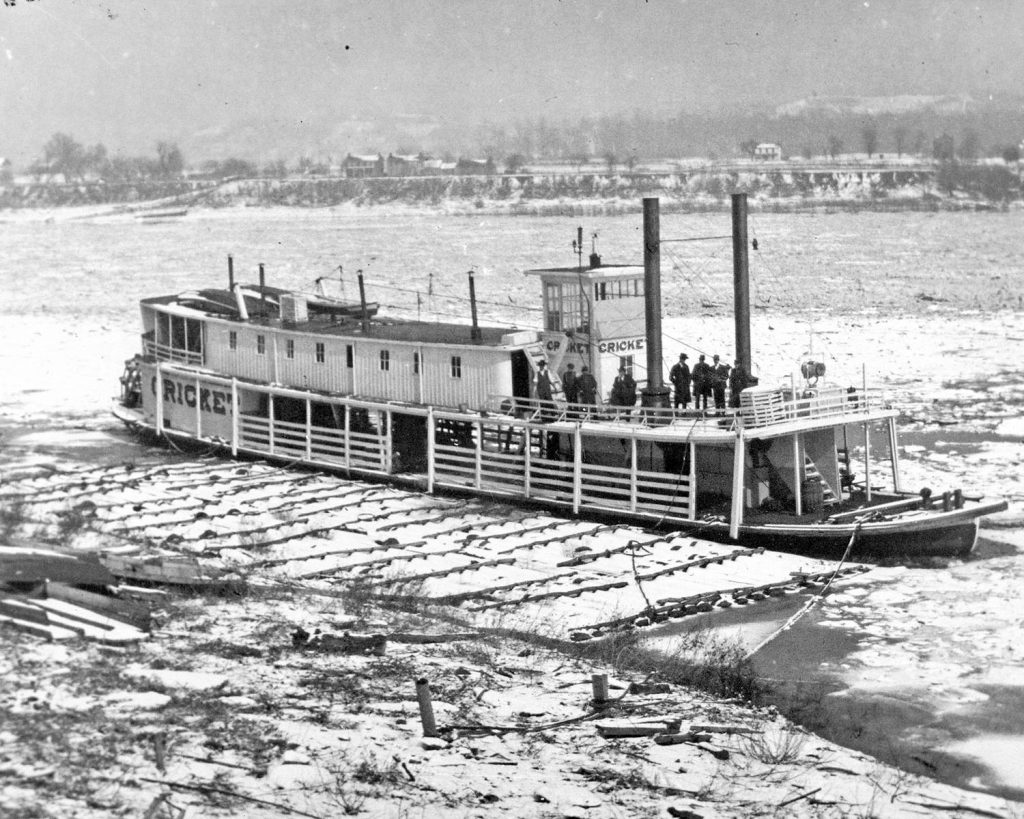 In 1909 the Cricket was taken to Point Pleasant, W.Va., where it was completely rebuilt and enlarged to become the Greendale for Greene Line Steamers. In this rebuild the boat received engines that were 9's with a 3-foot stroke from the steamer T.D. Dale. There was now only a single stack. The Greendale was tried in various short trades with little success, and in 1920 was sold to Capt. John Davis of Fullerton, Ky., opposite Portsmouth, Ohio. He rebuilt it into an excursion boat, and following this rebuild it sported two stacks again.  The Davis Family operated an amusement park at Fullerton and utilized the boat to ferry passengers there from Portsmouth. 
In January 1921, Capt. Davis briefly tried the boat back in the old Big Sandy River packet trade, making three trips, the first to Paintsville, Ky., the second to Prestonsburg and the last all the way to Pikeville. According to Way's Packet Directory, this was the last packet operation on the Big Sandy. The Davis was later sold to the Marietta Packet Company, which ran it between Wheeling and Marietta without success. It was laid up above Ohio River Lock 16, Mile 146.5, where it eventually sank.
Capt. Jesse Hughes met Miss Telia Vaughn at Catlettsburg, Ky., (my home town) while he was operating the Cricket, and they were married there on April 3, 1904. Her family  operated a store at the S curve between Louisa Street and Oakland Avenue, known as Vaughn's Corner, to this day. Capt. Jesse later owned the property, and in the 1930s he built a service station there. The office of the station resembled a pilothouse, and two large poles in front served no other purpose than to look like smokestacks when viewed from across the street. This was first pointed out to me by the late Bob Kennedy, who said "Jesse didn't do that by accident!" I met Capt. Jesse just one year before he passed away at age 97 in 1973.
Caption for top photo: The Cricket, new at Cloverport, Ky., in 1900. (Capt. Jesse Hughes photo, Capt. David Smith collection)