Richie Neal was a successful river pilot when he started A&A Riverways 24 years ago so he could stay home at night with his wife and two young sons, Andrew and Aaron, after whom he named the business.
Over the years, both the business and the family have grown, and one of those sons is now heading A&A, which delivers more than $3 million in groceries a year for roughly 10 companies and about 100 boats annually.
Andrew Neal, 32, took over A&A from his father in 2014, but he said it's the concept his father came up with that still makes it successful today.
Ensuring Freshness
Back in the 1990s, towboat companies had few options for fresh groceries, including meat and produce, Andrew Neal said. His father came up with the idea of having companies submit their orders and then shopping for them and delivering them by van or boat as needed.
Sign up for Waterway Journal's weekly newsletter.
Our weekly newsletter delivers the latest inland marine news straight to your inbox including breaking news, our exclusive columns and much more.
"There is nothing warehoused," Andrew Neal said. "That way you get it as fresh as possible."
Based in Ledbetter, Ky., just outside of Paducah, the company delivers as far away as Nashville, Tenn., meeting boats at locks or in mid-stream as needed.
Of the six full-time and three part-time employees, all but one is a family member, and the other one, Hannah Edmonds, is such a close family friend that she might as well be considered family, Neal said. Family members making their living from the business now include Andrew; his brother Aaron; their mother, Starla; their grandmother, Sherry; and occasionally their father, Richie. Also helping out are Andrew's wife, Emilee; Aaron's wife, Elyssa; and Andrew and Aaron's uncle, Willie Brooks.
Crews may use an ordering form or make their own lists of groceries and supplies to be delivered, then fax or email them in. A&A charges a delivery fee that is a percentage of the total ordered, visiting as many local stores as possible to fill specific requests for brands and sizes. The company also delivers personal items for crew members as "cash on delivery" items.
"We just started with a couple of little tugs right there at Ledbetter," Neal said. "We never had a website or anything. From day one it just kind of spread out. They liked it, and they would tell somebody else about it. Now we're moving right at $3 million in groceries a year."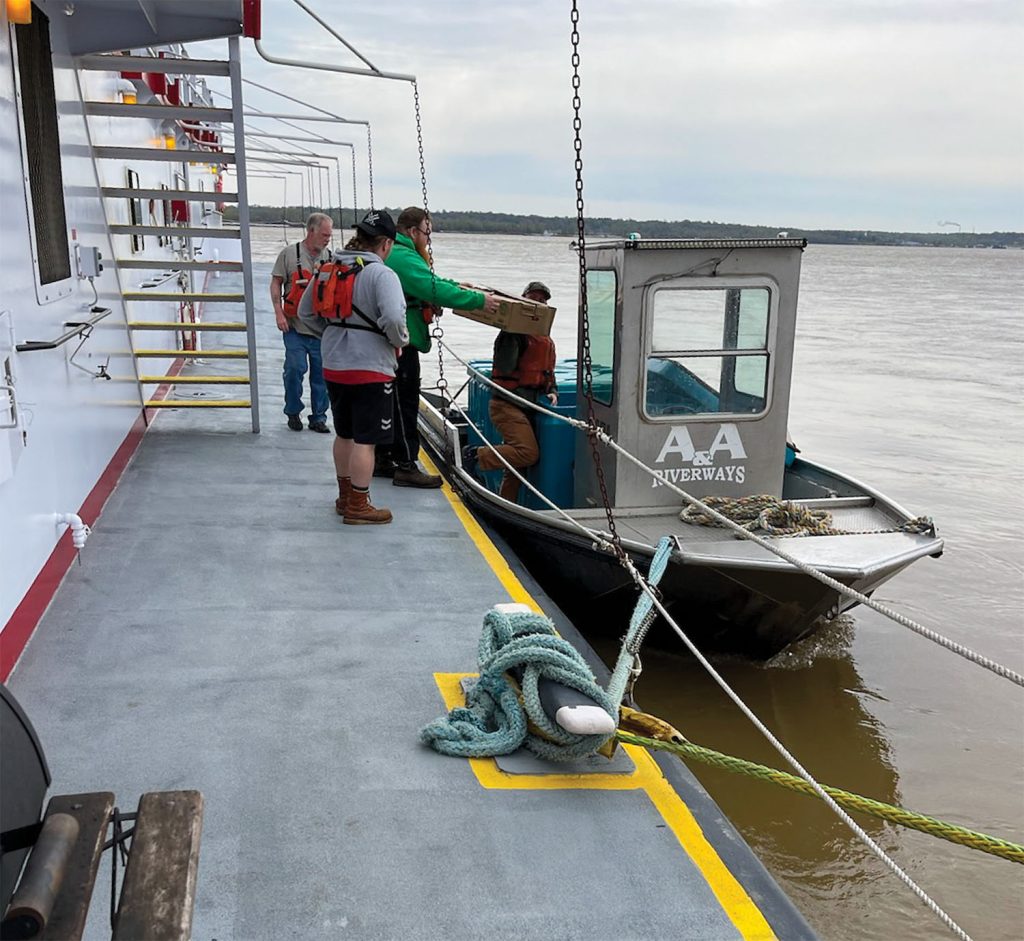 Because the business is based on providing fresh groceries and supplies wherever its customers are, it's a 24-hour-a-day, 365-days-a-year job, Neal said. Even when a customer needed a Christmas morning delivery, he and his employees made it happen.
Neal said he hopes to have 24 hours between when an order arrives and the delivery time. "But sometimes you get a few hours," he said.
Going 'Out Of Their Way'
Capt. Tom Walters of Ingram Barge Company's mv. Ozzie said he has been using A&A since about 2006.
"Their service is second to none," he said. "Andrew, well, the whole family, goes out of their way to meet your needs," he said.
He still recalls the oddest thing he ever asked A&A to pick up for him. It was a laptop he asked to be picked up for him at Best Buy after his crashed while he was on the boat.
Walters has also had A&A run to Harbor Freight to pick up tools for him.
"They go out of their way," he said.
Susie Colson, the cook on Ingram's mv. Harnack, has been on the river 17 years and has always used A&A.
"I've gotten on the boat and had nothing," she said. "I would call and order in, and they would get it to me that very day."
Colson said freshness matters.
"They always make sure I get really fresh and good produce," she said. "The dates on the milk and eggs are good for two weeks. I've had them [when using some other services] where they would run out in three days. When you're ordering 8 or 10 gallons of milk, that will kill you."
The communication is always good, too, she said.
"If they don't have something, he'll shoot me a text," she said. "He will try to substitute something instead of us doing without."
Colson remembered when four towboats were on the Cumberland in high water in 2019. The water was too high for boats to fit under the bridges.
"Andrew delivered to all of us," she said. "He drove down to Nashville and brought us groceries."
'Family Man'
Jared Duncan, warehouse manager and branch manager at Brake Supply Company in Paducah, has known Neal since their high school days.
"Andrew is always up for a boat ride if you need groceries or supplies hauled to your vessel," he said. "I've never heard him complain, whether he's caught four boats before lunch or his only delivery is at 11 p.m. His small family business employs his wife, younger brother, and sometimes dad when they can pull him away. Andrew is a great family man and loves to be in the outdoors with his family. He is very professional and courteous to his employees and customers. He has been a game changer in the Paducah area with his grocery business. There isn't a boat ramp around that he won't at least try to unload at."
For Neal, it's all part of the job, and providing for the next generation of the Neal family, including his children, Baylee Neal, 10, and Dawson Thompson, 14.
"It's just a totally different lifestyle because you fly by the seat of your pants all the time," he said. "You can't really plan anything because you never know when you'll be busy and when you won't be. You just have to take advantage of your down time when you can. There's no set schedule."
Caption for top photo: Left to right: Richie and Starla Neal with sons Andrew and Aaron Neal. Richie founded the grocery and supply delivery business, which Andrew now runs with continued help from many family members. (Photo courtesy of A&A Riverways)