New Orleans-based Canal Barge Company (CBC) has put into service the second of two towboats built by Steiner Construction Company, located in Bayou La Batre, Ala. Named mv. Lizzie Lane Peus, it is a twin-screw, 4,400 hp. towboat like the first vessel, the mv. Sally Lapeyre, only it is powered by two Cummins QSK60 Tier 4 main engines, the first such engines on the river. The Lapeyre has Tier 3s.
"We've sold hundreds of Tier 3 QSK60s, but these are the first Tier 4 QSK60 propulsion units in operation," said Brodie Trahan, manager of marine sales for Cummins Mid-South. "We are excited and blessed to have worked with both a great long-time customer and shipyard on this project."Mike Stone, Canal Barge Company's manager of vessel engineering, said the engines on the Lizzie Lane represent a major investment by CBC "to modernize our towboat fleet and mitigate greenhouse gas emissions." The Tier 4 standards set by EPA were designed to reduce emissions to a greater degree than ever before, he said, leaving it up to the engine manufacturers to design exhaust systems that comply.
"Cummins' solution was to use selective catalytic reduction (SCR) technology, which necessitates that the vessel carries an additional consumable, diesel exhaust fluid (DEF)," he said, adding that this current standard is in place for new-construction vessels having main engines rated above 805 hp.  
Canal Barge Company took delivery of the Lizzie Lane April 11. The CBC vessel officers assigned to it are Capts. James Pruitt and Mark Businelle, pilots Wyatt Plowman and Luke Bourgoin and engineers Chris Smith and Jacob Gilleand.
Vessel Specs
The new vessel is built on a hull that measures 142 feet in length and 44 feet in width. It has a depth of 11 feet, drawing 8.5 feet when fully loaded with fuel, water and lube oil, the capacities for which are 75,900, 14,000 and 800 gallons respectively. The hull is protected by Schuyler fendering.
The engines turn Sound 100- by 90-inch, five-blade stainless steel propellers supplied by Texas Wheel Works on 9.75-inch shafts with Drymax 11-inch seals. Reduction gears are Reintjes model WAF 873 with a ratio of 7.455:1, supplied by Karl Senner Inc.
Auxiliary power is from a pair of Cummins 175 kW, QSB7 generator sets controlled by a paralleling, auto-start switchboard supplied by Eagle Control Systems, based in Harvey, La. The generators are cooled by Fernstrum Gridcoolers, as are the main engines.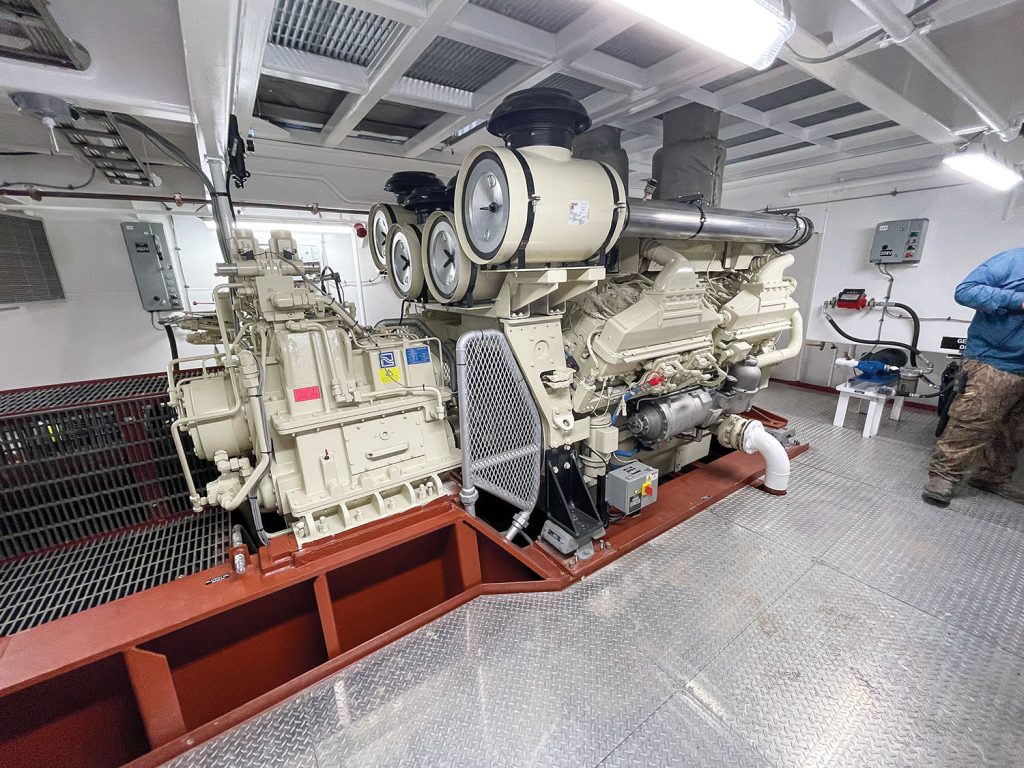 Some unique features of the new boat are the tow access steps arranged transversely on the bow, which is a Canal Barge Company standard, and the floor to ceiling pilothouse windows. The pilothouse has a 38-foot eye level, which when combined with the large forward windows and the canted side of the texas deckhouse give the pilot as much visibility as possible. 
Additionally, Stone said, the vessel's interior utilizes soft-core paneling instead of wood framing, which provides "a superior level of structural fire protection for the crew." Below the wheelhouse is a 4-foot fiddley that contains all the electronics and HVAC equipment.
Vessel Electronics
Heading up the list of electronics are a Furuno FR1908VBB radar with a 19-inch monitor, a Furuno 628 depth sounder, AIS, bridge alarm and satellite compass; a Koden MDC radar; a Zenitel intercom; an Intellian satellite TV system; and Icom radios, all supplied by Wheelhouse Electronics. The HVAC equipment is from R.S. Price & Son.
The full-follow-up, electric-over-hydraulic steering system was furnished by Rio Controls & Hydraulics.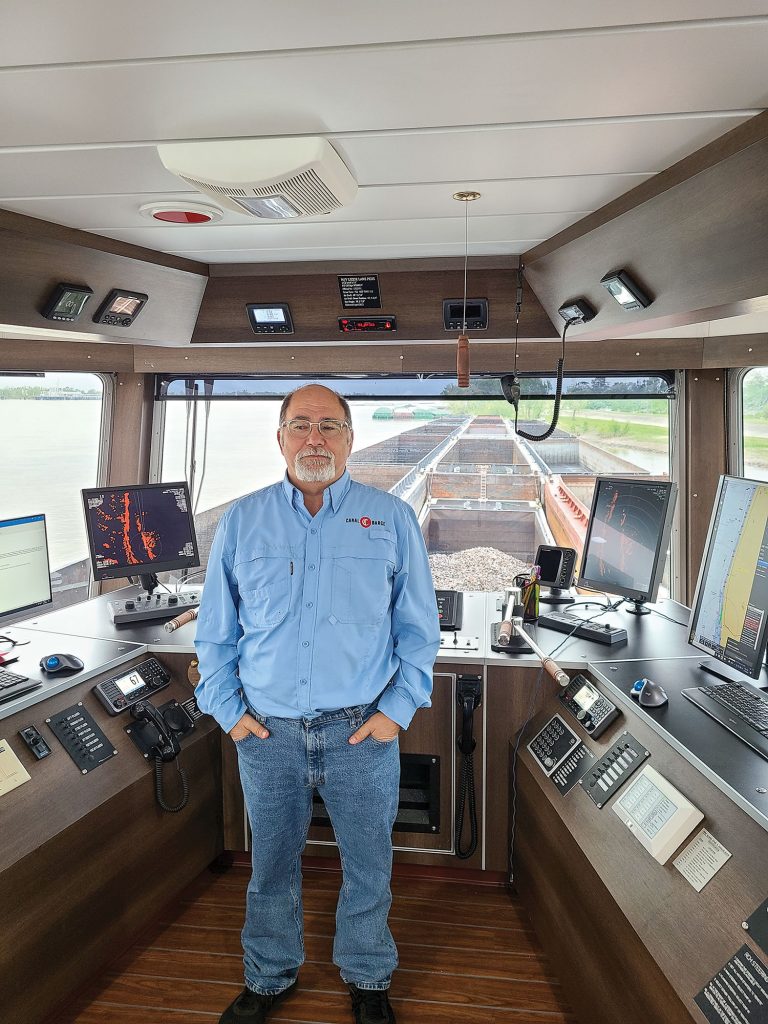 There are four two-person bunkrooms for the crew with a head and shower for each bunkroom, also a lounge with a computer area, and a workout room. Adjoining the engineer's stateroom is an engine control office, and next to the captain and pilot staterooms, on the same deck as the guest stateroom, is a well-furnished lounge and computer area.
Wastewater is treated by a Seahorse MSD, with a chlorinator to treat gray water from DiSalvo Marine. The fire alarm and fire suppression systems were provided by Hiller Companies.
On deck are four Wintech 65-ton electric winches and a Schoellhorn-Albrecht series 22300 double-barreled, two-speed capstan.
Namesake
The mv. Lizzie Lane Peus is named for Elizabeth (Lane) Peus, youngest daughter of the late H. Merritt 'Heavy' Lane Jr. (a former CBC executive) and Susan Jones Gundlach, and a granddaughter of Joseph M. Jones Sr. (founder of Canal Barge Company) and Eugenie P. Jones, all namesakes of other current Canal Barge towboats.
Lizzie, as friends and family affectionately call her, is a graduate of Princeton University. She met her husband, Brent R. Peus, while at Princeton, and the couple currently resides in Montecito, Calif. They are proud parents of three sons and one daughter.
Peus grew up in New Orleans, and her work experience includes marketing and advertising positions in Paris, San Francisco and New Orleans. She has been involved with and on the boards of many non-profits, and she currently serves on the board of directors of Canal Barge Company.
Peus is also the namesake of the former mv. Elizabeth Lane, a towboat that was built in 1974 and that CBC acquired in 1977 and operated until selling the boat in April 2021. Similar to the mv. Lizzie Lane Peus, the mv. Elizabeth Lane was a mid-range 4,200 hp. towboat that was a powerful and versatile asset in CBC's fleet for many decades of service.
"Lizzie is deeply loved and cherished by family and friends alike," said Merritt Lane, CBC's president. "Canal Barge Company is proud to welcome another boat to our fleet that is named in her honor."
Canal Barge has grown from one vessel into a diversified marine transportation company with close to 50 towboats, the newest being, of course, the Lizzie Lane Peus. Its fleet of over 950 barges for both dry and liquid cargoes operates throughout the inland waterways. Canal also has a fleet of inland and offshore deck barges for project cargoes and a bulk liquid storage terminal near Chicago, as well as a wholly owned subsidiary in Lemont, Ill., that offers towing, fleeting and shipyard services.
Caption for top photo: The Lizzie Lane Peus was built for Canal Barge Company by Steiner Construction Company. (Photo by Daniel Gettmann)