Metairie, La.-based McDonough Marine Service held a christening ceremony in New Orleans April 7 for the mv. Alma Grace, named for Alma Grace McDonough, wife of company founder Bernard P. McDonough.
Built at Verret Shipyard in Plaquemine, La., the mv. Alma Grace measures 70 feet by 30 feet with a depth of 10 feet, 8 inches, and operational draft of 8 feet, 6 inches. The vessel also boasts a pilothouse eye level of 42 feet, ideal for seeing over the large cargoes and equipment McDonough often transports. McDonough Marine owns the largest fleet of deck barges for charter in the United States and provides project cargo and towing services along the inland waterways, coastal waters and Great Lakes.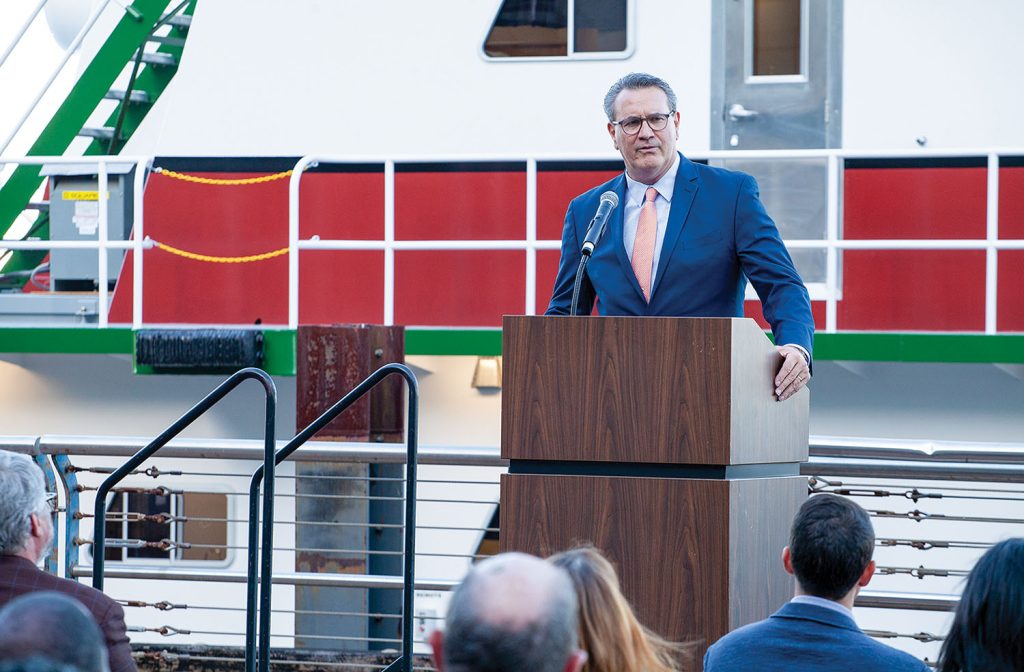 In greeting the crowd gathered for the christening along the Mississippi River in downtown New Orleans, Patrick Stant, president of McDonough Marine, said he was thrilled to be together with so many friends, colleagues and McDonough family members after two long years spent largely apart. He then honored the namesake of the vessel, Mrs. Alma Grace McDonough.
"She was the loving and longtime spouse of Mr. Bernard P. McDonough, the founder of our company," Stant said. "Behind every great man is a very supportive spouse. Mrs. Alma Grace certainly was that to Mr. McDonough; she was also supportive to all those whose lives she touched. She was a loving lady in the truest sense. She was gracious, kind, generous and thoughtful.
"Mrs. McDonough was active in her community and made an impact with her humility among everyone she touched," he continued. "She was known for her support of community and family, particularly in the Ohio River valley, where she spent most of her life."
Stant added that the impact of Bernard P. and Alma Grace McDonough lives on in the work of the McDonough Family Charitable Trust.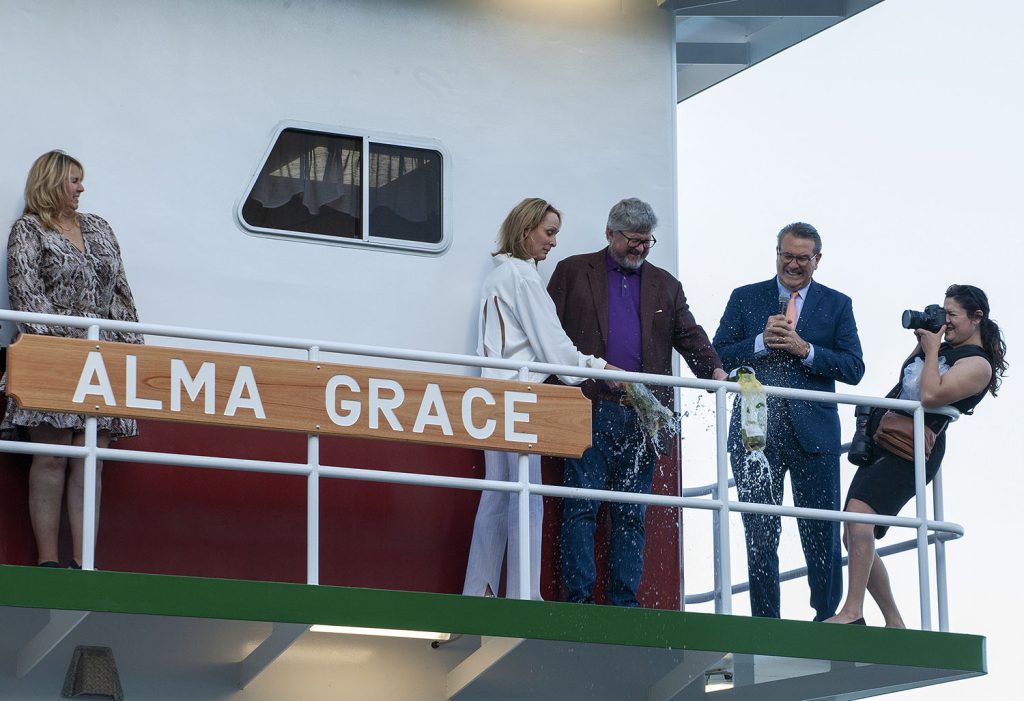 "As you go through life and you start looking at the impacts of companies, it's not just about the impact of the company on personnel," Stant said. "It's the impact of the company on the community and the people and family and friends. We know that Mrs. McDonough did all those things."
Stant said, while the mv. Alma Grace will work alongside "our flagship vessel, the Mister Mac," it was fitting that the mv. Bernard P. McDonough was the towboat to transport the Alma Grace from the shipyard to New Orleans for the christening.
"They were together and tied at the hip in their lifelong commitment to each other," Stant said.
Stant went on to recognize members of the McDonough extended family present for the christening, along with McDonough Marine Service employees, Gene Moore of General Marine Services and David Beerbohm, who led the maintenance team that worked to help bring the mv. Alma Grace to fruition.
"Lastly, I want to thank Ted Verret and the Verret team," Stant said. "Ted, thank you for doing everything you've done, for putting a lot of time and effort and press into making sure this boat is delivered on time.
"We also want to thank our other partners that participated in support, from Laborde to the electrical companies to the insulation and everyone else," he added. "It takes a lot of people to make an event like this work, and more importantly, to deliver a very finely crafted vessel that we believe will last us 30-plus years."
Addressing the crowd, Verret said his shipyard and McDonough Marine share similar legacies.
"Just like the McDonough family, in the Verret family, I represent the third generation," Verret said. "The young man who built this boat, Clint, represents the fourth generation, so we know a little bit about family and what it takes to make it through good times and bad times."
Verret called the mv. Alma Grace, which features an aluminum superstructure on its third and fourth decks to allow for the high eye level, "unique" and "fun to do." He also called it a blessing. 
"We needed a boat to build—we'd just finished one and I'd said, 'We need a boat to build,'" Verret recalled. "My dad was a tremendous man of faith and he said, 'Well, son, you ask God, and he'll answer it.' Gene Moore invited me to a duck hunt. I met Pat Stant and the next morning, we looked at each other [and said] 'Let's talk about building a boat.'"
Building boats has been the Verret family's business for a long time, but it's more than that, he said.
"It's a joy for us to do what we love doing," Verret said. "This is our passion. This is our business. This is what we love doing—it's not just a business to us."
Verret presented the crew of the Alma Grace with the vessel's bell. Afterward, the Rev. George Hanna from St. Rosalie Church in Harvey, La., presented the ship's Bible and cross. After a blessing and reading of scripture, Hanna proceeded to sprinkle the boat with holy water.
To conclude the ceremony, members of the McDonough family gathered around the vessel's nameplate. Brendan Riccobene, CEO of McDonough Corporation and grandson of Alma Grace McDonough, and his wife, Shelly, shattered bottles of champagne over the rail of the mv. Alma Grace, officially christening the vessel into the McDonough fleet.
More About The Mv. Alma Grace
The mv. Alma Grace is a 1,600 hp. towboat that features a pair of Mitsubishi S6R2 main engines from Laborde Products Inc. that are paired to Twin Disc MG 5321 reduction gears from Sewart Supply. The engines and gears turn 76- by 64-inch wheels from Johnny's Propeller Shop. The Alma Grace is also equipped with Thordon seals and bearings, along with 7-inch cold-rolled steel shafts with NCB liners. Keel coolers are by Eastpark Radiator. Custom Hydraulics supplied the steering system aboard the Alma Grace.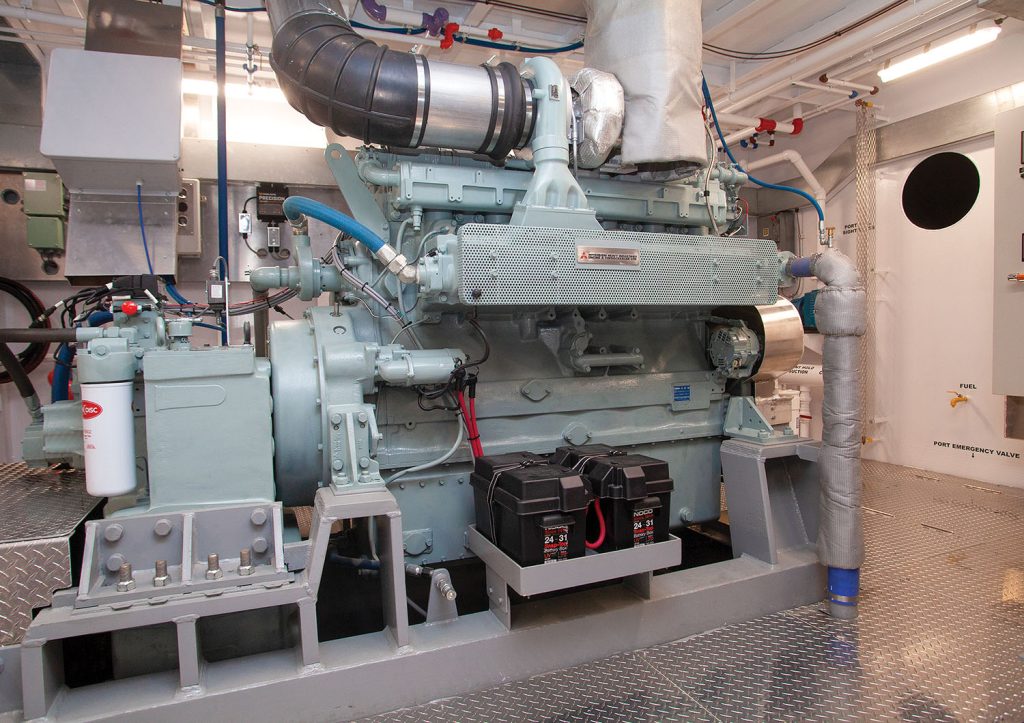 On deck, the Alma Grace features a pair of Patterson 40-ton vertical winches and a fleet deck. The towboat's electronics and communications package is from Wheelhouse Electronics. Sound and vibration reduction is by Marine Industrial Insulation. M&M Bumper supplied the fendering system aboard the boat.
The Alma Grace offers four staterooms, two full baths and a half bath.
Besides the 42-foot eye level, the Alma Grace also features a texas deck lounge, a workout area and an air-conditioned rudder room.
Caption for top photo: The 1,600 hp. mv. Alma Grace was built for McDonough Marine Service by Verret Shipyard. (Photo courtesy of McDonough Marine Service)
For more photos from the christening ceremony, see the slideshow below.
Family and friends gathered for the christening of the mv. Alma Grace. (Photo by Frank McCormack)