Industry People On The Move — May 2022
Frank Johnson has retired as assistant vice president-vessel operations for Ingram Barge Company.
He was with Ingram for more than 30 years, joining the company after working for Honeycutt Marine during Ingram's operator program from 1986 until 1991, serving as captain onboard the mv. Hortense B. Ingram. After joining Ingram in 1991, he transitioned to the mv. Joe B. Wyatt, working on the Lower Mississippi River, where he served as captain until joining the operations department in February 2002.
Along with managing vessels during his time in vessel operations, he was involved in the development of the Waterways Action Plan for the Lower Mississippi River. In the industry workgroup Lower Mississippi River Committee, Frank served one year as co-chairman and three two-year terms as chairman. As a result of these efforts, Frank was recognized by the U.S. Coast Guard, the River Industry Executive Task Force and the Lower Mississippi River Committee.
In 2019, he received the Inland Marine Expo Achievement Award.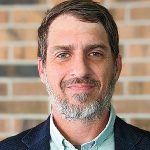 Greg Swift has joined Neptune Americas & Marine Corporation as the national sales manager for North America. Swift has more than 15 years of sales and commercial experience in the marine and offshore sectors. He was most recently with Schottel Inc., where he spent 10 years as the sales and aftermarket sales manager, as well as project management, for the Gulf Coast region. He worked with vessel owners, shipyards and naval architects.
In his new role, Greg will oversee the continued growth of Neptune's dredge and offshore marine vessel/equipment products to the North American market.
"I am excited for the opportunity to join Neptune Americas & Marine, especially as the company offers such a wide range of state-of-the-art equipment and dependable support services to the dredge and offshore marine industries," he said. "I look forward to working with our team, expanding our business and supporting our customers' projects and needs."
The Port of Corpus Christi Authority has named Marcelo "Yudi" Takizawa as its director of trade development. Takizawa has more than 20 years of commercial business and market development leadership experience in the energy and marine transportation space. He comes to the Port of Corpus Christi from Vopak.
In his new role, Takizawa will oversee all business and trade development initiatives for the Port of Corpus Christi, including market development, management of customer relationships, new project initiatives and product diversification.