For the fifth year, 40 of the industry's future leaders were honored at the Inland Marine Expo with the "40 Under 40" award, which recognizes individuals for their outstanding contributions to the inland marine transportation industry in a variety of fields. All 40 honorees were nominated by executives and peers for their hard work and dedication to the industry.
Over the course of the next 10 weeks, The Waterways Journal is featuring recipients. This week we recognize Jacob Banet, Troy Bernier, Adam Binsfeld and Curtis Blank.
Jacob Banet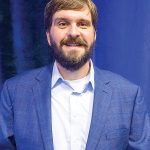 Jacob Banet, 35, is revenue and IT manager for Wepfer Marine Inc.
Walt Wepfer, executive vice president and chief operating officer for Wepfer Marine, noted that Banet started out as a dispatcher in the Memphis, Tenn., office with little to no barge experience, but added that quickly changed.
Sign up for Waterway Journal's weekly newsletter.
Our weekly newsletter delivers the latest inland marine news straight to your inbox including breaking news, our exclusive columns and much more.
"He quickly took to the river industry and learned the ins and outs of our Memphis harbor," Wepfer said. "His knowledge of technology was instrumental in helping us deploy TowWorks throughout our nine fleets, including the roll out of Boat Console."
Wepfer said Banet worked tirelessly and patiently with pilots to train them in the use of the technology.
"Jacob still oversees TowWorks fleet-wide and is responsible for the billing from seven of our locations," Wepfer said. "His previous knowledge in dispatch and his relationships with customers have helped excel in that role. Jacob has been a key cog in implementing technology throughout our company, and his success has been instrumental in Wepfer Marine's success."
Troy Bernier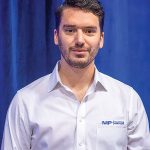 Troy Bernier, 27, is an analyst at Maritime Partners LLC.
He has worked in the position since 2019. During his time with the company, he has increasingly taken on more responsibilities and a heavy workload.
"Most notably, Troy assisted in the diligence and structuring of our recently announced joint venture, e1 Marine," said Austin Sperry, president and co-founder.
e1 Marine is working to decarbonize the shipping industry through the use of hydrogen reformers that convert methanol into pure hydrogen at the point of consumption on board the vessel. The technology is to enable the company's new 2,000 hp. towboat, the mv. Hydrogen One, to be a zero-emission and IMO2030 compliant pushboat. It will be the first of its kind.
"Troy is one of the first people in the office and usually the last one to leave at night," Sperry said. "He deserves this recognition. He's earned it."
Adam Binsfeld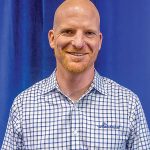 Adam Binsfeld, 38, is president of Brennan Marine Inc.
Since becoming president in 2014, he has converted the company into a data-driven organization.
"By introducing new technologies and implementing customized software, he has increased transparency and communication for switching and fleeting operations for customers across the Brennan organization," said Mark Binsfeld, vice president of business development for J.F. Brennan Company in La Crosse, Wis.
Brennan Marine has also expanded into new territories  and initiated new service offerings since Adam Binsfeld became president.
"He has strength-ened the culture of a 100-year-old family business and has made it a great place to work," Mark Binsfeld said. "For his level of commitment to the inland river industry, his leadership and ability to drive change management, Adam is very deserving of the 40 under 40 award."
Curtis Blank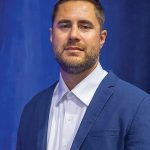 Curtis Blank, 34, is director of maintenance and engineering for Associated Terminals.
Blank began as an engineering intern in the maritime industry in 2011. He joined the company in 2018 after earning his Bachelor of Science degree in mechanical engineering technology from Southeastern Louisiana University. Initially, he served as a mechanical design and solutions engineer. In 2021, he was promoted to director of maintenance and engineering.
With more than 11 years of work experience in the industry, Blank has developed a unique understanding of stevedoring operations, said Dawn Fuller, vice president of Associated Terminals in Convent, La., on behalf of President Todd Fuller.
"Curtis has been instrumental in utilizing his technical skills to advance Associated Terminals' maintenance and engineering division," Fuller said. "He and his team are an integral part of developing and implementing new processes that streamline both maintenance and operations divisions of the company."
Speaking to his engineering experience, Fuller said Blank has been fundamentally important in the development of labor-saving systems within the company's stevedoring operations, including the implementation of remote equipment operation programs intended to reduce or remove the human element from hazardous conditions in the workplace.
"He utilizes a full stack approach to design, testing and final solution implementation," Fuller said.