Washington, D.C.—The Biden administration announced that retired Gen. Stephen Lyons will take over as the new port and supply chain envoy to the Supply Chain Disruptions Task Force.
A former commander of the U.S. Transportation Command, Lyons succeeds John Porcari to work with the Department of Transportation, White House National Economic Council, ports, rail, trucking and private companies to address bottlenecks, speed up the movement of goods and help lower costs for American families.
"Global supply chains will remain fragile as long as the pandemic continues to disrupt ports and factories around the world, and a lot of work remains to reduce shipping delays and costs for American families," said Transportation Secretary Pete Buttigieg, who leads the task force.
The American Association of Port Authorities (AAPA) welcomed Lyon's appointment, saying the Biden administration continues to prove the importance of maritime ports to the U.S. and global economy.
"The presence of high officials exclusively dedicated to ports and the supply chain makes an incalculable difference, and the federal government has shown care, understanding and action when it comes to the current supply chain crunch," AAPA stated.
Lyons credited the administration with "tremendous progress" on addressing supply chain disruptions during the pandemic.
"I look forward to rolling up my sleeves and continuing to engage industry, labor and port stakeholders to improve the fluidity of our supply chains, cut down on shipping costs and ultimately save money for the American people," he said.
A native of Rensselaer, N.Y., Lyons served 36 years in the military.
Buttigieg praised Porcari for addressing challenges at every stage of the supply chain.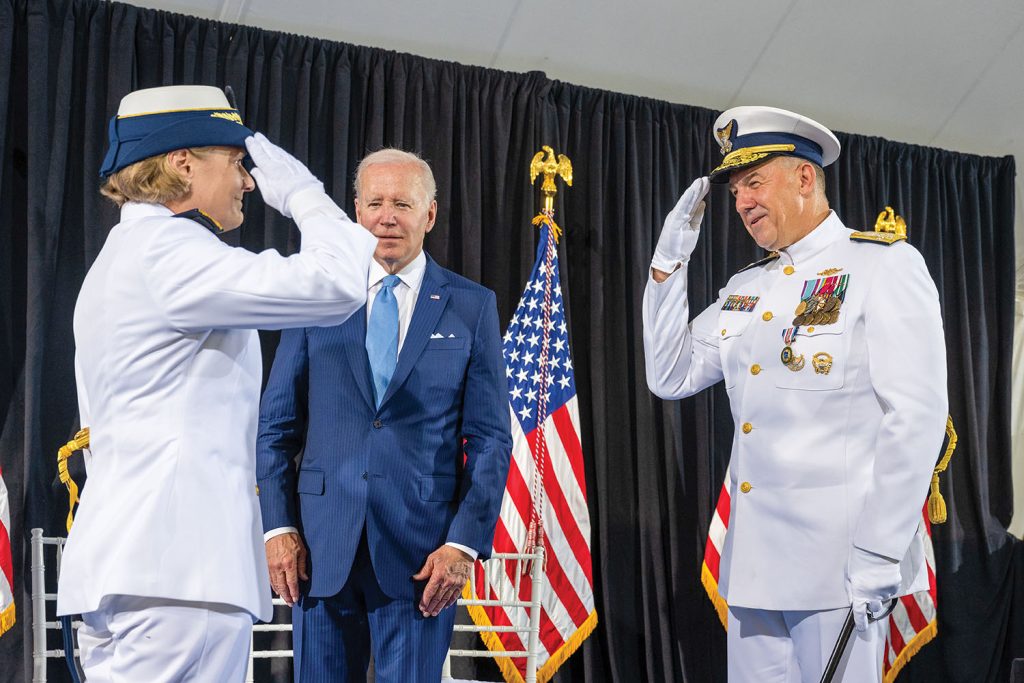 New CG Commandant
Saying "it's about time," President Joe Biden presided over a change-of-command ceremony that installed Adm. Linda Fagan as the first woman commandant of the Coast Guard and the first woman service chief in U.S. history.
"This is a big deal," the president said, referencing the historic milestone.
"Look, with her trailblazing career, Admiral Fagan shows that young people, young people entering service that we mean it when we say there are no doors, no doors closed to women."
 Biden listed key points of Fagan's career, which includes service on all seven continents, as vice commandant of the Coast Guard and as commander of Coast Guard's Pacific operations.
During her remarks, Fagan noted the "outsized impact" of the decision by the late Adm. Owen Siler, the Coast Guard's 15th commandant who opened the service to women in 1975.
"I'm wearing his shoulder boards that he wore as commandant, just to acknowledge the long blue line," she said.
As the 27th commandant of the Coast Guard, Fagan relieved Adm. Karl Schultz, who was praised by Biden for his leadership during the most active hurricane season on record in 2020, the global pandemic and the service's role in the nation's response.
With Homeland Security Secretary Alejandro Mayorkas, Biden presented the Homeland Security Distinguished Service Medal to Schultz, who retired with 39 years of service.
FMC Fact Finding
After a two-year investigation, Federal Maritime Commission (FMC) member Rebecca Dye released her final report for Fact Finding No. 29, describing competition among ocean carriers as "vigorous."
Dye blamed disturbingly high transportation prices on the pandemic, an unprecedented surge in consumer spending and supply chain congestion.
Still, she expressed concern that certain carriers, despite compliance efforts, are not in full compliance with FMC's rule on demurrage and detention and that the agency lacks regulatory tools to deal with new charges imposed on shippers and truckers by carriers and marine terminals through tariffs.
Dye's report includes recommendations to further alleviate dislocations in the ocean supply chain such as rulemaking to provide clarity on empty container return practices and earliest return date practices.
The full report is available at fmc.gov. 
Transportation Research
Maritime and other major parts of the nation's surface transportation system are to be transformed with the help of up to 35 five-year research awards totaling $450 million to universities whose applications are being sought by the Department of Transportation (DOT).
Part of the existing University Transportation Centers (UTC) program, DOT's Notice of Funding Opportunity (NOFO) is expected to lead to the selection of five national UTCs, 10 regional UTCs and up to 20 Tier 1 UTCs.
Their focus areas include improving mobility of people and goods, preserving the existing transportation system and improving the durability of transportation infrastructure.
The NOFO is open through August 25 at www.grants.gov.
TSAC To Meet
The National Towing Safety Advisory Committee (TSAC) is scheduled to meet virtually on June 14 to discuss matters relating to shallow-draft inland navigation, coastal waterway navigation and towing safety.
Also on the agenda is the final report for the committee's Task 21-01 that sought to identify parameters Coast Guard officials should use to determine whether a vessel inspected under subchapters other than Subchapter M is performing ''Occasional Towing.''
Open to the public, the meeting is set to begin at 11 a.m. EDT.
Written comments for members to receive prior to the meeting should be submitted no later than June 7.
For information on joining the meeting, requesting special accommodations, registering to speak or submitting comments other than through www.regulations.gov, contact Matthew Layman at 202-372-1421 no later than 1 p.m. June 7.
NMC Working Group
The National Maritime Center (NMC) has requested participants for a merchant mariner examination working group scheduled July 19-21.
"The Coast Guard needs your participation and asks each of you to consider attending working group sessions and … spreading the word to encourage others to participate," the NMC stated.
"This is your opportunity to be a proactive participant in shaping the mariner credentialing process."
Questions from various topics on the Navigation General, Oceans and Navigation Problems, Oceans modules will be reviewed, the NMC said.
Those interested in participating may visit the Examinations page of the NMC website, open the Working Group tab and follow the instructions, the NMC stated, adding the complete schedule of upcoming sessions is posted on the Examinations page.